A museum is a building that houses and exhibits a collection of objects of artistic, cultural, historical or scientific importance. There are hundreds of different types of museums around the world. Some are: art museums, natural history museums, science museums, war museums and children's museums. According to the International Council of Museums (ICOM), there are more than 55,000 museums in 202 countries.
Obviously, the largest museums are located in major cities around the world. However, there are thousands of local museums in smaller cities, towns and rural areas.
The museums
The objectives of museums vary from one institution to another. Some favor education over conservation, or vice versa. For example, in the 1970s, the Canadian Museum of Science and Technology favored education over conservation of its objects. They displayed both the objects and their functions.
The International Council of Museums' current definition of a museum (adopted in 2022): "A museum is a non-profit permanent institution in the service of society that researches, collects, conserves, interprets and exhibits tangible and intangible heritage. Open to the public, accessible and inclusive, museums foster diversity and sustainability. They operate and communicate ethically, professionally and with the participation of communities, offering varied experiences for education, enjoyment, reflection and knowledge sharing."
Canadian Museums Association definition: "A museum is a permanent, not-for-profit establishment that does not exist primarily to hold temporary exhibitions and that is open to the public on regular hours and managed in the public interest for the purpose of conserving, preserving, studying, interpreting, collecting and exhibiting to the public, for instruction and enjoyment, objects and specimens of educational and cultural value, including artistic, scientific, historical and technological material."
UK Museums Association definition: "Museums enable people to explore collections for inspiration, learning and enjoyment. They are institutions that collect, safeguard and make accessible artifacts and specimens, which they hold in trust for society."
Toy museums typically display toys from a particular culture or era with their history. They differ from children's museums, which are museums for children and are usually interactive: toy museums can be aimed at children or adults, and can have interactive exhibits or be exclusively for display.
The Munich Toy Museum
The museum is located in the heart of Munich, in Marienplatz, in the old tower of the town hall. It is famous in the city and around the world.
The toy selection of Ivan Steiger and his family is the product of decades of work, resulting in one of the largest toy collections in Europe.
The collection occupies four floors and is accessible by elevator. The box is reached by a spiral staircase. With its picturesque tower-like rooms, it is reminiscent of a doll's house and evokes childhood memories of grandmother's time.
Covering a wide historical period and displaying everything from model trains to rocking horses, it's a picturesque way to step back in time and connect with the child in you. The Munich Toy Museum is an ideal place for families, but also for nostalgic and curious tourists.
Something that is impressive, at least for me, is how there are dolls that try to show the everyday life in a specific era.
The private exhibition for young and old shows four centuries of toy development. You can find trains, cars, airplanes, bears, dolls, kitchens, wooden toys, Barbie or robots.
What can you see?
The Munich Toy Museum offers a glimpse into the children's games of the last two hundred years. The museum's collection features seven permanent exhibits containing everything from wooden toys, tin toys and teddy bears to some of the oldest surviving toy trains and steam engines from 1835.
On display are historic toys found nowhere else in the world, such as the only known example of a Russian art-deco carousel from the 1920s.
Another highlight is the mechanical doll, or laufpuppe, from 1855. Visitors have the opportunity to delve into the toy technology of the past and learn how this robot doll walks and talks without electricity.
A special exhibit from German toy manufacturer Hausser-Elastolin focuses on more modern toys.
Finally, a visitor favorite is the collection of more than 100 Barbie dolls, including the first Barbie doll from 1959.
Adults will be able to reminisce about vintage toys, and children will fall in love with these period pieces while learning how children like them have played throughout history.
Anyone curious about the history of toys from Germany and the rest of the world can spend an enjoyable afternoon perusing the enormous variety of pieces in the collection.
They will also have the opportunity to take the magic home with them, with the sentimental store filled with souvenirs, historical toy catalogs, children's books and postcards from the 19th century and, of course, a wide range of toys.
Not just for kids
When you search the Internet for what to do in Munich with kids, you're likely to find this museum in several articles about activities related to trips to the city.
Keep in mind, however, that your experience at this museum will depend entirely on how in touch you are with your own childhood.
This means that if you still love teddy bears, Barbies, puppets or toy soldiers, you will love this place. If, on the other hand, you prefer video games, action figures and board games, this may not be the place for you.
The craftsmanship of the antique toys on display here is incredible.
Extraordinary antique toys
In the Munich museum there are many, many antique toys that are truly extraordinary.
The collection has some extraordinary antique toys. There is a mechanical doll, a laufpuppe, from Paris in 1855. Without a computer chip, it walks, moves its arms and head and says "mama".
Trains, carousels, vehicles and even rocking horses made for children a hundred years ago move with cranks.
There is also a display of robots and pro-tech toys typical of the era.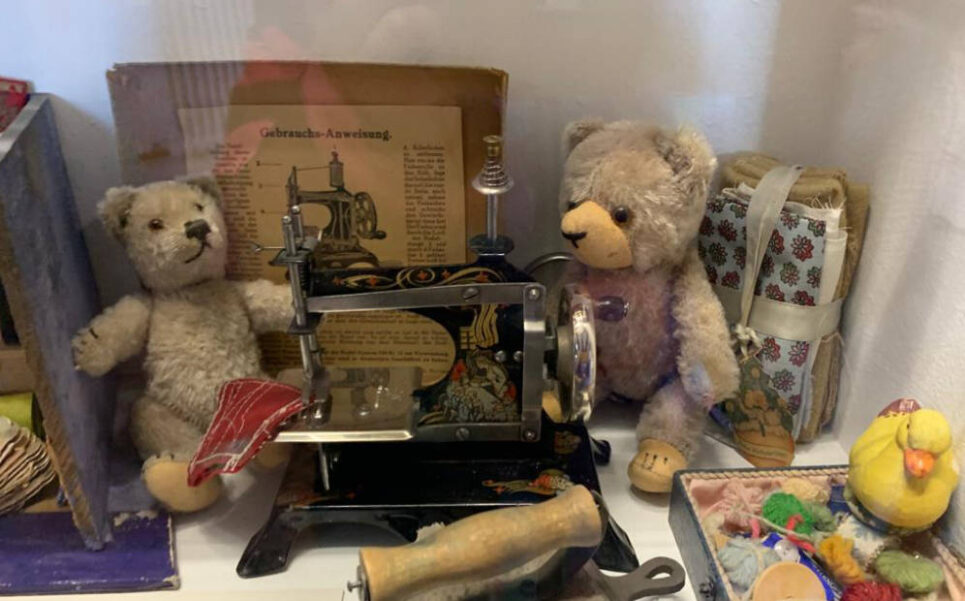 On the other hand, there is an interesting collection of teddy bears. But, it is important to note that the vast majority of them were donated, which means that they have torn ears or wear and tear.
Teddy bears are individually created by a multitude of artists around the world. Many of these artists design their own teddy bears and make them by hand or put the pieces together on homemade sewing machines.
I was very struck by the number of Barbie dolls on display.
In case you don't know, it is about a doll created on March 9, 1959, by the American toy company Mattel.
They show how they have evolved over time.
It shows the era of the elegant uniforms of the flight attendants, the Italian cinema and the Barbie Chanel, with Ken in between.
Barbie has been a very important character in the market and even in the pop culture of toys.
She has always been the subject of numerous controversies and lawsuits. She has more than a hundred professions.
Coming to the end
Toy and doll manufacturing has a long tradition in Germany. Saxony is known for its toy trains and even the renowned Dresdner Porzellan Manufaktur manufactured extremely lifelike doll heads.
Everything that can delight the heart of a child, and an adult, is there to be admired. There is so much to see that the three hours flew by without even realizing it. Definitely a must-see on your next trip to Munich.