The sea is one of the destinations that most attracts vacationers in summer. The smell of saltpeter, the sound of the waves breaking on the shore, the warmth of the sun on the half-naked body, feet full of sand, mouths watering at the thought of ceviche or grilled fish, and the pink-orange trail of the sunset sky during sunsets, these are some of the things that come to mind when we hear that short word, but that awakens all the senses: the sea.
Unique port of the Landes, Capbreton
Capbreton is a small town on the French Atlantic coast, known for having the only port in the Landes and for its fishing history. With eight beaches of fine sand, a perfect swell for sports such as surfing, sailing, and fishing, Capbreton is the perfect place for any lover of the sea.
But something that truly captivates in this port is of course its historic wooden pier and its emblematic lighthouse, watching a sunset from here is to feel that the body and soul are disconnected, the waves and breathing come into harmony and sliding your feet on the walkway create a slight movement that disconnects you from the real world.
Capbreton is a unique natural combination space in Europe as it is located in the heart of a preserved environment.
Fishing in Capbreton
We must not forget to mention the fish market which offers throughout the year the variety of local fish and unparalleled freshness.
Located in the heart of the port, the fishermen set their own prices and the customer has direct contact with them. Of course, as fishing professionals and with a good savoir-faire, the sellers will undoubtedly give you some tips and secret recipes to better taste the flavor of the sea.
For those who like fish and seafood, the visit to the market with the sunrise on the back of the boats and sailboats is idyllic.
Obviously, a fishing port like Capbreton is visited by sport fishing lovers.
Specialists of this activity are available to offer an excursion on the high seas or on the shore and guarantee an unforgettable experience under the necessary regulations to maintain the preservation of the environment.
Whether fishing is successful or not, there will always be a good sunrise or sunset that will remain in your memory forever.
Passion for fishing since childhood
Daniel Klemm was born in Regensburg, Germany and since he was just five years old, he developed an interest in fishing when his parents often went on vacation in Turkey. He grew up with freshwater fishing on the banks of the Danube and its adjacent rivers.
"From the shore when I was a kid (I remember) there was a school of big snapper, I caught several of up to four kilos and even missed some much bigger ones. Nowadays those kinds of fish are no longer found on the shore."
While still very young in 1997 he started visiting his grandparents every year in Capbreton, which by then became his favorite fishing spot in France, where he had his first experiences with saltwater fish such as sea bass and bluefin tuna.
Daniel recalls that his best fishing in Capbreton is still the one he had as a child.
Since 2010 Daniel has been traveling the world, mostly as an expedition in search of "big fish and if possible, realistically, from the shore", which he has managed to catch on the coasts, seas, and rivers of Colombia, Mexico, Australia, South Africa, Oman, Eritrea, etc.
This has led him to be the founder of his own company gt-fishing.com (online sales of exclusive lures and fishing equipment -popping & jigging-).
But what is sport fishing really?
Surely we have asked ourselves this question if we are not well informed and we are concerned about the environment we would think that this type of activity would play against its preservation. But this is not so, on the contrary, sport fishing can, so to speak, minimize a little the impacts of massive fishing for human consumption.
It is non-commercial fishing, it is a non-profit sport that can be done either as a hobby, for fun, or for self-sufficiency. It has its variants in terms of the type of fish sought, the area, the modalities, and also in the necessary equipment: basic fishing is with the rod, hook, line, bait, among others. In the different continents, it varies depending on whether it is in the interior (rivers) or in the exterior (seas, oceans).
Benefits of sportfishing
Sportfishing reduces stress, although it may seem unbelievable because of the waiting time, the important thing is not to fish but to be fishing.
It is personal satisfaction to gain experience, to learn to understand the tides, the winds, the beaches, the currents, to plan a good day with the right weather conditions to obtain good results.
A routine during the fishing season, in summer for Daniel that is when he visits Capbreton, is usually at night, and on the shore when it gets dark the big fish come closer.
This means that during the day his only task is to gather the lures and watch the tide, and then when the sun goes down he goes out to look for his catch.
In sport fishing, you meet many people with the same passion and you create bonds that fulfill you as an individual in a natural habitat.
For example, in Capbreton, there is a system called co-naviguer (co-sailing) that makes it easy for you to get in touch with people who own a boat or boat and have a lot of experience.
It works like a blabla-car, allowing you to share knowledge, fuel costs, the cleaning of the boat and equipment is teamwork, especially sharing emotions, snacks and in case of taking the booty home, it can be divided.
But in order to take part in this service, it is necessary to register with the UNPC (the French acronym for the Nautical Union of the Fishing Section), which guarantees that all fishing regulations are complied with and that environmental conservation measures are also kept out of the way.
It also adds up to unforgettable experiences, fishing connects man with maritime nature and creates moments that are kept forever, there will be some experiences greater than others and as Daniel says, if you go fishing every day there will always be many.
For Daniel, it is very clear that there is only one life for fishing and you have to live it to the fullest, and of course, doing what he is passionate about. His personal slogan is: "Life's short-fish hard".
Having made fishing part of his life, he did not hesitate to make Jasmin, his wife, a part of his fishing, who is always there when he can on his expeditions, taking part in each and every one of her husband's adventures.
She supports him and they make vacation plans together including fishing, she is the author of almost all his photos and of course, she also got merits in her own great fishing in Mexico.
Protection, environment, and fishing
When we are passionate about a sport, we usually do it with love, conviction and we tend to make it part of our life, day by day if possible.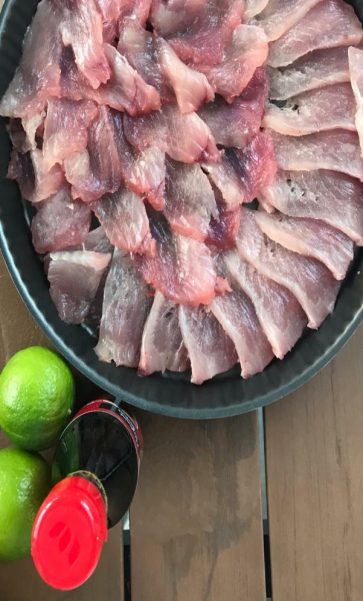 Human beings are animals that need contact with nature and fishing is something that connects you directly with it, making you participate in its conservation and protection.
It is important in this fun to be consistent with the size of the fish, to avoid stressing them as much as possible, and, above all, to abide by the laws of each area, region, or country.
Unfortunately, as the years go by, there are more polluting agents in the sea than the measures taken to preserve and take care of the countless ecosystems that inhabit it.
One of the greatest human errors that have affected the life of fish and have produced a great environmental disaster is oil spills.
The oil tankers that transport tons of this material to the refineries through the seas and when a spill occurs, an oily layer is formed on the water, which can extend up to a hundred meters in diameter in just one hour and the marine fauna suffers the greatest consequences.
"During fishing, I personally try to minimize the stress of the animal without using hooks and with the right equipment for the type of fish. In addition, I also frequently participate in water cleanup actions."
Compared to a few years ago, it is no longer possible to fish for "big fish" like the ones Daniel managed to catch as a child, thanks to this ecological disaster. "Before the catastrophe with the oil spills, there was plenty of big fish to catch. That's why Capbreton is no longer my favorite place to fish."
Confinement and fishing
During the confinement due to Covid-19, fishermen in France were also affected. The movement of people outside their residence was not allowed and sporting activities were forbidden.
Consequently, on October 30, 2020, the National Federation of Fishing in France was forced to announce that the fishing activity should be suspended, although this organization is not the competent body to make a direct ban, it had to stick to the rules set out in the decree of 29.10.2020 within the measures established to combat the state of a health emergency.
This caused frustration among the fishermen and after a bit of a struggle on November 13, it was achieved that fishing on foot was allowed (but not for everyone).
We were all affected in one way or another because the confinement, tourism, and fishing in cities like Capbreton were not left behind.
Although in the 2020 summer season some were able to move around and enjoy the sea, sport fishing had its downturns and the economy in places that live on tourism and fishing suffered considerable losses.
Daniel was lucky to be able to be back in Capbreton, but in the economic area, he felt the weight of confinement.
When the tide goes out
The online business is aimed at customers who travel and are looking for the right lure, so the confinement has hit me hard. In fishing, I was equally affected, since I was able to travel very little. However, I managed to get as far as Capbreton in August.
To close a piece of advice from a fisherman if you go to Capbreton: If you want to catch something for dinner: concentrate on the Canal du Lac, there are always bream on the way here.
If you've been attracted to fishing this far, you have a different view of what a passion for the sport really is, it's never too late to give it a try. Let's just wait until the tide goes out, we win the battle against the Covid-19, we can pack up and cast our lure. Always remembering that what we do with passion in contact with nature must go hand in hand with respect for it, so: love, fish, and protect!