Nobody set it better than Gandhi. Culture is in all of us, it is essential to who we were, are, and will be. Culture includes knowledge, beliefs, arts, and customs. It is transmitted through social learning; it is the evolved ability to categorize and represent experiences, to act creatively.
So, all in all, culture is a set of customs, traditions, and values. And, multiculturalism is a political ideology that values peaceful coexistence and mutual respect between different cultures within the same place.
Culture is essential to our individual and collective development, so much so that our patterns of behavior, belief systems, principles, and ways of life derive from culture. This means, as we understand it, that it is the sum of all forms of art, love, and thought, which over time have enabled human beings to become freer.
The invisible link
Considering the importance of culture, we must say that its expressions, any of them, create an invisible bond.
It is important to keep in mind that cultures are affected by the change and by resistance to change itself. They can be social structures or simple natural events that are part of the continuity of cultural ideas and practices.
Having this in mind Berlin, the German capital offers a cultural stage like no other. The Carnival of Cultures is a 4-day urban festival that reflects Berlin's faces.
Berlin is a city of contrasts, where the old meets the new, vintage is much more than a fashion statement it is a lifestyle, being green is understanding the world and people are free to be who they are meant to be.
The Carnival of Cultures (Karneval der Kulturen) celebrates diversity. During this carnival, the streets get distorted into playgrounds with different cultural identities. Streets are brought to life in a blaze of color, smells, and music.
There are music and dance groups (professional and amateurs); from anarchic performances to traditional dances. Age has no role here; children and adults alike take part in the parade through Kreuzberg.
The beginning of the carnival
But, nothing happens overnight. It all started a few years ago. In October 1993, the Workshop of Cultures was opened in Neukölln (a neighborhood in Berlin). It was a place where the 500,000 foreign residents from 180 countries could communicate with each other.
This space did so much good that the need for something more permanent and bigger was developed. Consequently, Berlin held the first Carnival of Cultures in 1996. It was inspired by the annual festivals in London and Rio de Janeiro.
Berlin was the perfect place for this event. This is a growing international city. Another factor that contributed to the development of this festival was that in the 1990s, Germany was experiencing a growing nationalistic and racist mentality, people reacted.
In 1997, the number of visitors increased from around 50,000 to 300,000, then to over one million in 2000, and finally to over one million in 2018. In addition, the number of participants has also increased significantly, from 2,200 people to 4,000.
The evolution
A lot has changed since 1996. Today, more than one million visitors celebrate diversity in Kreuzberg. Approximately 6,000 artists of all ages and ethnicities present their art to the world.
There are four basic stages, each presenting music from all corners of the world. Bazaar presents neo-genres; Eurasia showcases rhythms from the Balkans to Indian Raga; Farafina is the stage for African beats and Latinauta presents Samba, Salsa, Cumbia, Latin Rock, and Caribbean beats. Well-known or new artists can perform at any of these venues.
There are approximately 400 to 500 stalls selling food and handmade art. That means that everyone can have something to eat. Dishes and flavors from every continent, from Senegal samosas and Korean burgers to arepas with eggs from the Colombian coast. Space is filled with aromas of incense, cotton candy, and curry.
The parade and the environment
The parade involves the participation of 4,500 collaborators who make up 75 groups.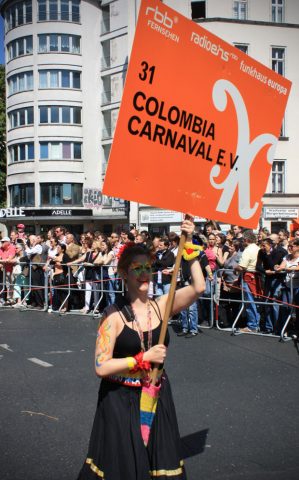 These people take to the streets actively and embody all kinds of cultural, artistic, ethnic, and musical manifestations. In addition, the atmosphere of the parade is one of complete acceptance and integration towards the different social groups.
The groups that participate are part of different associations, initiatives, schools, youth centers, theaters, among others. The parade is about 3.5 kilometers long and has about 600,000 to one million spectators per year.
The route is as follows: it starts at the Yorckstraße with Möckernstraße, continues along the entire Gneisenaustraße until it reaches Hasenheide. The route ends at Karl Marx Straße.
It should be noted that within the framework of the carnival, large amounts of garbage, waste, and significant energy expenditure are produced, which translates into a strong environmental impact.
That is why the organizers are working to make the Carnival of Cultures a low-impact celebration and to make the event more sustainable.
Appreciating the fusion
A carnival is a place for heterogeneity, a hybrid of identities and pluralism. The purpose of the carnival has always been to celebrate diversity and give visibility to minorities. In other words: building a city based on inclusion.
Many people think that the only group of foreign residents are Turks. Well, although there are many (Berlin is the city with the second-largest Turkish population after Istanbul), this is a misconception. People from all corners of the world live here. Moreover, it is estimated that 950,000 people living in this city have a migrant background which means that 27.4% of the people living in Berlin are not German and have beautifully mixed DNA.
With this annual Carnival of Cultures, Berlin celebrates multiculturalism. The four-day festivities end with a parade through Kreuzberg. More than 80 groups take to the streets to present their roots and their cultural heritage. The Carnival of Cultures is open for everyone and for all cultural expressions. It is a platform for empowerment. This is a chameleon-like festival, a fragmented mosaic, a city for everyone.