The life of someone who dedicates themselves to art and opera is not an easy life. It's not easy peasy lemon squeezy. It's not like from one day to the next, the person gets on stage and sings and musical notes just come out perfectly.
The truth is, like any artist, dedication is not only necessary but a requirement. It is a training in which weeks, months, and even years have been invested to perfect the technique, learn the interpretation of the works, and put a personal stamp on them.
Discovering the Soprano
Claraliz Mora was born in Xalapa, Veracruz, Mexico, and currently lives in Germany. Claraliz is a professional artist, a classical artist, and a soprano singer. She has been dedicated to music since childhood since she was 7 years old, that is, a lifetime in the art.
Laura Viera A: When did you start your artistic career?
Claraliz Mora: I started when I was 7 years old singing the role of the little ghost in the opera Macbeth in New York City at the Julliard School of Music.
She also sang in several zarzuela productions of the production companies "Amigos de la Zarzuela" and "Identity Productions" in the United States and Mexico. She made her debut at the Veracruz Opera as Violetta in Verdi's "Traviata" at the age of 26.
She received a scholarship from the Mexican state of Veracruz, the "Beca de Excelencia", the "Sociedad de Amigos de la Universidad Estatal de Música y Artes Escénicas" in Stuttgart and a scholarship from Fonca, the Mexican support program for young artists.
After completing her master's degree, she presented her repertoire of German art song, oratorio and opera in numerous concerts in Mexico, including with the symphony orchestras of Tuxtla Gutiérrez/Chiapas, Xalapa/Veracruz, Puebla, Chihuahua and the Mexican television program "Cuatro Mas".
We would like to emphasize that the symphony orchestra is an orchestra that has instruments such as woodwind, brass, percussion and strings. It usually has more than eighty musicians in its roster.
In 2014 she was a prize winner at the Komitas Lied Competition in Berlin.
From 2015 to 2018 she worked as a soloist in the program "Bellas Artes a todas Partes" promoted by CONACULTA (Mexican Institute for the Promotion of Arts and Culture) and INBA (National Institute of Performing Arts) and with them she toured Mexico successfully. She performed several roles of the opera and zarzuela repertoire, among them: "Marola" (La Tabernera del Puerto), "La Duquesa Carolina" (Luisa Fernanda), "Susanna" (Le Nozze di Figaro), "Musetta" (La Boheme) "Lauretta" (Gianni Schicchi), "Violetta" (La Traviata), "Rosina" (El Barbero de Sevilla), "Donna Anna" (Don Giovanni).
Laura Viera A: Why singing?
Claraliz Mora: Singing caught my soul. It was for me a tool of expression, of being able to connect with my emotions and feelings and to get to know who I was on a much deeper level. It has always been a part of my personal development, not only professionally.
Beyond words
Claraliz has a magic and a power that leaves no one indifferent.
With her talent, with her magnificent voice, she manages to express what simple words cannot.
For her, it is important that in addition to classical music, art, songs, her roots come out.
The soprano assures me that the most difficult thing has been to be authentic with herself.
That authenticity has taken her several years, but it is extremely important because it is the only way that as an artist you will be authentic and as an artist you will be able to transmit your feelings and therefore reach your audience.
On the other hand, the easiest thing has been practicing singing.
Laura Viera A: What inspires you?
Claraliz Mora: I am inspired by anyone who is in connection with their authentic self. They can be children, they can be adults, they don't necessarily have to be artists. by people who follow the call of their heart.
My career has given me a lot of satisfaction and has evolved as well.
Laura Viera A: How do you see the artist in your beloved Mexico?
Claraliz Mora: I see that there are many talented people, with a lot of creativity but unfortunately there is a lack of resources so that all these people can prosper and can carry out an artistic career from which they can live economically.
"I can spend hours singing and they go away like water."- Claraliz Mora –
In October 2019, she made her debut as "Micaela" in Bizet's opera Carmen at the theater in Veracruz, Mexico.
In Germany, in addition to classical music, she devotes herself to Latin American music, among other things with her Trio Corazon Latino and guest appearances with Latin American ensembles such as "Mariachi Dos Aguilas".
There are many ways to describe Claraliz Mora, but to say that she is talented and charismatic would be the tip of the iceberg. Claraliz Mora sings from her heart. And just as with her virtuoso voice, the strings of her beautiful harp flow.
The professional world
The term soprano refers to the highest voice in the human vocal register or, by extension, the highest voice in harmony.
The term in Spanish was taken from the Italian soprano (meaning 'sovereign, superior'). And, this in turn comes from the Latin super, supra: 'over, above'.
It is important to keep in mind that this voice belongs to the female vocal register and to men before entering puberty, a stage in which they develop secondary sexual characteristics, among which is included the enlargement of the vocal cords and loss of the infantile treble.
Opera singers perform pieces that combine a libretto (text) and a musical score accompanied by an orchestra. These performances incorporate costumes, scenery, stage acting and sometimes dancing.
Opera singers come from all over the country and the world, so traveling and being away from home are a big part of the lifestyle.
Generally speaking, for an opera singer, advancing means working with increasingly prestigious companies, becoming known and earning more money.
To gain experience, aspiring opera singers do as many performances as they can in school, community theater or opera company choruses. The more one participates in productions, the greater the opportunity to learn from other artists.
The development of the artist is something that is created little by little and for them you must have experiences on stage.
Laura Viera A: How did you develop professionally?
Claraliz Mora: I was fortunate to have a father who is also dedicated to the same and he encouraged me a lot in that sense. Only by having experience on stage can you develop your art and you never stop learning.
She has had the opportunity to perform on different stages in France, Germany, the United States and Mexico where she has interpreted Lied, oratorio music, Mexican music and opera.
Since 2020 she is an artist represented by the Ulysses Arts music label in the United Kingdom. She has performed for radio and for national and international television.
At the age of 23 she is invited to join the musical companies Amigos de la Zarzuela and Identity Productions in New York City singing in zarzuela and opera productions, beginning here her international career as a singer.
A successful opera singer is someone who is self-motivated and self-encouraging, works well with others and loves to learn. The opera singer has to love learning in this career because it is about learning new music, stories, languages and staging.
They also have to be adaptable. It is very important to be as versatile as possible, to know who you are as an artist so you can create as many opportunities as you can.
Motivation is key, especially for students. They need to create your own opportunity, not wait for someone to come to you.
She is really proud of being able to fulfill herself in important aspects of her life. To be able to fulfill herself as an artist, as a wife, as a mom and to be able to fulfill herself as a woman.
She has performed as a soloist in different festivals and international theaters such as The Oratorio Festival of the State of Veracruz, The Antonio Ortiz Tirado Festival of Sonora (Mexico); the show Antología de un Charro de Albuquerque (USA), tours with the show Bellas Artes a todas partes and besides singing she has played the harp.
In the Festival Amigos de la Zarzuela she sang the role of La Duquesa Carolina y Casta in the zarzuelas Luisa Fernanda and La verbena de la Paloma.
Passion for music
Claralitz is passionate about music. Classical and Latin American music fills her heart.
That is why she is part of the trio Sol Latino. With the trio she has had the opportunity to make special presentations with Latin American groups such as Mariachi Dos Aguilas and promotes this music in Europe.
During the pandemic she was invited to participate in El Chabacano, the first Latin American musical in Germany, performed virtually from the city of Frankfurt, where she played the role of Luna.
She graduated from the Manhattan School of Music in New York, where she obtained her Bachelor's Degree in Classical Harp, and from the Staatliche Hochschule fuer Musik und Darstellende Kunst in Stuttgart (Germany) where she obtained her Master's Degree in Voice.
Opera singing is a fascinating profession because it hides many small and big secrets. In any case, pursuing this career requires courage.
Opera singers must have a working knowledge of the most popular languages for operatic performance: Italian, German and French.
In addition to musical training, aspiring opera singers are encouraged to take a dance class, an improvisation class or a drama class.
Opera singers begin training at a very early age. It is also important to sing in auditoriums or local pieces and to take private singing lessons from the best teachers you can afford.
The opera season is a varied and intense period for singers.
It is important to note that during downtime, opera singers are always studying for their next concert. They spend a lot of time studying. There is always something to learn, something to research, something to prepare.
Opera singers work with the artistic director, music director, general director, stage managers, stage managers, assistant stage managers, orchestra musicians, accompanists and, of course, other singers in the company.
Her instrument: the harp
The first thing we would like to clarify is that the harp is one of the oldest musical instruments in the world.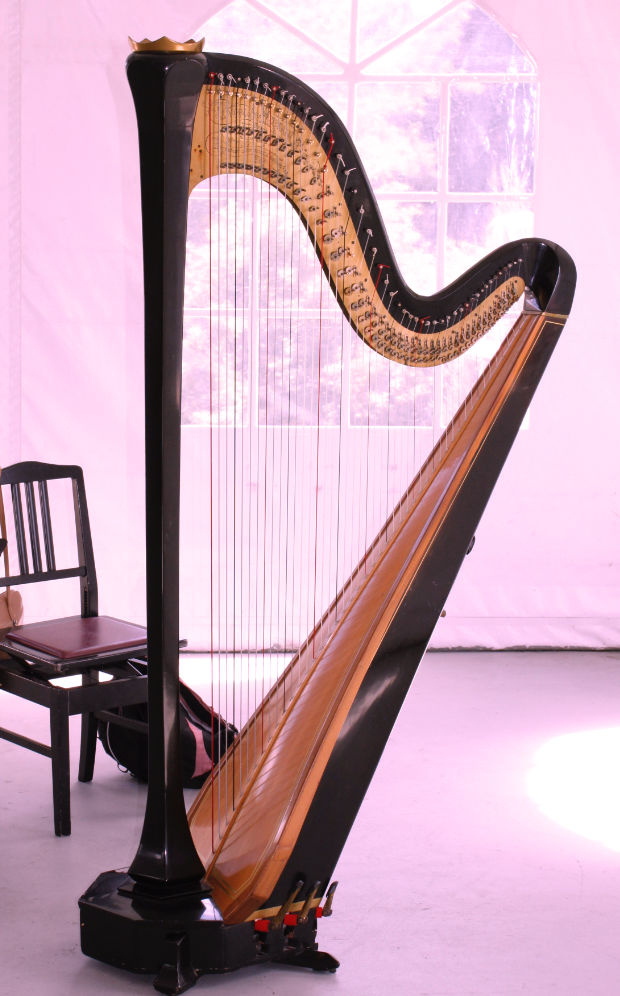 The first harps developed from the hunting bow. Wall paintings in ancient Egyptian tombs show an instrument that closely resembles the hunter's bow, without the pillar that we find in modern harps.
She has been represented by the Ulysses Arts label in the UK since 2020.
She has performed for national and international radio and television. But her relationship with the harp goes back years. Specifically, she has been principal harpist of different orchestras since the age of 12.
She has performed as a soloist with the Fine Arts Palace Orchestra and at the Latin Harp Festival in Mexico; at the International Jazz Music Festival, with the classical orchestra Orchestra Celebrate and at the premiere of the work Caecitas by composer Anthony Rosado in New York.
Claraliz was also principal harpist of La Camerata Juvenil, of Xalapa, Veracruz conducted by Efraín Guigui; of the Orquesta Sinfónica del Estado de Veracruz conducted by Antonio Tornero and of the Orquesta de Boca del Río conducted by Jorge Mester in Veracruz.
She was also co-principal of the Celebrate Orchestra and principal harpist of the Philharmonic Orchestra of the Americas, both conducted by Alondra de la Parra in New York.
She has won several international competitions, the most outstanding are: the international Celtic harp competition Union des femmes artistes musicienes in Paris (France) where she won first place and the Jugend Musiziert competition in Essen (Germany) where she won second place.
Concluding
Humankind's greatest creation is music. It showcases authentic creativity and passion. Music allows people to freely express themselves freely and that's why it's an important part of our lives.
She has invested her life in perfecting her talent.She has invested in her emotional and psychological side, in her talent. Everything to be an integral artist.