In this opportunity, I was very pleased and delighted to interview a very talented man, kind, direct, and willing to share with us his work and his journey.
As I always like to remind you how valuable art is, this time I will also mention the importance of its critique, for its conservation and diffusion. This is precisely because our guest is a free thinker but with a well-formed criterion which leads him to make art criticism.
Childhood memories
Roger Rodriguez is a native of Bogotá, Colombia. He was born in 1960. And we can see in his words all the life experience he has to offer in addition to his talent.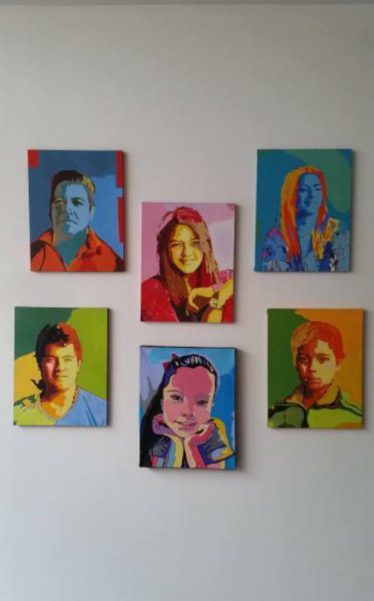 When I started the interview I had only looked at the works, contemplated a couple of them because they are works that freeze you in time, to prevent you from stop admiring them.
Other than that, I had no idea who I would be talking to. To my pleasant surprise, I ran into a gentleman, educated and trained in practically all the fine arts. So the interview flowed quickly, leaving me with a good taste in my mouth.
Our guest can remember that since he was very young he was encouraged by his mother, when she saw that he made excellent drawings, this is how he tells us how he began from an early age his approach to art, making drawings.
When he was young, he got involved in the work of ceramics in a factory and because of his age, he was allowed to explore the diversity offered by the masters. Why, "because a boy is allowed to", in the words of the charismatic painter.
Professional career
At an early age, he incursions into a professional career. He tells us that he was still a schoolboy, and remembers that he started at this age because at that time there was no internet to do school research.
That means that he had to do it the traditional way, so when he went to the library to do his homework, he discovered the world of art, which was exposed in seminars, courses, and exhibitions.
He began drawing in ink with pointillism. He made sculptures with the bases that gave him ceramics.
He learned vitriol, but all only in a complementary way.
His great passion lies in painting. Our dear Roger always likes to have feedback with other artists, academics, as well as with his public to enrich his vision.
Appreciation of the work
From my impression when observing Roger's paintings I could see that it is a deep work with a huge range of colors in a direct way, bold mixtures. In each of his works, I could discover the dedication that he takes in his creations.
Each one of them full of life and unique expression. Although I am not an art critic, I know how to recognize when a work is good. When the innate talent has been strengthened with training and without room for doubt, this is Roger's case.
Roger creates a foundation to build stories and connect with the vision of colors. He always challenges himself, he has no limits, he combines and works the color and modifies it through layers, and in this way, he generates sensations, emotions and creates a path that guides the viewer. In short, this is what Roger told us about his work.
Exhibitions
When asked about his exhibitions, Roger told us that for the amount of money they had already concluded.
Although he cannot do them in galleries at the moment because of the world pandemic situation. I can say with certainty that in the not too distant future, Roger will continue to do his exhibitions.
His most recent exhibition was in a building designed by architect Mazzanti for the Santa Fe Foundation.
It had a very open and illuminated space, as there were no walls to hang his paintings, Roger himself made easels to mount the exhibition.
In front of my eyes, giving a personality and exclusivity to the exhibition.
Roger moves a lot through his social networks, Instagram shows many of his works and if you contact him you can receive personalized work, in any technique he handles.
Roger's life in the pandemic
With or without pandemics Roger is still very active. His life has changed in a shocking way, although he already saw it coming, because of the way society is going. He reveals that for him the current situation was somewhat premonitory.
Like most people in Latin America, Roger has to keep to himself during the crisis. However, despite being locked up, he tells us that he locked up his body but opened his mind to continue his work and training.
His art nowadays is mostly and mainly inspired by the authors he discovers in the audiobooks he listens to while he paints. This is the main reason that his works are a reflection of what these authors transmit in their books, which are of varied topics, but he confesses that many of them are about philosophy. Revealing another taste of this artist.
Roger the writer
Our already appreciated artist surprises us in every minute of the interview because he gives us the scoop that he has also delved into his writing since it is one of his main tastes.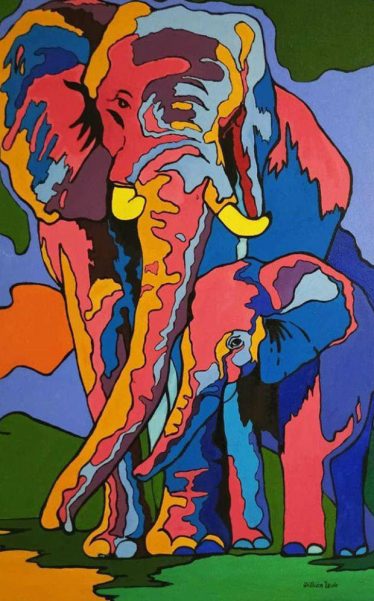 As I mentioned before Roger is very active, so he has made good use of his time continuing his training in all aspects and continues to produce works.
He would like to publish a poetry book. He already has the material, because he is undoubtedly a multidisciplinary artist who is always in between projects, complementing his main vocation with other disciplines. The only thing he needs to do is to compile them and bring them to light.
He also wants to make a book compiling his art criticism comments that he publishes on Instagram with a possible audience for those interested in art and students of the same. Because another of his passions is pedagogy.
For me, it would be one of the best books to learn art. Let's hope that soon it will be a reality and we can acquire the valuable knowledge that Roger has to share with the world. And as they say, for a sample a button, here is one of his comments, one of the ones that caught my attention is the following:
The transcendent purpose driven by the sense of seeing in art with the delicacy and discipline of the archaeologist who searches for disappearing treasures that are singular and distinguish them from everything else.
The critical interpretation must be rational and scientific dialectical and scientific dialectical without cognitive absolutism nor like relativism must be a human construction towards freedom with dialectical confrontation. To the signs that are conferred a poetic status of aesthetic beauty that is part of reality.
His work has been very local, although he knows perfectly well that some collectors have taken his work around the world. He is such a humble person because he never boasts of all his knowledge, he is open to all possibilities to offer his work to the world. He loves the idea of being invited to exhibit in any other place and so he takes advantage of the opportunity to get to know beautiful countries.