When we think about what we wanted to be when we were kids, more than one of us dreamed of being a singer. Society has made us think that this job is only for extremely talented people with high social status (people with money) because otherwise you will starve to death and it is also very expensive. This is why our dreams are changing and lead us to discard these types of options. It is also the reason why many are musicians or singers only in their free time and few choose to study and bet on a career in the world of the arts, such as music.
While not all of us can dedicate ourselves to music, painting, or any kind of art since we obviously need teachers, cashiers, doctors, masons, veterinarians, and the whole palette of trades and professions. Never but never forget that artists bring us that something that turns our wonderful existence into a pleasant one. This is the main reason for me to continue to promote artists and their work.
I have already told you that many people are afraid to go all in and dedicate themselves fully to music. So now let's go deeper, that fear increases when we are talking about classical or chamber music and without leaving out the opera. So this article will focus on the magical world of opera.
Classism in the world of opera
In this article, it is necessary to talk about classism because, unfortunately, for a long time we have been sold the idea that art is for the rich.
Although for a long time, art was inaccessible to the general public, because of its costs and exclusivity, today there are many ways to access art in general.
Our interviewee Dora told us that one of the advantages of the pandemic is that much of the art has been integrated into the digital world, with different platforms such as Netflix, Youtube.
Although this is not new, it is expanding and becoming much more widespread, as our guest told us.
Previously, if you wanted to enjoy a good opera you had to go to the theater. Nowadays many singers, even though it is still a small circle (speaking exclusively of opera singers), have taken on the task of reaching the largest possible audience.
So if you think that this music is only for the so-called "educated" people, I invite you to get into this type of music and after having really listened to this style or musical genre decide if it is for you or not, but without prejudices. Let's break with clichés.
A brief portrait of Dora
As I already mentioned, our guest performer is Dora García Dueñas. She is an Opera soprano singer from Guanajuato, Mexico. She has studied Music at the UNAM (National Autonomous University of Mexico).
She has performed on very important stages such as Bellas Artes in Mexico City and participated in prestigious festivals such as the Cervantino Festival in the city of Guanajuato. If you are interested in knowing more about her biography you can visit her web page, you already know I leave it at the end of the article.
Dora, like many artists, started singing at a very young age when she joined a choir because she accompanied her sister to a summer course where she decided to take a choir course, she has taken advantage of her restlessness and her taste for learning. She sees her beginning from a family point of view because of this anecdote.
The choir
The teacher studied in Mexico City and at that time she was in Guanajuato and that is why she was fortunate to discover Dora. This teacher created the Guanajuato choir of children.
It was here that Dora discovered that she had a very clear taste for singing. And she realized from a very early age that the stage was her thing, even though it was a very heavy rhythm for a child.
After this project ended, she did not give up and followed her dream. Knowing her profile, she knew she wanted to be a musician but did not want to externalize it because at that time there was no possibility in her city to follow that career.
So she moved to the capital and there she studied at first and despite being very happy in the capital of her state she did not feel satisfied and did not want her talent and her dream to stagnate.
I always remind them that the trajectory and success of our guests are due not only to their innate talent but also to their effort and dedication, the fact that they have sought their own path and made their talent grow.
The big leap
When Dora felt stagnant in her career, she moved again to continue training and growing. That's how she arrived in Mexico City. Like all strong and determined women, as well as talented, along with her studies, she was always looking for opportunities to perform on the largest number of stages.
This is how her career was formed, Dora realized that everything is centralized and even though everything looked perfect, she wanted to continue "searching for life" in the words of our star guest.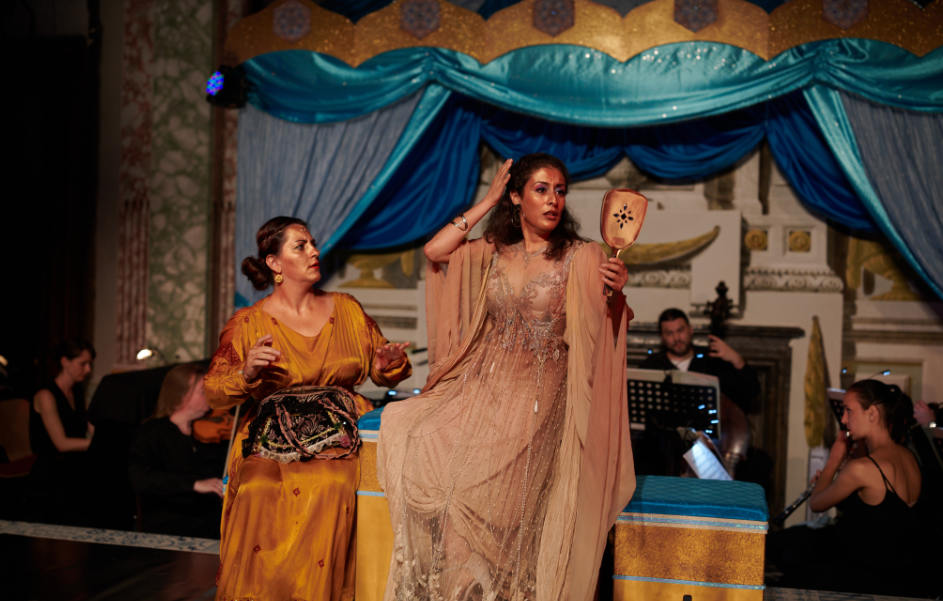 Her career as a soloist began this way, touring, doing little operas, she applied for a school in London, for which she had to audition in New York. This dream was not fulfilled due to a lack of resources, the cost of living and school was very high. But she made the most of it and focused on the most important thing. Moving forward. Take the opportunities. So many other doors opened for her and she decided to continue her career and education in Germany.
Life in Germany
The difficulties, as for all Spanish speakers in Germany, began with the language and then the high expectations of the host country. But she has never given up. Dora has been very successful in Germany. She has a master's degree in new music (Neue Musik) and pedagogy. This is her current project.
As we can see she is passionate about music and she has never given up on opera music.
Her advice to young people who have the same dream as her is not to give up. Make lots of contacts. Be responsible and show that they can trust you as a person and as a professional.
This is how our dear Guanajuato has won the hearts of the Germans. For her good character and her willingness to work and to work together, providing harmony in all her performances.
The Pandemic
From her personal experience, Dora has always been a cautious person and therefore has savings that have helped her cope with not being able to work at the moment. She is freelance and therefore does not receive financial support from anyone.
Like all empowered and confident women, she is very resilient and has adapted to the situation even though valuable projects that were already on the doorstep have been postponed.
Dora enjoyed spending time with her family in Mexico as she was visiting when the pandemic began.
Diversification is very important to her, which is why Dora agreed to be an understudy for a singing teacher, which brought back many fond memories of her childhood. And she has grown fond of this part of her career.
Concerts are reopening, although often without singers and wind players.
She is very supportive and mentioned that she is willing to adapt to any kind of preventive measures if it will allow them to return to their artistic work on stage.
Machismo in opera
Dora had never consciously thought that nowadays machismo was present in the opera.
On reflection she has realized that the demands for starring roles are very strict and selective, requiring singers to have a certain appearance and not based on their vocal ability or expression. Although men are also required, they are not as restrictive with them.
So Dora calls upon everyone to break with prejudices and stereotypes.
She invites us to seek solutions such as expanding job opportunities such as hiring professional makeup artists.
Dora invites us to even look for music for free on platforms such as Youtube. Furthermore, to give opera a chance and support this world by attending performances, theaters as far as possible.
I reiterate that the music and talent of Dora Garcia Duenas are wonderful and I invite you to know her page and appreciate her art. So is the whole opera world. Appreciate and value her work and training, as well as her dedication and performance in all the different platforms and stages.