For those of us from Bogotá who like art, La Cometa Gallery is a reference point. Not only because of the number of magnificent artists they represent, but also because it is a place of encounter, friendship, good vibes, good coffee, good art, and excellent company.
Difference between museums and galleries
It is very important to take a minute to make it clear that there is a big difference between a museum and a gallery and they are often confused.
Gallery refers to a place that exhibits and sells works of art by different artists. On the other hand, the word museum has the meaning of 'a place where artifacts are stored'.
A gallery is a place where an artist conducts his or her solo exhibitions. The purpose of starting a gallery is to exhibit the works of an artist.
How it all began
La Cometa is not an invention of a few months ago. On the contrary, this is a gallery that has been promoting Latin American art in Colombia and the world for more than three decades, specifically for 35 years.
At this moment they have three workspaces that help to facilitate cultural exchanges between artists of the country and the relations between the two continents.
La Cometa is recognized for its long trajectory in the formation of public and private art collections. They have a large presence in international fairs and numerous exhibitions that make this space a must-see art venue.
L.Viera: Well, tell me a little bit about who is La Cometa?
P. Jaramillo: Well, La Cometa is a family project that started 35 years ago in Bogota. It was called Taller de Arte Aimara and it was a silk-screen printing workshop founded by my father. And little by little, it was transformed, until we arrived at this.
L.Viera: How has the family history with the gallery been?
P. Jaramillo: Through the years we have been linked to the founder's children, we are 4 children working, and cousins, and so on, so it is very family-oriented.
L. Viera: When your father started the workshop at that time, he did it because he studied art, it was something that fascinated him to have an artistic space… so, what drove him to create the space?
P. Jaramillo: yes, well my dad studied law for one year at the national university and then he retired. and he has always been a dreamer, tell us. and always passionate about art. so, I think that was what little by little led him to it. he started selling a painting around here that he had in the trunk of his car, and so little by little.
Flying high
Since its creation, the gallery has been a plural space whose management focused on the representation, promotion, and dissemination of Colombian and Latin American artists has consolidated it as one of the most important artistic platforms in Colombia.
Galería La Cometa is a place designed to facilitate dialogues between the spectator, the work of art, and the artists from the different aspects of contemporary art and the constant inclusion of Latin American references of modern art that provide a fundamental context for contemporary artistic production.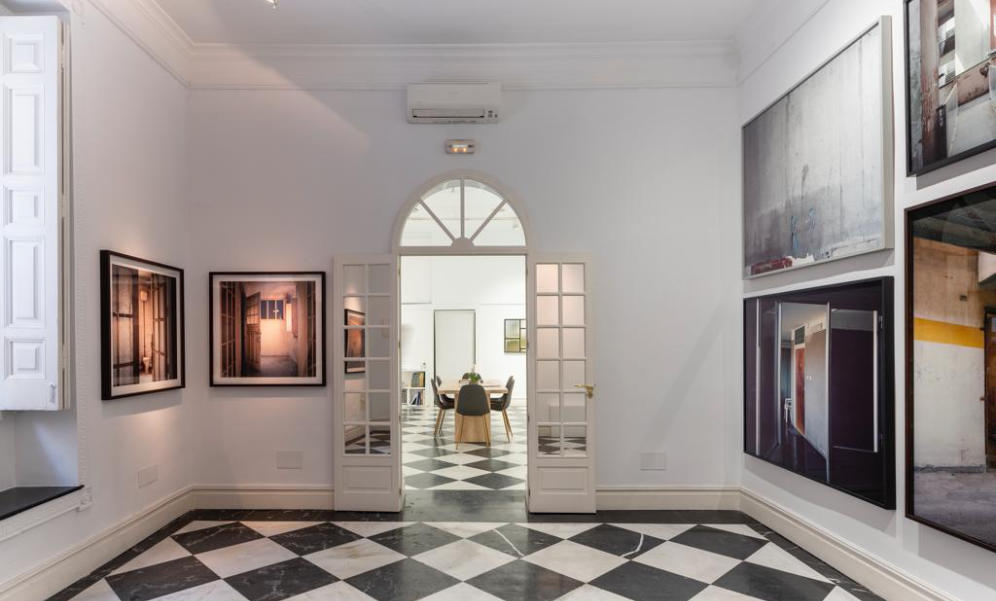 The works, which will always be an opportunity to open the discussion on global and essential issues, also focus on the position of vulnerability in which the natural wealth is found due to the different political and social processes suffered by the country and the world.
The Spaces
In addition to the artists, when people visit any of its three venues, they encounter unique spaces.
In the case of the gallery La Comet Madrid, it is designed as a platform for exchange. For this reason, visitors will be able to see both Latin American and local artists. The idea is to present works and artists and also to nurture local dynamics.
Galería la cometa Bogotá is a beautiful and dynamic space. Now, they have the first space exclusively for photography. It is the first gallery space dedicated to photography. But in Bogotá, there are also 3 more exhibition halls that generate an incredibly dynamic space, there is always the possibility of seeing beautiful, new, different proposals.
In Medellin, the activity of Bogota is somehow reflected, but also many artists from the area are being identified.
Changing Continent
La Cometa Madrid was officially inaugurated on April 11, 2019. Five contemporary Colombian artists were in charge of bringing this space to life. Their works focus on reflecting on issues such as society, economy, and environment.
L. Viera: Paloma tell me, were you nervous when the space opened in Madrid?
P. Jaramillo: Yes, it's a big responsibility for me. a project that I'm leading. and I have to answer not only to myself but also to the history of what has been built in the gallery, to my family, it's a big responsibility. I still get nervous.
In a way, all the family members were always very involved. They always took them to visit artists' workshops, to see exhibitions. Yes, when you are a child these kinds of activities are kind of obligatory, but as the years went by it became more enjoyable and everyone ended up connected to this world of art. So, you can say that it is half an inculcated world and half is simply the world in which they grew up.
Working with family is not always easy. In fact, it can be a challenge. But, for Paloma Jaramillo, the hardest thing at the moment is not to take things personally but she is fortunate to be hundreds of miles away which makes working with family much more enjoyable in that sense.
L. Viera: What has been one of your challenges?
P. Jaramillo: To take charge of this space and make it representative of the kite, but also to put my stamp on it. I think it is important to maintain the language of the gallery but also being in another country, with a different dynamic. I think we also have to make the kite space become a platform for exchange and also allow us to open ourselves to these new artistic languages. I think we have to maintain the identity of the gallery but also open ourselves somehow to the dynamics of Spain.
The artist and his work
The artist is a different being. He is someone who defines a territory, becomes familiar with himself. He is someone who confronts his prejudices in front of his interlocutors and questions reality.
In this process, the artist creates an intimate space to establish a relationship that allows him to question it, to listen to it, to observe it.
Then, through the process of creating the work of art, the intimate regains voice.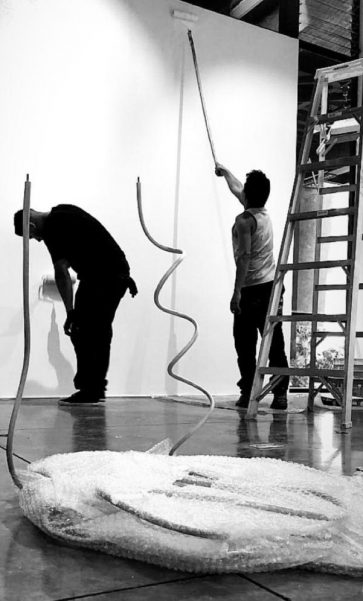 L. Viera: I would like people to know a little more about La Cometa. So, you have always supported national art, and Latin American art… then, there are some parameters that you have in the gallery?
P. Jaramillo: No, I think that each gallery has its own language. and one identifies with certain artists and with certain projects. so, in the case of la Cometa and because we have grown we have a curatorial committee. we have a department of artistic coordination. so we are fortunate to be always receiving many proposals. so, normally this is selected and goes through a selection process by this department. In the case of the gallery in Madrid, I see things that can be close to our language and I send them to the artistic direction committee.
L. Viera: What is an artist's route if he wants his works to enter the gallery?
P. Jaramillo: Well, there are several routes. I'll give you a clear example, at this moment I want to identify artists who live in Spain, because for logistical reasons and so on, it is important to have artists who are close to the gallery in Madrid. So, we made a small call or social networks, inviting people to send us their proposals. From those proposals, we pre-select some from Madrid and everything goes to the artistic coordination department in Bogota, and they are the ones who end up selecting.
The Pandemic
To undertake in culture was a risky bet, but, until the arrival of the pandemic and the crisis, the sector seemed to be experiencing a great moment.
In recent years, Bogota has seen the birth of cultural bets that oscillate between the risky and the dreamy.
Culture and art are as important as the food itself… they are food for the soul. All have prepared protocols to open their doors as soon as possible so that people, as it should be, can return to their spaces and feel firsthand the profound impact of art.
The Covid – 19, also came, for the gallery, as an opportunity to enter into the fashion of the worn-out term "reinventing itself". They looked for new ways to get in touch with people and have devised several strategies of visibility in the midst of the confinement and a sector that is not so united, as Andres says.
L. Viera: In the last year, obviously with all this, which has to be mentioned in some way, the whole pandemic, has affected the gallery business, the art business has been affected. I have in mind that you told me that you used the moment precisely to update, to have a better page, a virtual space much more accessible to people, and I wanted to know how 2020 ended in that sense and how is 2021 going?
P. Jaramillo: Well, without a doubt, and I think that not only for the galleries but for the majority, this has slowed things down a bit, no? Let's say that the rhythm of the processes has changed. Well, being in Madrid we have been fortunate that it is a city where there have not been so many restrictions compared to other cities in Europe. So, the gallery has been open since June last year and we haven't had to close again. You can feel the difference in terms of the number of people who come to visit. The commercial dynamics, of course, have had an impact.
L. Viera: And how has the issue been handled in Colombia?
P. Jaramillo: The same
L. Viera: But in Colombia, the galleries are closed?
P. Jaramillo: No. In Colombia, they have been open for quite a while. the openings are less attended, there are fewer visitors on a daily basis. that works differently now.
To keep flying
L. Viera: I have always wanted to ask this… why is the gallery called: galería la Cometa?
P. Jaramillo: when I told you that my father is a dreamer, it comes a little bit from that. The subject of flying, and he always writes in the group chats "keep the kite flying". Let's say there is a bit of a poetic factor about it. And I imagine he also has some connection to his childhood in some way.
Galleries are not only dedicated to exhibiting in order to sell art, they also do important work in terms of curatorial and literary production, as well as opening the space for many young artists to exhibit their work.
In these strange days, much has been said and written about the importance and necessity of art.
Undoubtedly art has a lot to say these days. There are those who dedicate themselves to "art for art's sake". Others are dedicated to more conceptual or political art, developing necessary works, dreaming new imaginaries, and confronting us with our failures.
What is certain is that in art it is difficult to find limits, the spectrum is wider every day. Art serves to live, to elevate us. Art has no limits. Art nourishes us as individuals and as a society, it keeps us alive. We hope that everyone who is able to visit La Comet Gallery will do so. It is a beautiful space, full of colors, textures, and possibilities. This is always important but in times like the present when it seems that we will be locked in and that we have so many limitations because of the virus, being surrounded by art is a welcome change and is the only way to keep flying like a kite.