All cultures have crafts that humanity admires. In the case of Mexico we have a very wide palette in this category. This is because in Mexico there are still many indigenous peoples and fortunately many continue to carry out their artistic work.
Art is not valued
However, this has a negative side, Mexican crafts in their country of origin are often little appreciated or we could also say that they are appreciated but poorly valued.
In other words, many Mexicans say that it is pretty, cute, beautiful, precious, I love it, but when they are told this piece costs 500 Mexican pesos, which is currently about 20 euros, they say "how expensive" and they haggle asking the artisan for an offer.
Then the same person goes to the mall and finds a similar garment but that belongs to a collection of a brand or designer and the piece costs exactly the same as the crafts that seemed expensive and they say cheap and buy it without protesting.
Obviously there are Mexicans who pay what the artisans ask for and who know the value of the work that is deposited in each piece because they are made by hand.
Today what I present as an introduction is increasingly rare to find, but it still exists. Fortunately, we meet more and more people who appreciate culture and work at hand.
This in our beloved Mexico. I must say that without surprising us, this is gradually becoming normal for the handicraft market, it already was for foreigners.
Many of them are so captivated that they travel and know the places, the people directly and return home with the beautiful works. Others remain in the country and still others find out by watching documentaries, photos, listening to stories, because going so far is not an option. But, if one visits their homes, we can find that they also have handicrafts in their most precious belongings and this is achieved through the work of people like Marcela Regalado Guerra, who is dedicated to importing.
A dream
Marcela Regalado Guerra, a Mexican entrepreneur envisioned a project that she turned into a dream that fills many people in Germany with joy. At first, she was interested in the importation of Mexican handicrafts, only Otomi, which will give her company its name.
All this begins with an online business selling crafts. The page is called "la soona otomi" which immediately calls us to play with the possibility that it is the Otomí area and later for many with the reference of English as an approach to the Otomí culture and the reality is different.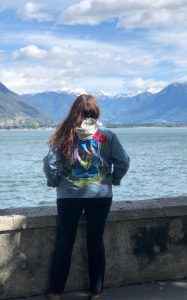 The businesswoman tells us how she came up with the name and also that she did not want to only pigeonhole in products of Otomí origin, but the name was captivating. Soona means Moon in Otomí and the moon has always been related to feminine power. Of course because we are cyclical like the Moon.
On the page we find a wide variety of products for all tastes. These products brighten the home and soul. It should also be noted that they are products that were paid fairly to their creators. For this, we must give it the recognition it deserves and support businesses like Marcela's.
This dream of a brave and strong woman was calmly taking shape because I carried it out with all order and in a legal way. But it is a dream that was formed first only online store, then also physically.
Now she is opening a complementary gallery that is open to artists of any nationality, but like us, Latin American artists are given priority. And the last part of the project is the altruistic one, where they support looking for donations to help people directly.
This may sound strange. But it's fair. Because most of us Latin Americans often have to work twice or three times as much as people of European origin. So to balance the scales between us we lighten the load.
Marcela's dream also includes supporting the embroiderers she works with, she works mainly with native women because they are the ones who transmit their art and culture through their feet.
Altruism
Marcela for business and pleasure before this Covid19 Pandemic frequently visited Mexico, we are talking about between three and four visits a year. On one of his visits in 2019, a natural disaster had occurred that affected many Mexicans, an earthquake. This affected one of the artisans who is Marcela's supplier, Mrs. Juana, was left without a home and it was there that an opportunity was born to grow the Otomi soona now in the field of charity.
Allowing the collection of donations and supporting other small companies such as the only hardware store in town to rebuild little by little the house of the talented artisan. And although this facet was implemented in an emergency and not for the purpose of prolonged help. The idea has not been ruled out.
They did everything in the most transparent way possible. All the money was made visible. Both from donors and purchases. So Marcela explained to us that at the moment she is looking for projects to support, as was the case with Mrs. Juana's house.
The shop and gallery
The store could not stay in the virtual world having behind it such a nice woman who also likes to have that social contact of serving her customers personally. Collect the experiences of the different types of clients and their tastes for the original cultures of the Mexican territory.
Thus, in October 2019, the online store gave the opportunity to make a pop up in a space where after several pops up it became the headquarters of the soona otomi.
Planned for 02/20/20, it was a short-lived opening (three weeks) due to the ongoing contingency. But it was not all gray and black, Marcela received aid from the German government during the time it had to be closed and was able to open again after five weeks. And after all these little setbacks we can enjoy a larger store.
Marcela's bet is to bring the world and native culture closer to Europeans because it is well known that they highly value handwork. The labor that must be paid fairly.
Most of the clients of the soona otomi have not visited Mexico. So Marcela is informed about the entire creation process, the history of the details and its geographical and cultural origin. Transmitting everything that each product entails and that is how Marcela not only sells pieces, but also becomes a diffuser of the original cultures.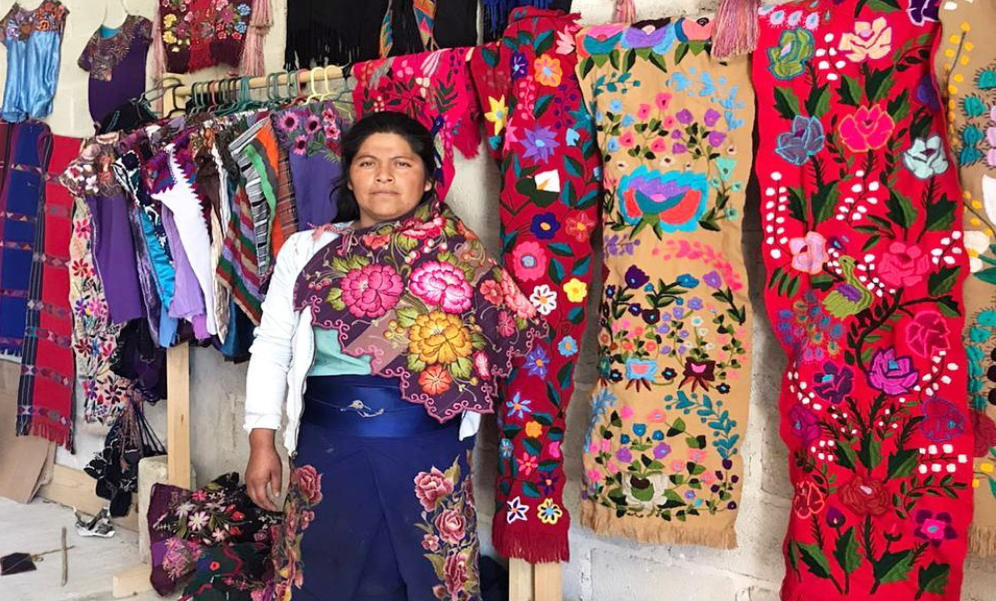 Dealing with artisans is very personal and Marcela has a fundamental role for them, she teaches them formality and she respects the prices that they handle, even if they ask for very little, she tells them that it cannot be, but also from the other side she created the confidence to say: hey you overpaid.
I would also like to raise awareness that many times we see imported products and the first thing we think is that it is expensive, in Mexico I buy it much cheaper. But if you have to follow the guidelines, pay taxes and international shipping costs, we can count on the price that cannot be the same as the country of origin.
The garment this year are the mouth covers, but also the cushions and the dresses are sold well.
With the expansion of the physical store after the reopening, a large space is being offered to mainly Mexican artists who want to mount an exhibition. As it is the newer section there is not much to say.
The advice
Marcela invites us to pay attention to our purchases, what is handmade can never be cheap. Using logic, if we do not want to support exploiters, we must note that the original cannot be cheap and that not everything is cultural appropriation.
There are designers who work directly with artisans. Cultural appropriation is serious.
I rambled on the concept of artisans and artists because the artisans with whom Marcela works are precisely artists, they just don't have a title and are dedicated to making unique pieces for everyday use and beautifying our homes and changing rooms.
You have to recognize if it is inspiration or copy. We must ask ourselves the origin of the products to avoid supporting everything. Because the responsibility is also on the consumer.