Natalia Rodríguez Bejarano or Hana Dancer born in Colombia and resident in Canada is the woman who has developed both physically and mentally and transmits her knowledge on how to wear it daily. All she does through psychology and dance, in a fusion that she has created.
The review
Natalia is also passionate about oriental culture and a certified Hatha Yoga instructor. It is important to remember that she is a psychologist with a master's degree in Clinical Neuropsychology.
Due to her passion for oriental culture, she is now a professional dancer of Oriental Dances and a teacher of them.
"To be able to move without reservations, to be able to feel from the depth of my being and express it for myself and for others, to feel in the freedom of being myself in all my facets, without judgments, to give honesty to whoever sees me… To give to someone a moment with a person without masks, who is not afraid to be exposed and open her soul through movement. "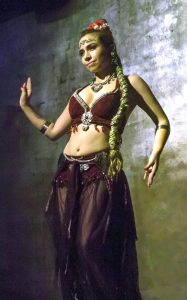 Throughout her career he has managed to merge and implement her professional knowledge with the innumerable benefits of dance and oriental disciplines.
She has developed her own pedagogy and a different therapeutic approach to teach and support anyone in a playful and stimulating way.
Uniting not only the physical and sensorial environment, but also an integral dimension of being, it is thus that Dansanando creates a therapeutic system to heal through conscious movement and dance.
In her practice she tends to train not only dancers, but integral and conscious beings, who through learning their corporality manage to overcome themselves and understand all their potential and strengths.
Natalia is undoubtedly an entrepreneurial woman. She is also fully committed to empowering other women, convinced that the way to transcend is to connect the entire feminine force, generate brotherhood and thus transform realities.
The world of dance
Like many artists, Natalia is also inspired and enjoys fine arts. For the intrepid dancer, dedicating herself to dance is not a self-centered joy, it is a process of giving and receiving.
She is motivated by the freedom that she feels when dancing but with a perfect command over her body and the feeling of transcendence that it provides her and at the same time deliver the act as the treasure that is to her audience.
Undoubtedly, Hana Dancer will not stop enjoying and offering her beautiful lifestyle because always while dancing, she continues to be inspired.
Dansanando
Dansanando, a dance therapy system whose main tool is oriental dances and that helps you recognize yourself from your own emotions, accept them as a fundamental part of your vital learning and reconnect with them for your benefit and your relationships.
"You learn to see yourself as you are in all your fullness and accepting who you are in its entirety, with your lights and shadows. The practice of dance helps you gain self-confidence, self-esteem and deep self-knowledge."
We already talked a little about how the world of dance is for Natalia. But how did you come up with this mix between dance and psychology? Well, for her it was something very coherent but not immediate, since she knew perfectly that for a long time there have already been several therapeutic currents with a similar approach.
They were created by people who, like her, realized that dance is a healing process and then structured systems to help others heal their emotional and affective processes through movement.
However for Natalia, who started dancing at a very young age, found and focused in her youth on oriental dances while she continued her academic life and trained as a psychologist.
So she was divided, on the one hand she danced and taught to dance and on the other hand she practiced. But luckily the time came when it just happened that her two beloved disciplines came together.
She was becoming aware of the healing process that dance exerted on her and that her dance classes were not only and specifically dedicated to technique, but that she really helped her students in their healing processes.
All that emerged while learning were very intimate situations that affected all aspects of the lives of these people and it was the whole that led her that her teachings could not remain in the dance of form but in the dance of background.
Like all similar therapists, she had to develop a system to be able to implement dance and psychology in her classes, and so Dansanando emerged. It undoubtedly revolutionised and had super positive implications both for Natalia's classes and for her own life.
For many it is not clear how it is possible that dance helps to heal, so we asked Natalia very directly what her Dansanando process is like.
"It is a process that acts as a spiral that goes from the outside to the inside, first you learn to know many of your physical capacities and to overcome your limitations in terms of being able to move in certain ways."
For what she responds, it only remains to point out that all processes require time and effort as well as patience and without a doubt are individual. For example, one person could tell us that in a month of classes he has felt incredible and that the evolution is notorious and immediate and another person requiring months.
The courses and classes
Many will wonder and where or how can I register with Hana Dancer, because if you live in Montréal you can access their courses. There can be on a regular basis either group or individual.
Generally speaking, the classes last from one and a half to two hours, the dynamics is that by learning oriental dance and conscious breathing, various situations arise that are created by movement.
Natalia is guiding and supporting all those processes of self-discovery and meeting her students all the time. The idea is to build a new way of seeing themselves and their reality.
Now in Montréal, Canada, she is working with a group of women who, motivated to learn oriental dance, have also allowed themselves a space of self-knowledge and personal discovery.
They also teach workshops, conferences and seminars. These are designed and prepared at the request of the institution or group that is interested in providing their team, clients or members with a space for dance therapy with the Dansando system. Everything is developed according to the who needs it.
The therapist's work
For the dedicated teacher and psychologist the most satisfying part of her work is without a doubt the act of kindness that she performs by helping others.
"Dancing in itself is an act that generates deep well-being, now, if you can help others feel good by learning to dance, that is already the highest point of my work, there I feel that I am fully accomplished. "
Her work reminds her and makes her ratify the reason why since immemorial time humans have created the expression of movement through dance as a form of healing.
It is a pleasure for her when she resumes her paths. Because you know all the power you have with conscious movement and what it implies we put at the service of others.
No task is easy, but the obstacles overcomed show what we are made of. Natalia is no exception, she knows perfectly well that the first thing to succeed is to eliminate the limits that you set yourself.
As an example, she tells us that she did not feel prepared or with enough tools to create the dance therapy system, regardless of whether she actually did it without realizing it and that she already had 15 years of experience as a dancer, teacher and psychologist.
It was difficult for her to consolidate her intellectual and experiential knowledge. But as the strong woman she is, she decided to remove her limitations and continue with her work with a vision of construction, always improving is a goal.
Natalia is not only a teacher, she continues to dedicate herself to professional dance. She loves doing performances to help others through the appreciation of her art. Natalia also performs at private events and where she is invited to perform.
In some parts of Canada it is done in the form of a volunteer. The cost to see the presentations varies according to the organization and the expenses to carry it out.
The goals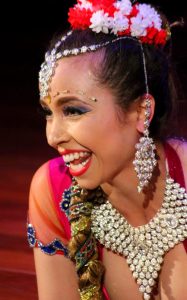 For Natalia, her main driving force is to continue helping and contributing to the world. Amongst her goals is to reach more people in Canada and the world. Although she already has some spaces in Montreal, she wants to achieve more.
We have to add that he also wants more dance professionals and therapists to get to know her system and replicate it so that help reaches everyone.
If you are in Montréal, give yourself the chance to admire some of their presentations or even be part of their courses.
For those of us who are somewhat retired, we can follow it on their social networks and in their own way support the dissemination of the valuable Dansanando system and the impressive Natalia.
Natalia is a great person who wishes good for everyone. This successful woman is an excellent professional who imparts her knowledge and gives her art through dance.
Youtube: https://www.youtube.com/channel/UCoGkJYAqUdUCwoj_TAuDofw
Facebook: https://www.facebook.com/dansanando/
https://www.facebook.com/groups/danzaconhana/
Instagram: natalia_hanadancer