If there ever was an artist that has challenged the "normal" view of things it has been Banksy. Banksy is an artist for the masses. Banksy's work saw its humble beginnings in the Bristol underground scene. A scene associated with drum and bass, and graffiti art that has existed since the early 1990s to present day.
Who is he?
One of the things that makes people so interested in his work is the fact that no one really knows who he is. He is sort of a ghost, a presence, you could say.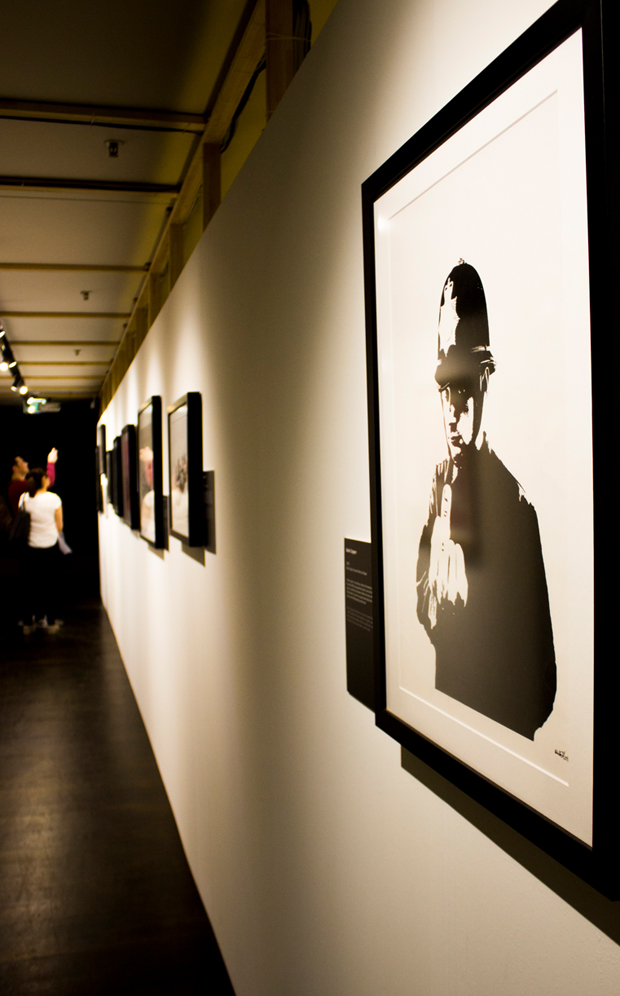 He is an anonymous England based graffiti artist and political activist. Satirical street art and subversive epigrams combine dark humour with graffiti that are executed in a distinctive stencilling technique.
One of the first things we must try to understand is that Graffiti is a form of guerilla warfare. It is a way of snatching power and territory.
Banksy's art seems to be everywhere people look. His art decorates walls all over. He reminded society, that we are rats.
His cheeky, political art, combines graffiti with stencil cartoons has built-up a cult following over the past few years.
His stencils feature striking and humorous images occasionally combined with slogans. Normally, the message in his pieces is anti-war, anti-capitalist or anti-establishment.
And, of course, he has some "to go" subjects which are: rats, apes, policemen, soldiers, children, and the elderly.
Art should comfort the disturbed and disturb the comfortable.

– Banksy –
He has a desire to ridicule centralised power. His hope is that his work will show the public that power does exist and it sometimes works against you.  That power is not terribly efficient and it can and should be deceived.
A fan
I am a fan. Ever since I discovered his art in a book a few years ago I was impressed.
Not only by the fact that no one knew who this man was but because his pieces showed uncomfortable truths with great colors.
A few years have come and gone and I have travelled to London. There I went on a Banksy tour, searching for his art all over the city. At that point, I was a groupie.
Now, when the exhibition came to Berlin, the city where I live, I could not miss the opportunity to see his work up close and personal.
And so I did. Here I learned a few facts which I ignored before.
The Art of Banksy
This exhibition had never seen the light in Germany. "The Art of Banksy" exhibition has also been seen in Antwerp, Istanbul, Amsterdam and Melbourne.
It was a rare one time opportunity to see one of a kind pieces. Pieces that have been put together form personal collectors all over.
It presents almost 80 pieces of art, including some of Banksy's most popular works (for example, "The Girl and the Balloon"), as well as previously unseen oil paintings.
The exhibition is curated by Steve Lazarides, a former friend and agent to the elusive artist. The pair decided to go different paths in 2008 and never explained the reason why. And in all truth, why should they explain their reasons?
As I learned, Lazarides says the exhibition will probably anger his former client, who remains a staunch critic of such commercial projects. But, this has not stopped Lazarides from going ahead.
Banksy remains one of the most bewildering cultural icons of our times. His rise into popularity has been somewhat meteoric.
He started as a freehand graffiti artist in 1990 – 1994 as one of Bristol's DryBreadZ Crew (DBZ). It was during this period of time that he met the photographer Steve Lazarides.
Lazarides began selling Banksy's work and after some time he became his agent.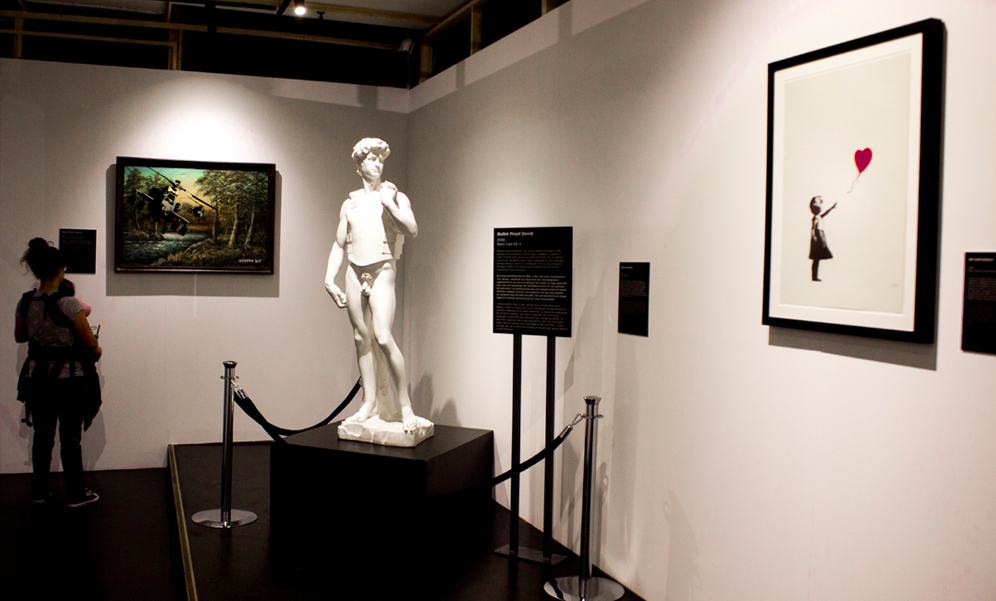 But, making graffiti takes time. And, as he stated in the book Wall and Peace, when doing graffiti he was sometimes caught because of the time it took.
That is the reason why he changed to stencils. He developed a series of intricate stencils to minimise time and overlapping of the color.
Banksy created a documentary film, Exit Through the Gift Shop. It made its debit at the 2010 Sundance File Festival and it was presented as billed as "the world's first street art disaster movie".
As a result, in January 2011, Banksy was nominated for the Academy Award for Best Documentary for the film.
Banksy's first Los Angeles exhibition was held on June 19th 2002.
August 2004, was the moment when Banksy produced a quantity of spoof British £10 bills replacing the picture of the Queen's head with Diana, Princess of Wales's head and changing the text "Bank of England" to "Banksy of England".
Stencils are traditionally hand drawn or printed onto sheets of acetate or card, before being cut out by hand.
There are a series of political and social themes in his work, some of them are: anti-war, anti-consumerism, anti-fascism, anti-imperialism, anarchism, greed, poverty, hypocrisy, despair, and absurdity, among others.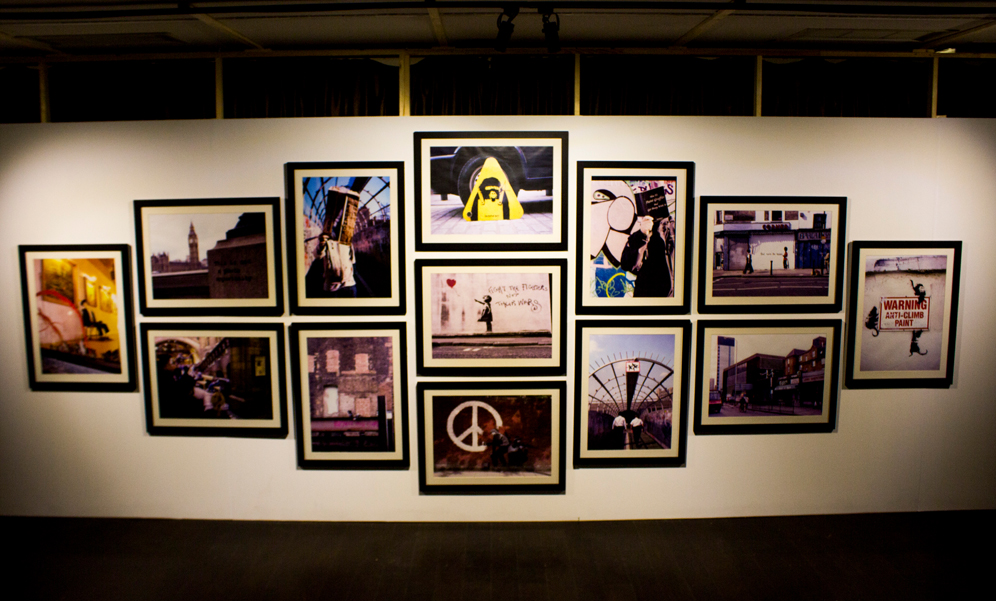 Banksy's Girl with Balloon was voted Britain's best-loved work of art. A girl whose hair and dress are blowing forwards in the wind reaches up to clutch the string of her heart-shaped red balloon. The gust has pulled it out of her hand. It's away. Aw. Is there any more to say? She is depicted as a simplified black shadow on the wall.
Banksy has given a financial boost to peace campaigners by donating the £205,000 raised from the sale of his latest work to Reprieve and Campaign Against Arms Trade.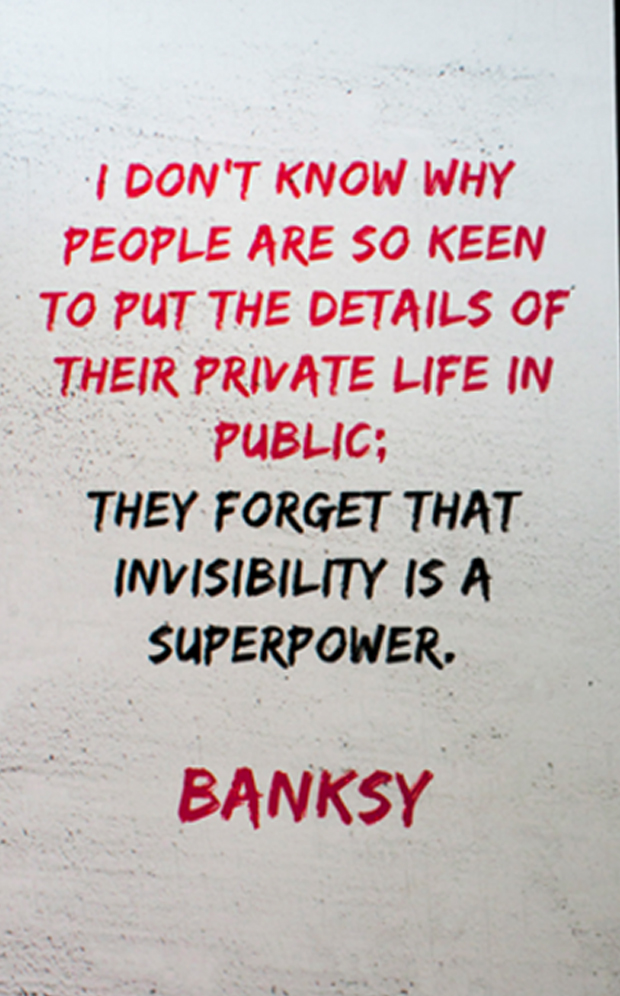 Whether he likes it or not, Banksy has come to be absorbed by the establishment he makes fun of. The exhibition charges visitors 20 euros for the privilege of seeing something they could have seen on the street for free.
The result of this exhibition is somewhat controversial. As a matter of fact, there is something puzzling and weird about street art in the clean environment of a commercial art gallery.
Everything in this gallery was meant to be bought. It all had a price tag. I remember getting as a souvenir some great tote bags, a book, keychain and mug. I love them!
I have a question roaming in my head: where does street art belong? Banksy has often said that street art should be displayed where it belongs: on the street, where people can access it without buffers and barriers. Banksy is the definition of what makes the street art movement. Street art defies ownership but exactly this is what has given him the edgy reputation he has.