Talking about domestic violence in children and youth is a difficult and painful topic but we need to break the silence. As a mother, it is a topic that is difficult for me to talk about, but it is necessary. However, if we do not talk about it, if we do not make it public, we will not be able to change things.
Types of child abuse
Let's start by talking about the fact that, unfortunately, there are several types of child abuse. There are different types of abuse: physical, psychological, and sexual.
Abuse causes a lot of trauma and problems for children, who often need psychological help to overcome it and move on. Abuse causes extreme disturbances in the child's socio-emotional development and can cause different psychological problems in the short and long term. These are children with low self-esteem and problems in relating to others.
All this can lead them to suffer anxiety, depression, addictions, and risky behaviors.
Usually, the abuse comes from the members closest to the child, usually a parent, although it can also be caused by a grandparent, a sibling, or a teacher.
For example, they may show bumps, wounds, bruises, or discomfort that are unexplained and not caused by an accident. They may also show pain caused by anxiety and fear. Other alterations may include sleep disorders, eating problems, regressions, aggression, crying, sadness, depression, anxiety symptoms, problems at school, isolation, fear, guilt, tiredness, apathy, etc.
It is also possible that many of these symptoms are accentuated by the abuser, which can give us a clue as to what is happening and who is to blame.
Child labor
Child labor is a violation of the rights of children and adolescents that affects their development process and generates conditions that violate the effective enjoyment of their rights. According to Colombian legislation, child labor is considered to be that performed by children and adolescents who meet one of the following conditions:
1. Be under 15 years of age and be working.
2. Being between 15 and 18 years old and performing work in activities classified as harmful or hazardous, established in Resolution 1796 of 2018, issued by the Ministry of Labor.
3. Perform activities related to household trades that exceed 15 hours per week.
If a child or adolescent performs household chores and work within the family every day, without a break and for one (1) hour a day while their parents or caregivers are working, they are considered to be in a situation of extended child labor.
It is evident that girls and adolescents are more likely to perform household chores. Many girls are deprived of their right to education or bear a greater amount of household chores.
In Colombia, it is considered normal for girls to do most of the housework. It is taken for granted that girls should take care of younger siblings and perform household chores.
A world of strong contrasts
Laughter and more laughter shakes the whole city, creation, children's laughter and adult laughter. They are many children being children with Dad with Mom, living a normal life as desired, they are so loved with tenderness, they can laugh more, play more, just be children.
They only have to tell stories, caresses, clean little bodies, bathed, cared for, smell good, pjs of little moles, after the stars go away they go to school, there they continue to play, with their messes and their excitement.
Well, if the teacher being aware knows that they really go to school is to play as is life, being children begin to know how is the coexistence with all the components, love, rejection and comparison between games.
We are in a world with children who are kings and others who are treated and seen as beggars.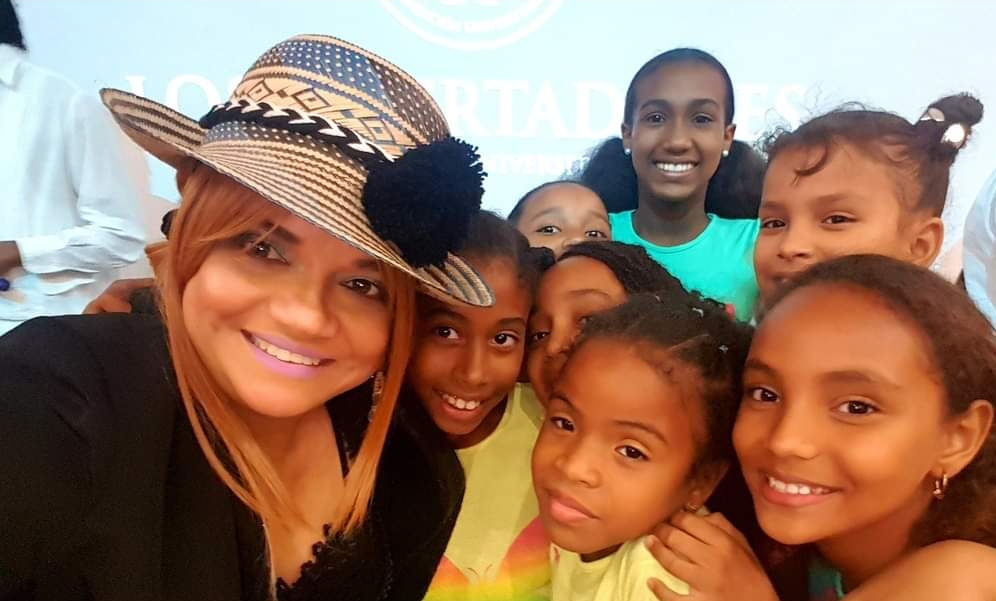 We all want to live like this in a world for children real but full of gray and clear days.
Any moment of life changes, our mind must change. Today I think of those children who only think about producing coins, selling their time or their body and believe that this is life, what will they do when they wake up from their sleep and see that they were only worth coins and forgetfulness, little study, little love from those who put them to work, little conscience, some will say if it was the same parents who put them to work, sleeping parents who raise, sleeping children to sell themselves for coins.
That is how we came to the Cadrez Foundation. A foundation dedicated to helping women and their children. In order to learn a little more about this foundation and the problems they work with, we had the privilege of speaking with Ely Zuluaga, its founder.
All this is just a start, just a writing but it is very important to see the statistics, the follow up, what is being done, who is interested in this issue that beats but many times is just another project.
The Cadrez Foundation
The Cadrez Foundation of Colombia works to help children in Colombia. Project Love heals with the Cadrez Foundation of Colombia.
Nessa: Does the name of the foundation have any meaning?
Ely Zuluaga B: It has a very simple meaning: Fundación Casa de Ely Rosa Zuluaga. It is a very simple name to do temporary work with foundations and NGOs, with libraries, schools and aid houses.
The Cadrez Foundation mainly started working with women. But women usually also work with their children, they are part of their environment. So the foundation helps with the empowerment, healing and structure of Colombian women, specifically on the coast, in Barranquilla and Cartagena, which are very close.
A huge problem is that there are many parents who allow that their children are sexually abused.
In Cartagena, child sex trafficking gives alarming figures with little or nothing being done to eradicate this practice.
In the follow-ups, preventive workshops are implemented with parents, children, people who assist them or tutors, which are carried out in schools and libraries where reading, texts and stories are encouraged to create, activate their own imaginary.
During these workshops we also support the medical and psychological work according to the case of the children who need it.
The whole project "el amor sana" is a voluntary project for the prevention of child labor and other assistance to improve the quality of life and self-esteem of women and children.
we put a grain of sand to empower beings that are within our reach, to give another meaning to life.
Nessa: What is the problem in terms of abuse or lack of opportunities for children?
Ely Zuluaga B:I see the lack of opportunities mostly for the parents, when many of them are placed as leaders or in their work… then, the child stops working and goes to the educational part. Then, the child stops working and goes to the educational part. The consequence of the parent already finding a job opportunity… the child is already placed because they have a very integral help is to teach them how to access places so that they can continue studying and the household is balanced.
Nessa: What would you like to achieve, let's talk about objectives (immediate, medium and long term).
Ely Zuluaga B: In the medium term we would like to continue to come together with the entities we work with. Joining forces with with Bienestar Familiar or libraries. Always thinking about the change of the mother in order to avoid or reduce street work. In the long term we would like all this help to be constant help.
The most difficult thing so far has been the pandemic. When the pandemic arrived everything changed. Everything became virtual and that made things difficult, but we continued working.
On the other hand, the easiest thing has been to win people's hearts. They see that we want to help, that changes are possible and they are very grateful.
Nessa: How has the situation changed since you started working?
Ely Zuluaga B: The situation has changed a lot because the change is immediate because they feel welcomed. they know where to go. In fact, the situation of fear and uncertainty has diminished a little, giving them food, education, clothing, or providing the father with a project or a job to generate income. Then, that child can go from being on the street to a school, a shelter, etc.
The problem in Colombia
It is horrible but in Colombia there are always more children to be used in child labor, begging and abandonment.
The figure equates to a child labor rate of 5.9 percent of Colombians in that age group, which implies that 6 out of every 100 minors are engaged in some kind of labor activity.
According to the International Labor Organization, there are 218 million children between 5 and 17 years of age in the world who are engaged in economic production. Of these, almost half (152 million) are victims of child labor and 73 million are in hazardous child labor.
Nessa: Why is it important to work to help the child population?
Ely Zuluaga B: It is important to work with the child population because they cannot and should not be abandoned. They feel fear, rejection, uncertainty and they are children, they don't have to suffer that way.
Nessa: What types of work have you found?
Ely Zuluaga B: In the preventive workshops against child labor and in the surveys with parents who live in shelters or even live on the street, we found different types of work. There is begging, candy and newspaper vendors. There are those who glue rivets or take care of younger children while parents work. There are those who do housework and even cook in unsafe places.
The begging of children to beg for money and give it to people on street corners or nearby who wait for them with a supposed care to pile up the coins. They have a theory that the smaller the children or those with physical defects, the more money people give.
They also sell candy, newspapers, magazines, glue rivets or take care of younger children while the parents work, that also includes housework and cooking in unsafe places, among others.
Nessa: I would like to know, what kind of changes have you seen?
Ely Zuluaga B: We have seen many changes. The changes can be seen from day one. The first thing is to make a massive call and a talk is made. where people listen to new concepts, self-love, women, home, readings. a database is made and that part is massive. leaders are chosen for what they are going to work on. each project is for one year. In addition to the workshops and the calls for proposals, we work with psychological and medical assistance, social assistance, and improvements in clothing to make them feel good.
According to Zuluaga, the children are not alone, they are with their mother, father or the person who takes care of them. The work must be comprehensive, the child must be cared for and attended to medically, they must have an education and they must feel that they are loved. This is something that must be worked on with the parents. At the Cadrez Foundation they work a lot with the mothers' self-esteem, since they believe that if this changes, the children's environment changes.
Sexual violence
Sexual violence against children and adolescents includes any act or behavior of a sexual nature committed against them.
Unfortunately, cases of sexual violence against minors are not uncommon. If we look closely, the figures are horrifying.
For example, in Antioquia, the figures on sexual violence against children and adolescents show that every day, on average, there are five victims. According to the National Institute of Legal Medicine, between January 1 and April 30, 2022, there were 670 reports, making the department of Antioquia second only to Bogota.
In 2019, around 3,850 children from 0 to 5 years old, were attended by Medicina Legal.
Nessa: And, on the issue of sex work?
Ely Zuluaga B: It is very serious. Child sex work is often aggravated by the parents themselves who profit from the work of their children in such degrading work almost daily.
Abuse committed by a member of the family nucleus, by people who are figures of trust and authority, is very common.
According to the National Survey on Violence against Children and Adolescents in Colombia, 41% of children under 18 years of age have suffered some type of sexual, physical or psychological violence. Of these, 72% have occurred within the home and 28.4% are perpetuated by a family member.
The bottom line
It is women and children who bear the brunt of the whole process. From an early age, children are exposed to both happiness and contempt. Many children are on a journey of a road of silent tears and abandonment. That is a road on which they have to go to work in the streets.
The work of the Cadrez Foundation is mainly focused on women. In a radical and total change, based on the woman's own love and therefore that of her child.
It is a thorny path in which they must sell their bodies, enslaved. To work to help those who are suffering, to help those who live in a continuous nightmare from such an early age, more than a moral duty is a responsibility of all.