I have always looked out to the sky and wondered what is out there. Could I ever touch it, feel it? I have a vivid sort of image in my head: the concert in the Fifth Element directed by Luc Besson, her voice, her blue dress, that is part of what I feel space would be like. I am aware that it's nothing like that, but that's just my imagination.
I know there are planets, moons, stars, and satellites. I know we have not even discovered a fraction of what is out there. But I wonder and dream about it.  This is why I know that outer space does bring curiosity out of us.
This curiosity, this need to see much more, is not only mine. People from around the world go to visit the Kennedy Space Center Visitor Complex every year.
Although I was not born when those heroes stepped on the moon, those actions have marked my childhood and sometimes my adult life.
The first time I visited the KSC, I was a child. I went with my mom, dad, and 2 brothers (not sure how old I was). One of them, the youngest one, had this dream that he was going to space and if we would have decided to be a good student he would have done it, I am sure. But that was not the case.
This time around, on my second visit, I went with my husband and daughter. I had sort of promised them they would love it. Granted, my 4-year-old didn't understand much of what I was rambling about but when we got there her eyes lit up.
What is the Kennedy Space Center?
Let's start with the basics. So, what is Kennedy Space Center and what is all the fuss?
Well, since 1968, NASA Kennedy Space Center has been the main launch center of human spaceflight.
Famous launch operations like the one for Apollo and Skylab were carried out from Kennedy Space Center Launch Complex.
From the first North Americans in space to the Apollo Program, the Kennedy Space Center has been at the center of some of the world's most important accomplishments in space.
It also manages the launch of robotic and commercial crew missions and researches food production and In-Situ Resource Utilization for off-Earth exploration.
There are 700 facilities and buildings across Kennedy Space Center.
It is home to the launch pads that have sent astronauts into orbit since 1961 and has been indispensable to the United States of America's  journey in space.
The Kennedy Space Center is divided into several "mission zones," or buildings dedicated to different eras of space travel.
Where Is the Kennedy Space Center?
The John F. Kennedy Space Center is located on Merritt Island, Florida. It is one of the ten field centers of the National Aeronautics and Space Administration (NASA).
It is part of Florida's Space Coast. This island is on the Atlantic Coast near Cape Canaveral.
Let me make a parenthesis about the Space Coast.
It is 115 kilometers. It is possible to enjoy a lovely day at the beach that doubles as a launch pad.  I am sure this is the only place to experience a rocket launch up close and relax to the sound of crashing waves.
It is about an hour from Orlando and about two hours from the city of Tampa on the Gulf of Mexico coast.
The complex is Massive.
This is where many of the space programs launch. Kennedy Space Center is where many of the up-and-coming space development by companies like SpaceX and Boeing are taking place.
Let me once again, take the time to sort of explain what SpaceX is.
The Space Exploration Technologies Corp. (SpaceX) is a North American spacecraft manufacturer, launcher, and satellite communications corporation. It was founded in 2002 by Elon Musk with the stated goal of reducing space transportation costs to enable the colonization of Mars.
A bit of history
It all began when President John F. Kennedy decided to send an American astronaut to the moon. NASA wanted to expand this opportunity at Cape Canaveral and build a spaceport for manned lunar launches.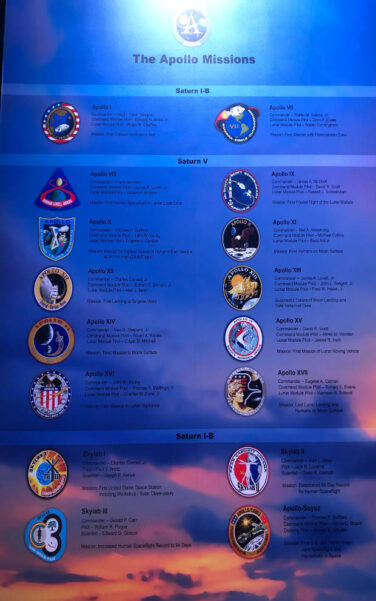 At that moment, NASA activated its Launch Operations Center, today is known as Kennedy Space Center, granting the lunar launch site equal status with other agency field centers.
Soon, the construction of the Vehicle Assembly Building came into being. On 9 Nov 1967, an unmanned Saturn B blasts off on the first test flight of the rocket that launched moon-bound American astronauts. It was the first exclusive launch from John F. Kennedy Space Center.
American astronauts Jim Lovell, William Anders, and Frank Borman blast off from launch pad 39A on the Apollo 8 mission. It was the first manned launch of a Saturn V rocket, the first manned launch from the famous Kennedy Space Center.
Skylab entered the Indian Ocean on July 11, 1979.
Launch Complex 39 (LC-39) was originally built for the Saturn V, the largest and most powerful operational launch vehicle in history, for the Apollo crewed Moon landing program. Since the end of the Apollo program in 1972, LC-39 has been used to launch every NASA human space flight, including Skylab (1973), the Apollo–Soyuz Test Project (1975), and the Space Shuttle program (1981–2011).
A year after the historic Apollo 11 moon-landing mission in 1970, the workforce was cut down to 15,000.
On the morning of April 12, 1981, astronauts Bob Crippen and John Young had strapped into Columbia for NASA's first shuttle flight. It was the first of its kind to blast off like a rocket and land like an airplane.
NASA's first 24 shuttle missions were quite a thing. Astronauts donned Buck Rogers-style jetpacks and flew away from the shuttle, with zero safety. They retrieved the satellites, fixed solar explorers, and deployed top-secret military spacecraft and communication satellites.
During the nineties, NASA launched major space science and planetary exploration missions when the shuttle fleet returned to flight. A majority of the military shuttle missions were classified as top secret.
Records show that Atlantis and NASA's final four shuttle astronauts had landed on Runway 15 at the Kennedy Space Center. After 30 long years, the shuttle had earned its place in history, and NASA's 135th and final shuttle mission had come to its end.
Today, Shawn Quinn foresees great things for NASA at the Kennedy Space Center.
How has it changed?
As NASA neared the Moon, its popularity grew. By 1969, the visitor center was the second most visited Florida attraction, behind Busch Gardens.
Even during the gap between the Apollo and Space Shuttle programs, attendance remained at over one million guests and it ranked as the fifth most popular tourist attraction in Florida.
In 1965, KSC Director Kurt H. Debus was authorized to spend $2 million on a full-scale visitor center, covering 42 acres.
In the summer of 1966, public tours were offered on 40-passenger buses. It consisted of a 1.5-hour tour that included the Vehicle Assembly Building and a 3-hour tour including launch facilities were available.
Spaceport USA, as it was soon titled, hosted 500,000 visitors in 1967, its first year, and one million by 1969. On December 24, 1968, following the Apollo 8 orbit of the Moon, 10 thousand visitors attended the KSC.
When Walt Disney World opened in 1971, visitor center attendance increased by 30%. That being said, visitors were often disappointed by the lack of polish at KSC's tourist facilities.
Between 1995 and 2007, the visitors center went through many changes. Some of these changes included: improvement of restaurants, retail shops, buses, and new exhibits.
What does it offer
So, I wonder, what does KSC have to offer to families? Why should you consider taking your little ones here? I've got some insight (very personal), so just hear me out.
Let's start with the fact that KSC is not a theme park. Everyone knows that the theme park scene in Florida is amazing but that's exactly the thing, The Kennedy Space Center Visitor Complex is not a theme park.
There's not a lot of flash, glitz, or glamour here, and I think it's one of the biggest draws of families from all around the country and even the world.
It's the only place in the United States to see where actual space shuttles and rockets launch into the skies and make history, and is still operational today.
In my opinion (personal), even though countries such as India or China are holding their own in space stuff, and private tycoons such as Elon Musk and Jeff Bezos, are doing some amazing things, for me, NASA remains the benchmark.
Once you step through the Kennedy Space Center gates, the childhood dream of being an astronaut comes back to life.  There is something about seeing real NASA rockets, equipment, and even rocks from outer space, the dream becomes a reality.
One of my favorite sections has to be the rocket garden. Standing amid greatness, being able to touch a piece of NASA history, gazing up into the skies as you can envision how massive these rockets had to be to lift off into space. Take pictures, it's one of my favorite spots in all of Central Florida.
But then in amazement, the screen lifts, and there it sits. The Space Shuttle Atlantis is tilted so you can see every detail inside and out. Don't forget to walk behind and see the underbelly of the shuttle too. There were tears in my eyes.
Visiting Kennedy Space Center with kids is a big experience. There are many buildings, including some that you can only reach via a bus tour. A trip to KSC is a whole-day experience, but you will not be bored.
This is by no means a Disney's Mission to Mars. The Shuttle Launch Experience at KSC rivals the real thing, according to the astronauts that have sat in your seats. It's thrilling, and you will feel your whole body shake during the simulation. And for those 5 minutes inside the simulation shuttle, it's an experience not to miss.
On the other hand, if you want to chat with a real astronaut it is possible.
It's about connecting
I think one of the most important aspects of a visit to KSC is that it is about connecting with yourself, with family, with others, with people from all over the world, and with our planet and outer space.
There is a lot to do at the Kennedy Space Center for families. Visitors can arrive in the afternoon and still see some amazing attractions. But, as always, I recommend starting your day as early as possible. The Kennedy Space Center opens at 9 am and you won't run out of things to do.
Space travel, exploration, and the imagination of children and adults is the reason why people of all ages come back year after year. The truth is that there is so much to see and take in that families enjoy their experience to the fullest. This place should be on everyones bucket lists, the scenery is breathtaking.