Today, one out of every 10 births in Colombia is to Venezuelan mothers. A reality that has put pressure on the health system, but which has also shown its highest humanitarian sense.
Paola Aguirre's story
Running away from the country where she was born was a decision without setbacks that Paola Aguirre planned in the midst of the despair of her third pregnancy. She sold all her belongings in the city of Mérida, Venezuela, where she lived for more than 22 years. She did it to give birth in Colombia and she does not regret it.
She made the decision just a week before giving birth, with the risk of contractions starting during the journey of trails and swollen rivers. In Venezuela, she ran out of options to feed, clothe and provide a future for her children, and the last thing she wanted was for her third delivery to be as painful as the last.
"Having a baby in Venezuela is a gigantic risk because the hygiene in the hospitals is deplorable. My second baby girl got an infection in her navel, she spent 22 days in the ICU and almost died," Paola says from an Acnur shelter for pregnant and breastfeeding mothers, with the desperation that returns to her body every time she remembers this episode.
They are malnourished
Official statistics from the Venezuelan Ministry of Health – dating from 2016, since the government of Nicolás Maduro, banned the dissemination of epidemiological bulletins – indicate that maternal mortality increased by 65 percent and infant mortality grew by 30 percent in just one year.
A survey conducted by the organization Caritas Venezuela in 2018 detected that out of 2,216 pregnant women interviewed in Caracas and Vargas state, 48 percent of them presented acute, moderate, or severe malnutrition.
For Paola, as for thousands of Venezuelan refugees, another reason that pushed her to leave her country is that consultations and medicines reached unaffordable prices.
For many of them, the decision is between paying for medical care or buying food, since delivery can cost an average of 800 dollars in a private clinic, that is, a little more than three million Colombian pesos.
"On top of that, you have to buy the doctors' gowns and bring the cotton so they can treat you,"- Paola Aguirre-
Her surprise, once she entered the obstetrics area, was to see the equipment to take ultrasounds or the fetal heart rate monitors that had never been used with her in a Venezuelan hospital.
Having a baby in Venezuela is a gigantic risk because hospital hygiene is deplorable.
In the delivery room of the Erasmo Meoz Hospital in Cúcuta, where Paola arrived, the work of obstetricians and nurses does not stop.
Every 40 minutes a Venezuelan pregnant woman arrives about to give birth. Many of them walk long distances, beg for a "humanitarian pass" from Venezuelan officials at the Simon Bolivar International Bridge, or risk crossing dangerous trails between the state of Tachira and Norte de Santander to give birth in Colombia.
Doctors are often moved by the state of malnutrition in which Venezuelan pregnant women arrive. They look emaciated, desperate.
The blisters on their feet show the strenuous walks they make, as Mary Flores, who walked sixteen days from Caracas to Cúcuta, with her husband and their two little girls of five and two years old, experienced.
Every day there are long lines of people at the humanitarian channel of the Simon Bolivar Bridge. There is Lina Colina, 22 years old, a pendular migrant, who gets brave when it is her turn to go for a prenatal consultation. She is eight months pregnant and her exhausted body must wait almost two hours, standing in this structure to finally advance her passage to the Las Margaritas health center in Colombian territory.
"Every month I cross the border to get a checkup. It is complicated because the guards do not help us, pregnant women, to pass quickly, sometimes they leave me last or tell me that if I am in a hurry then I should cross the border through the trails", she says indignantly.
At the end of 2020, the Erasmo Meoz Hospital registered 12,715 emergencies in the delivery room, of which 9,798 were in Venezuelan patients: almost eight out of every ten attendances, according to Mario Galvis, coordinator of the gynecology and obstetrics service. During the same year, they counted 4,505 births to Venezuelan citizens, while Colombian women delivered 1,283 babies.
"We attend them all equally, without discrimination of nationality or migratory status", says Galvis, who recognizes the budgetary impact that has caused the Colombian State to assume the health services of Venezuelan pregnant women in this border area and that represented a cost of more than eight billion pesos in 2020.
The Erasmo Meoz Hospital registered 12715 emergencies in the delivery room, of which 9798 were Venezuelan mothers.
In the first six months of this year, the figures have been even higher. Of the 6,693 birth emergencies attended by the Hospital, 5,915 were Venezuelan, almost 9 out of 10. "There are times when the service collapses completely and we have to prioritize care. That is why in the labor and delivery area we redouble the staff and all the work elements," explains Galvis. In view of this situation, the support of international cooperation has become fundamental and their contributions have made it possible to provide prenatal control consultations, postpartum consultations and family planning follow-up.
Venezuelan mothers come with serious illnesses
The cost of care for pregnant women from the neighboring country is rising every day at the Erasmo Meoz Hospital. It is a reality that keeps the administration in check.
Most of these pregnant women arrive without any type of prenatal control and, consequently, the medical specialists must use more supplies and technical resources, assuming high risks to save the lives of mothers and babies when they are admitted with pregnancies complicated by preeclampsia, gestational diabetes, urinary infections, hepatitis B or gestational syphilis.
"A day we receive three pregnant Venezuelan women with gestational syphilis. This generates a lot of expenses in treatment, the baby requires ten days of additional hospitalization and the pediatrics area is also congested," says Galvis, illustrating just a small part of the efforts made at the hospital.
There is no doubt that the increase in the demand for these services has a strong impact on the country's healthcare institutions. Each birth of a Venezuelan migrant in public hospitals in the departments bordering Venezuela currently costs the Colombian health system approximately 1,500,000,000 pesos, not including hospitalization and food expenses, according to estimates by the Institute for Health Technology Assessment (IETS).
In the most recent study of births and deaths conducted by the Dane, it was shown that the trend of births in Colombia in recent years has progressively decreased. However, births to mothers from Venezuela have increased and in 2020 totaled a little more than 65 thousand minors, 10 percent of the total number of births in the national territory.
With a great humanitarian sense
This reality was also taken into account by the national government in the massive regularization process it undertook with the Temporary Protection Statute for Venezuelan Migrants.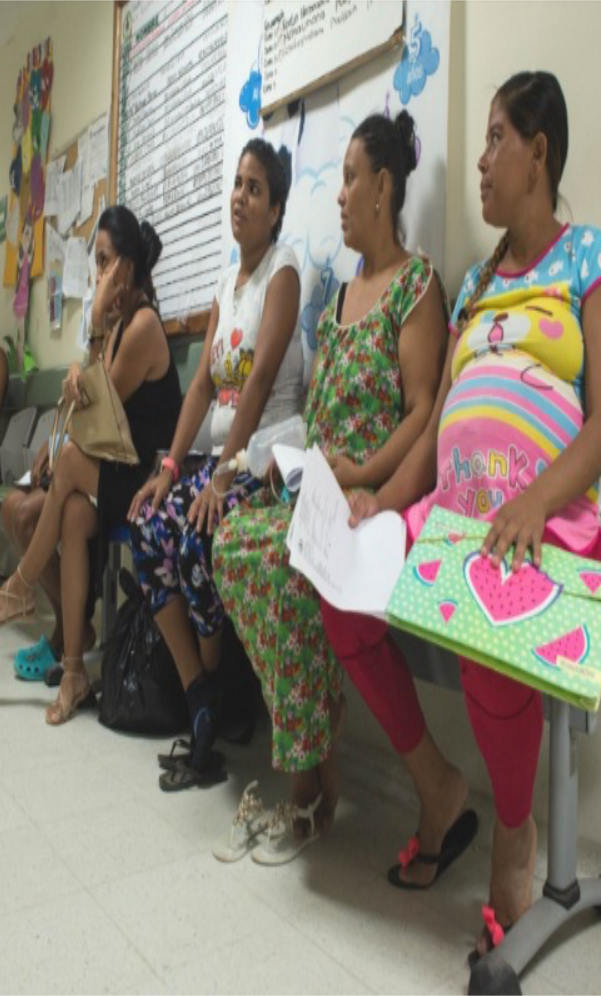 To the extent that this population can be integrated into the labor force of the country, they will be able to make their contributions to the health system through the contributory regime.
Those who remain without formal employment may be linked to the subsidized regime, a strategy that ends up considerably reducing the costs and risks associated with childbirth.
The country, with a great humanitarian sense, has decided to attend to all pregnant women and minors.
In the midst of these efforts, Paola is grateful because she knows that in Colombia she found what would have been impossible in Venezuela: a safe and humanized childbirth. And her little boy, a new Colombian, will begin life with the certainty that he will receive the fundamental medical attention and that he will not suffer statelessness.