Writing is a system of graphical representation of a language, by means of traced or engraved signs. When the 21st century began many situations and realities changed. One of them was the world of literature. In this new century the rules of the game changed, by this I mean that writers do not have to be guides. Anyways, this was my conversation with Like Patiño.
You have to write a lot and read even more
However, even if the rules of the game have changed, there are certain guidelines that are kept. In order to dedicate oneself to writing two things must take place: write a lot and read even more.
To be a writer you have to work hard. The truth is that nobody is born knowing how to write. To dedicate oneself to the letters one has to make a mixture of talent, determination, work and patience. Obviously, a career of letters helps, but it is not essential if you are self-taught and devour books of all kinds.
In all honesty, as writers we spend part of our hours between ideas and blank sheets that are filled with patience and dedication. We look for information on websites, we take writing courses, we seek the advice of professionals … with the clear objective of improving and getting our works to see the light in the bookstores.
What really matters when it comes to writing is having experiences, culture and many books should have been read. And, in addition, to feel passion by this trade. Most likely you will have to write hundreds of pages before you post anything.
But writing a novel is much more than that. It is to feel, to listen, to taste, to observe … and what better than to learn from the best.
Pride and happiness
And, having the opportunity to talk to a Colombian writer, my beloved homeland, fills me with pride and happiness. This time my conversation was with the writer Enrique Patiño, whom I consider my friend.
Something I already knew was that times of crisis are good for art. And Patiño confirmed this to me in two-seconds flat. Without much delay I began to interview my friend. I, wanting to know a little more about the engine behind his words and he wanting to talk. It is worth clarifying that he is a simple man, reserved at times, with clear and determined ideas.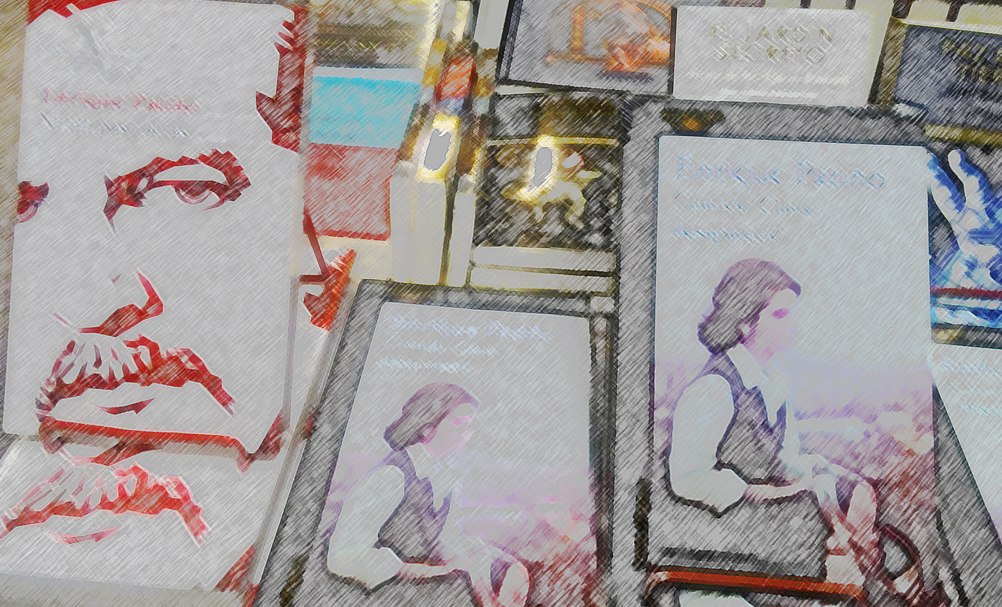 Laura Viera A: What do you do?
Kike Patiño: I chose journalism as a trade, but every day I use the tools of journalism to do literature. They are the bases that give credibility to the fiction stories, the ground pole of pure imagination. I move between the two trades as if I were a marathon runner.
Laura Viera A: Why write books?
Kike Patiño: Because they are one of the most forceful and beautiful ways of approaching others. There is no book that does not change your life. Most news does not: they go in and out. The books leave a sediment of love, reunion with itself and truth that marks the existence.
Laura Viera A: What kind of books do you write?
Kike Patiño: My books aspire to raise awareness and tell stories that others often overlook. Thirst, my first novel, is a story about what the world would be like if water were to run out at this time of climate change. Not a step back is a journalistic report of long breath on the life and the murder of Luis Carlos Galán, and with this the death of the hope of change in Colombia. And when Clara disappeared is an account of the real disappearance of my sister 26 years ago, and about the corruption that makes this happen in my country.
The process
Laura Viera A: How is your creative process?
Kike Patiño: I think, then I write. And I think a lot, for many years, putting the book in my head, until finally I feel a day and then I appeal to the journalistic investigation to track data and give solidity to the story. Finally, I rewrite everything from the freedom of literature. And after that, as a photographer, I try to complete the feeling that the book has left for me and make a graphic series about what I've done.
Laura Viera A: How did you get to write a book for the first time?
Kike Patiño: Because if I did not, I would die of despair. For many years I tried, but the newspaper job prevented me from taking time. Until I said no more, I began to write from eleven at night or one in the morning, when I left work, I asked my wife and daughter for permission, and I sacrificed sleep and I got dark circles to get the thirst.
I write frantically whenever I can while I do other things to live.
Laura Viera A: If you did not do this what would you do?
Kike Patiño: Maybe he would be a graphic war reporter. I'm shy by nature, but helping other humans and telling stories is in my DNA.
Laura Viera A: What has been the most difficult and most rewarding yet?
Kike Patiño: It has been difficult to survive in a country whose average reading does not exceed two books per year. The most beautiful, to open my way despite all the innumerable difficulties and not to remain in my dream until I prove that it is my way and that I was right.
A breath of fresh air
Laura Viera A: Tell me a little about your books? are they different or are they a continuation?
Kike Patiño:: Each of them is a different universe. Thirst is a near-future story. Not a step back is major league journalism. When Clara disappeared is a mixture of fiction and reality, intimate and poetic. I just wrote another novel about diversity and identity in teens.
Laura Viera A: What inspires you?
Kike Patiño: The love for the others, for the word and for mine. And the need to speak for the silenced who have no voice or have been silenced.
After talking to Patiño, my love for words has received a breath of fresh air. I love to know that the words rescue their position among the people who have lost them. Life is what makes us write. Everything that happens around us is what makes stories have a life. Writers should be moved by everything, if not, it is better for them to do something else.