People have always used art as a form of manifestation. Seeking to communicate their thoughts, ideas, emotions and feelings. Art is a fundamental part of our culture.
In other words, it is societies reflection. Art is one of the most special expressions we have, a means of communication.
Therefore, those who dedicate themselves to the many artistic manifestations have a different aura, this is my humble opinion. This is how we met the unparalleled Vanessa.
A little bit about her
Vanessa, better known as Vane MG (Vanessa Moncayo Gonzalez), is a Colombian artist, native of Medellin, Antioquia that is revolutionizing the art world (Colombia, Uk and the rest). I know it sounds bold to write this words but I don't do it without reasons, I have seen her work and the recognition she has received. She deserves it all!
In 2016 she left her native country, her beloved Colombia.
Like every artist, she has had a learning curve. From her beginnings in Colombia to her current life in the United Kingdom a thousand things have taken place. The story is more or less the following:
Since she was a child, her dream was to be an artist. She always painted, but did it for herself. Do to her shyness, she hardly spoke to anyone.
She decided to study something creative but not art because she was frightened about what the future could bring. Fear of not being able to live from her art. Concept that she considers to be wrong and that she has come to understand as time has gone by.
She studied Industrial Design at the Pontificia Universidad Javeriana and after graduating in 2009, she began to make illustrations.
Soon, she began working as a toy designer in Colombia. Parallel to her toy designer work, she painted in secret.
At that moment in time, she had a Flickr account (goddess of the network) was her nickname. It was a place where she didn't say who she was but she did show her illustrations.
Over time she stopped painting. But, after refusing her life dream for a long time, she began painting again.
Since 2015, she is completely devoted to living from art 100%.
Sadly, she realized that Colombia is a place where opportunities in the art are scenario are very limited.
She understood that knowing the right people, networking and even being a woman are a very big disadvantage in some cases and not enough.
Likewise, she focussed on her work, believing in her talent and that with hard work she accomplished some exhibitions in Colombia.
Moreover, thanks to art, she met her husband who has been a fundamental part in her artistic growth and he has been someone who has believed in her since her beginnings in art.
Then in the UK she arrived without being recognized. As she says, she didn't even know where to buy materials to paint, but Vane worked very hard since she arrived and since then she hasn't stopped painting.
Her methodology and devotion for her art began to be seen and recognized. Little by little she was invited to different art festivals in France and the United Kingdom and that is how it all began.
Works full of life
For her, art is life. Everything is art. As she explains: "we breathe art, we are art."
I love being who I am, being Latina, of where I come from. That is what I like to reflect in my art work so that people who have no idea about our cultual richness are exposed to it.
While talking to her, my heart throbbed with pride. Pride that I feel to be a woman, Colombian and Latina and see her work displayed so far away from our native country. Her passion reflects her art, her link with her roots, her essence.
Laura Viera A: Can you imagine life without art?
Vane M.G.: NO! Never.
Laura Viera A: Drawing, sketch or graffitti?
Vane M.G.: I have been drawing since childhood, as far as I can remember. Then my answer is: drawing. Sketch and graffiti is something recent for me. I began to discover it when I decided to pause my design career in order to work on my artistic project.  From then on, street art has brought me many things. New people, new life perspectives of making art and talking to people through colorful expressions.
Laura Viera A: So graffiti is art or vandalism?
Vane M.G.: Graffiti was born as a way of expressing ideologies in a world of repression and absolute prohibitions. And that opened the space to more forms of expression through street art. Today the street artist has been given a different position. So, I think it's not vandalism. It was born as a new way of expressing life.
Laura Viera A: Besides your art, what are you passionate about?
Vane M.G.: I am passionate about anime, (Japanese animation). I love children's toys and design games that will stimulate the creativity of many. Travel and neon colors inspire me so much.
Everything is magic
Vanessa feels an immense passion for her profession. I think that for her, art is not a profession, it is a force within her that drives her.
I have become one of her admirers and seeing her art work is inspiring. They reflect an extremely refreshing inner strength.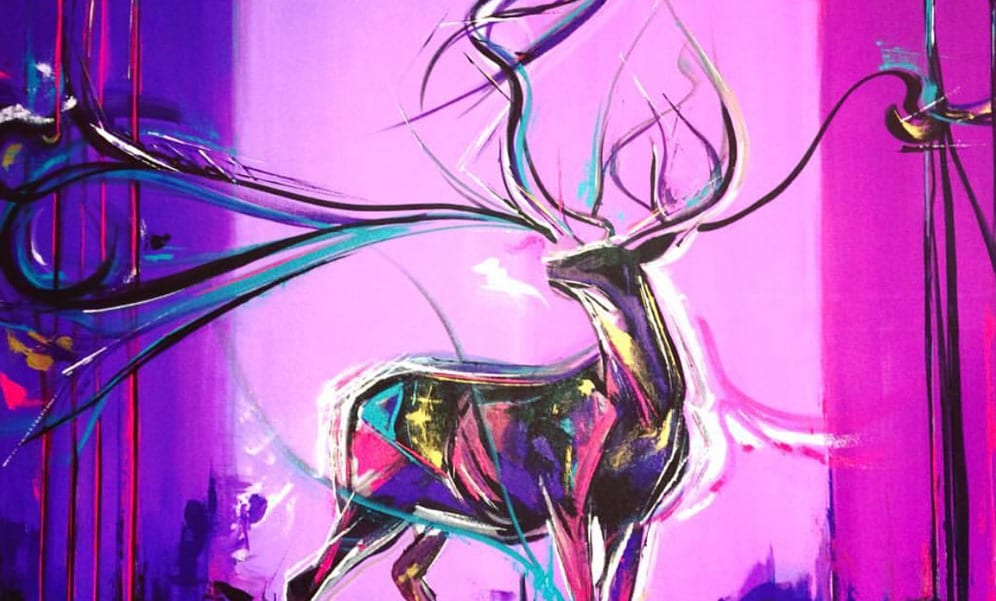 Her favorite color is pink. She is a Depeche Mode, Radiohead and traditional Colombian music fan. Her favorite film is The Science of Sleep, directed by Michel Gondry and starring Gael García Bernal, her favorite authors are Stephen King and master of all masters: Gabriel Garcia Marquez.
When talking to her, it is quite evident that if she did not work as an artist, she would undoubtedly do community work in some organization.
Helping others is a motivation for her. Through art she has done some related things by giving art workshops or encouraging children through art. People have magic of their own and by establishing relationships with them, by helping in some way, a warmer world surfaces.
Any place that has a sea is her favorite place. But, she makes it clear to me that the most important thing is the people that you surround yourself with.
However, there is a magical space for her. A place where she began to idealize her future as an artist. It's place are the beaches of Tayrona and beaches near La Guajira, where she found herself, her culture and love.
The orchids and what followed
As if that were not enough, by the end of 2018 Vanessa had the opportunity to paint at Kew Gardens. This artistic achievement made her the first artist in the world to paint within the walls of this renowned place.
The Kew Gardens is the Royal Botanic Gardens of Kew. It is an extensive botanical garden with greenhouses located in the southwest of London.
Laura Viera A: Tell me about orchids!
Vane M.G.: Orchids have been with me forever. My mother loves flowers and they came to me directly thanks to my artistic work that made me known in the United Kingdom.
As a result, the Kew Gardens opens its doors trusting me in my art to paint orchids.
Since then, orchids have brought more inspiration, more magic and more joy to my life.
After this amazing opportunity, other projects related to representing Colombia arrived.
The Beyond Skin organization in Belfast asked him to paint in Belfast and create new cultural contacts with children and young people in other parts of the world.
Beyond Skin works with countries that have had peace processes, including Colombia.
The need and desire to help others do not stop with these two projects. Then, she decided to join with other creatives such as musicians, writers or dance groups all focused on representing the Latin American culture through the arts.
In depth
Changing the subject a bit, Vanessa tells me that the most difficult thing for her has been to live in a country far away from her family and to fulfill her artistic and design dreams in a place as competitive as London.
Consequently, there have been many tears and hard work that no one even she imagined.
On the other hand, the easiest thing is that although there are times when things do not go as expected, even if you have worked with great dedication and effort, the outcome has to be accepted. When that happens, the only thing left is to accept yourself and be yourself since it is at that moment when everything flows. This evolution has not been easy, it didn't take place overnight, but at this moment in her life, Vane MG says proudly who she is and what she likes and people accept it as it is.
Laura Viera A: Who inspires you in your profession and why?
Vane M.G.: Surrounding myself with creative people, I think it has been the impulse to create projects in my artistic career. Not only streetart or painting artists but musicians, writers, dancers. I have managed to surround myself with a lot of Colombian talent in London that has brought me closer to my roots but that has also created magic with projects where we unite different creative worlds of inspiration and love.
Laura Viera A: Why is it important to highlight Colombian women? I ask because it seems that this is a recurring theme in your works.
Vane M.G.: I have been able to live injustices for being a woman in a country like Colombia. I have looked away many times, I kept many experiences to myself and with I art I make my protest. So I can speak as a woman, to give myself a place as a woman, to understand more about being a woman, to approach other women and to find life, strength and love in them. Something that I totally hid once: my womanhood and my femininity.
Laura Viera A: Tell me a little about your work at Kew Gardens. How has it developed, what has it meant for you?
Vane M.G.: It has been a unique experience. I never imagined painting in a place as world-renowned as the Kew, which at the same time is a conservative place but that opened its doors believing in me as an artist. They allowed me to be the first artist in the world to paint within its installations, in the walls of one of the most important spaces as it is in Princess of Wales Conservatory. It meant a very big challenge in my life to do something that talked about my Colombian culture but also talked about me as a female artist. The result was an art exhibition of my work, they even put my biography at various points of the orchid festival. This experience taught me many things. It also made my work known and thanks to this I was able to do other art projects in London, and then in Belfast. Finally, the Kew loves my work so much that they called again to paint for their new orchid festival this time over Indonesia this year.
Laura Viera A: Do you think that the life of an artist is complicated?
Vane M.G.: Yes, as is the life of other people dedicated to other things. I think you have to change the image of the hard life of an artist, who has no future. Because it is simply working hard on a project like any other where everything depends on your own effort and dedication. I am a testament of that. I started out with nothing but believing in myself from day one. No one else did it and it didn't matter. I worked on other things at the same time that I began doing art to pay for my materials and first projects. They didn't pay me well although I was working with my design profession.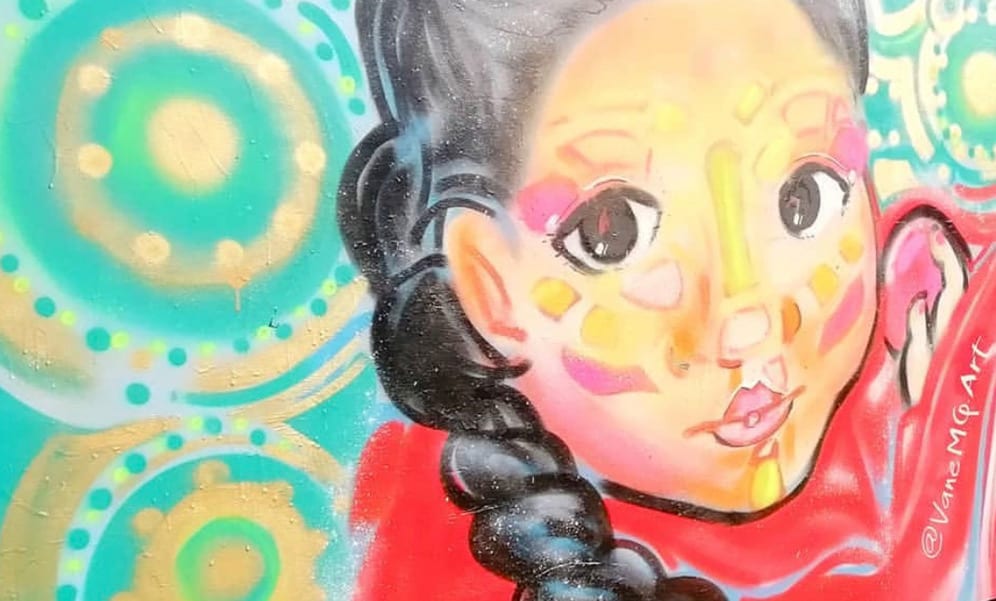 An immense future
Starting her career as an artist made her take out all her inner strength. Force that gave her the ability to fight without stopping, without giving up. She decided that she had to believe even more in herself and work 100% in her art. The moment she did that she managed to make more profits working for my art than working for design offices in the UK.
Although another of her dreams was always to be a toy designer in the UK. Another challenge that she never thought would get and that thanks to her art that opportunity also came.
Now a days she works in a design office while working on her art work. But, the conditions are different than before. She found a place where they accept her as she is. They appreciate her art and it is also a place where she can continue creating amazing and colorful things.
Laura Viera A: How do you see women in the art scene both in Colombia and abroad?
Vane M.G.: I see that we are in a quite hopeful moment with many limitations but with many other opportunities that women never imagined before. Freedom of expression. Not all women have that freedom and that is where I feel that through my art I can contribute to our becoming more and more. Today I see more Colombian women and women from all over the world in the art scene. We have to work as a team to achieve more spaces.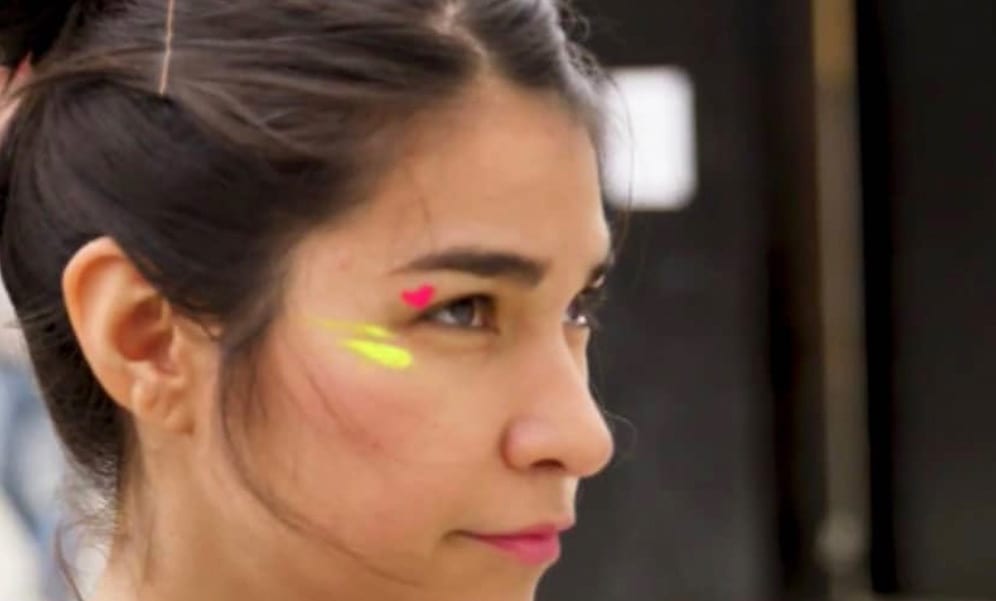 What is still missing
Vanessa wants to have the opportunity to talk about her culture and about her as a woman. She wants to speak through artistic expressions that help visualize different problems.
Within her long list of things to do this is to get a tattoo. But, she hasn't decided on the design that would reflect on her skin. The future will show it.
Her objectives are simple, basic, but not easy to achieve. She wants to continue painting, doing artistic exhibitions, creating projects with other artists.
She wants to be able to represent her culture, represent women, women's fears and strengths in society, her feelings as a woman, her tastes, her nature.
She assures me that she needs to know more cultures, to know and experience more magic in people and nature. She believes that there are many things that always need to be done. She is aware that when she can't stay still, it's time to move on to her next project. Art is something so valuable to our society that it transforms us. When a person draws, they tell us who they are and how they experience the world.