When I realised I was going to interview Mónica Danilov I had to find out about the world of mezzo sopranos. In all honesty, I didn't know much about the subject.
The first thing is to know is that Mezzo Soprano refers to the middle voice that is below the soprano and above the contraalto.
Discovering Mónica Danilov
Well, so much for technicalities. This Colombian talent was born in Sacramento, CA but her heart remains in Colombia.
From an early age she took piano and oboe lessons. Then her mom signed her up in a professional children's choir, Sacramento Children's Chorus, and she fell in love with singing. With this choir she had the opportunity to travel a lot and thats how she found out this was going to be her career.
Mónica has dedicated herself to educating her voice and polishing her talent. For this reason, she studied lyric singing at the Manhattan School of Music in New York, and then did a masters degree in lyrical singing at the Brooklyn College Conservatory with mezzo soprano Patricia McCaffrey.
But, the thing is that we wanted to know a little more about who she is as a woman and artist. With this in mind, I asked her some questions while she told me about his life.
Solkes: What does music mean to you?
Mónica Danilov: For me, music is everything – it is what I like the most, which is my profession. It is very nice to be able to dedicate myself to the thing I like the most. I already see it as a really normal job. I go to the theater or to my rehearsals, just like a doctor would go to his office, for example.
Difficulties and pride
So far the most difficult thing has been to understand that in the Opera world, ths casting process is not always fair.
This means that even if you sing perfectly or better than someone, if there are friendships with that company, it is the only thing that matters.
Some of the orchestra directors with whom she has worked are: Jun Nakabayashi, Alan Gilbert, Dante Ranieri, Kent Tritle, Richard Barrett, Olivier Grandgean, Ricardo Jaramillo and Carmen Helena Tellez.
As for artistic directors, she has worked with: Mitch Sebastian, Dona Vaughn, Yefim Maizel, Natalia Menendez, Jose Dario Innella, among others.
She feels proud of several moments. For example, a project she did in NY by the Brazilian composer Jose Mauricio Nuñes Garcia.
At that moment, she was the solo in his ¨Requiem¨, it had never been presented in NY. She also participated in the Florencia en el Amazonas opera, directed by Pedro Salazar and accompanied by the Nueva Filarmonia Orchestra, directed by Ricardo Jaramillo. In this occasion the cast has a very high level and was 100% Colombian.
Of course, her role in The Sound of Music is a source of great pride for her.
In 2016 she premiered as a soloist the Gloria de Poulenc with the Colombian Symphony Orchestra under the direction of Olivier Granjean (France). In the work carried out by the Colombian Ministry of Culture and the Teatro Colon, ¨Tejiendo la Paz¨, she was soloist once more.
Solkes: What did the The Sound of Music mean to you?
M.D: For me the The Sound of Music, has been one of the roles that I have adored. Aside from the fact that it was my favorite movie when I was little, it is the role that allowed me to connect professionally with Colombia. I had been out of the country for such a long time, and I had lost the contacts so it was hard to work. With The Sound of Music I was able to showcase myself in Colombia and get more work here.
Goals and passions
Solkes: If you did not do this, what would you do?
M.D: I think I would be helping people through other means such as psychology or something like that. Maybe I would have been a Chef, I love cooking.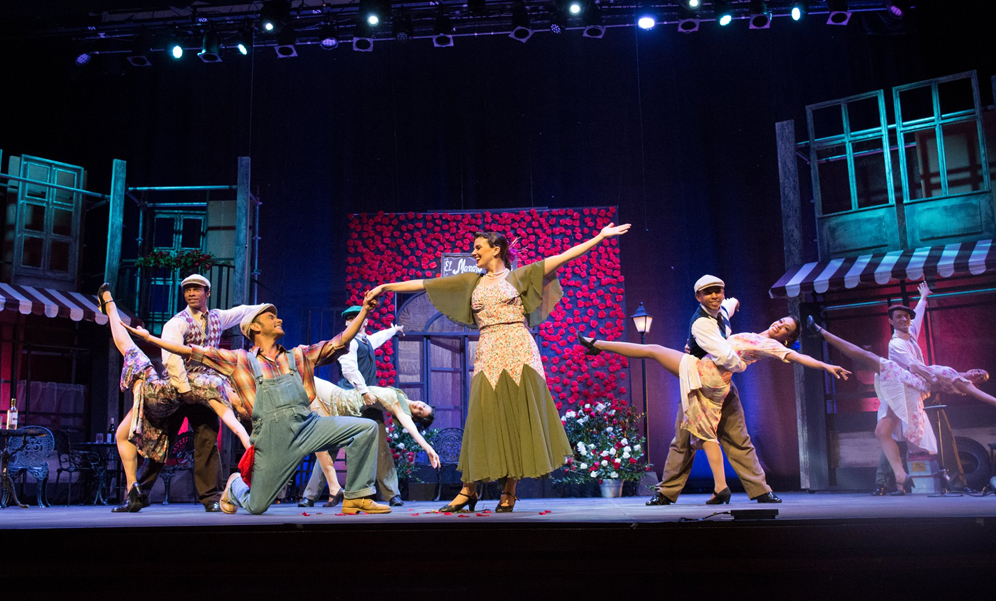 Among Mónica's objectives, singing in world renowned theaters is a must, to reach as many people as possible and touch the souls with her voice. She would love to sing more in Latin American theaters.
Solkes: What are you passionate about?
M.D: I love singing, I love working with colleagues of very high level, or inspiring directors because they motivate me.
Solkes: Out of all the people you've worked with, who has an impact on you?
M.D: I always remember Kent Tritle. He is currently one of the most recognized choral directors in the world. He gave me many opportunities to sing as a soloist in his projects – and besides being an eminence, he is a great human being.
The future is huge
She told me that Colombia is going through an incredible cultural moment. It is in an artistic "boom", where we find festivals of all genres, there are a lot of orchestras besides La Sinfonica and La Filarmonica.
There are many Colombian singers, there are very good Colombian directors and people are really considering music as a viable profession.
It is important to consider that Colombian singers or Colombian productions are equal or better than foreign productions.
For some reason, in Colombia people think that everything that comes from other places is better (I am North American / Colombian), and I label myself as Colombian, even though that does not always help me.
She told me, something that made me feel very uncomfortable. She told me that most of the time, theaters prefer to hire foreigners, and schedule foreign productions, that areot necesarrily better than the Colombian productions.
Mónica will have several future adventures. In the ¨Rise and Fall of the city of Mahagonny¨ opera she plays Mädchen (Argentinian and Chilean production). She will be the mezzo soprano soloist of the Stabat Mater of Pergolesi with the EAFIT symphonic orchestra in Medellin, she will sing at the Cairo Opera House and in in Accra-Ghana. She wil also be signing the voice of Paula in Florencia en el Amazonas for the second time and in the role of Flora in "La Travata". We should only surrender to her voice, her human warmth and her talent.