Rayo Lujuán was born on January 30th of 1973 in Medellin, Colombia, city where she remained there for twelve years, after with her family they moved to Bogotá, the capital of Colombia. Producer, cultural manager and dreamer as she calls herself.
A master class in film
At 19, when she finished high school she entered the production team of the movie "People of the Universal" directed by Felipe Aljure, a feature film of Colombian dark humor. The filming was done "old school", it lasted for 3 consecutive months, work that Rayo calls her master class in film. When the film was finished she stayed their working as an assistant for the production team.
C.S: How was your link to the cinema?
Rayo Lujuán: My entailment to the cinema and art in general was since I was very young. My mom tried to do theater with the theater group from Bogotá "La Mama", under the direction of Edy Armando. Her best friend Graciela Mendez,actress from La Candelaria – Bogotá, one of the biggest theater groups in Colombia, hooked her up to the world of theater. Simón Mateo, Graciela's son, my brother and I grew up in between scenes.
Falling in love with the stage
Since the first time I smelled the stage I fell in love with it. From then on I dreamt that it would be me the one who got up on stage. My father also loved doing the Sunday routes. I remember that he took me to visit museums and churches were we would analyze or he would tell me more about the plastic arts (painting, sculpture), we would also do every kind of movie marathon at home.
As time went by, Simon Mateo entered college at the Universidad Nacional to study film and television, our great dream after finishing school.
At that moment he was chosen by the university to realize his internship as an assistant of production.
I begged him to let me enter as I was the next one who would study film but of course it a notion of production (the great lie in my life).
I remember that they would ask me technical questions and I would only answer-yes off course, I understand or yes, yes why not, as if I knew what they were talking about.
The director Felipe Aljure and Guillermo Valle, his assistant director only laughed and they saw in me such profound energy and willing to help and that I didn't really know much about the theme.
Despiste of all this they gave me a chance. The following six months were from a lot of intensity and leaning: there were my film production master class work with 35m film. I achieved what was burn the tape in cinematographic before the digital age took over it was an incredible experience, the best start and confirming my passion.
Colombian Cinema
The form and time in which I was educated cinematically through very rough stories, drug trafficking, the bizarre reality of Colombia in the seventies and eighties, misery made ​​market.
I had a lot fun with the "The People of Universal" because it was a dark humor detective like film which marked the difference of my professional career.
Then in college I went to study theater, I found a group of boys of social communication with whom I formed a niche under the direction of Giovanny Quintero for cinema, a medium-length futuristic, hilarious fiction. However this project almost cost me half because not attending theater classes, then I realized that my passion was really more cinematic than action. He liked the film and won an honorable mention in Havana.
After I acted in "Suele Suceder" from Sandra Higuita "Piro", work that won a lot of international recognition, despite it was her first realization. Piro was the assistant of Victor Gaviria for 9 years and through Victor we saw the movie "La Vendedora de Rosas" make it to Cannes and the natural actors which this term always generated conflict when I was studying theater. The natural actors they became a resource of freshness to the cinema in regards to the faces of a country which it's absolutely addicted to television.
I learned from the directors like Luis Ospina, with his experimental short films and documentaries, the director Carlos Mayolo with films like "flesh of your flesh" great masters. I saw already large, at the time she was a child or had not been born.
The youngest of the caleña wave with films like "Dog Eats Dog" (Perro Come Perro) by Carlos Moreno, Jorge Navas with "Blood and Rain" finally I was very short because Caliwood has much more to offer.
With Diego Garcia Moreno, a great documentarist and Sergio Garcia Diego's brother and photography director I shared and learned from hearing their stories, experiences with great meaning in my life.
I was lucky to see the film reached deeper stories of our history and customs, other personal conflicts, a rainbow of topics, film "El Baul Rosado" Stella Gomez Libya, many, many more. They make Colombian cinema grow constantly, productions that had not seen the light of day, working with actors of the stature of Alvaro Rodriguez "Apathy", a road movie, Alvarito, if he isn't in 15 movies he is in all of them.
In 2016 is almost impossible to tell young artists that are coming to light. It is also almost impossible not to mention "Serpent's Embrace" by Ciro Guerra , who was nominated for an Academy Award, also winning in Latin awards, Cannes, Odessa, Perú.
Movies like this make me think that we are on track. I have been living outside Colombia as of 5 years and although I am far outdated achievement perceive an industry in constant growth in terms of stories and production levels.
The public is a factor that still needs to be conquered, rooms should be filled again, this is where we will end prove that the Colombian cinema has evolved.
About her
C.S: Why the name Rayo Lujuán?
Rayo Lujuán: When I was born my biological father Aristides Rios saw me and said-I was a ray of moon, my parents very young and hippies have always called me by that name until today. Rosa Mara is the name of my grandmother from my dad's side, when I was baptized she chose the name but she never stopped calling me rayito. I almost never answer to Rosa Maria eventhough I take the name of my grandma in my heat.
C.S: Rayo, and your education?
Rayo Lujuán: I took theater classes at the University of Antioquia, education gave me all the knowledge of aesthetics, art history and especially helped me understand and know the world of actor and theater, but without forgetting my passion for cinema.
I have attended workshops, talks about all kinds of art; cinema, theater and dance etc. I was brought up making films; it read, in an empirical way, and knowing choose teachers and learning every day, it was a job that took me to do, time and chastised. I was brought up when I arrived in Bogota and developed several audiovisual works in groups "underground" seeking gender equity and public policies towards women.
My restless personality and taste for art made me bond with music festivals. I learned all the features of its realization, also with the visual and performing arts, photography, dance and the development of film projects that went on to win international awards, funds such as the Fun Sud, Ibermedia, Proimágenes Colombia etc. I participated in Venezuela jury of the film festival "Clemente de la Cerda". I learned to love independent cinema and dreaming the step of each new project, I have become a "road" of artistic production.
C.S: What is for you production?
Rayo Lujuán: Production for me is the art of the magic of dreams, I feel like a maker of dreams, take ideas, colors, sounds of air and land them on projects that end up materializing is exciting, more if your content has an end to the humanity, seeing them converted to images, stories and smiles of people at a festival is the most rewarding part of life , rather it is life itself.
C.S: If you studied theater, why didn't you ever act?
Rayo Lujuán: I never got over the stage fright, I feel more comfortable next to the actors or behind the scenes. I am extremely versatile at that moment. I was also in a very chaotic moment of my life, so it was something that was on the way but opened the wicket for new experiences. I really enjoy directing actors; I know, I know your world I live alike, and has done very well the times I've attended directors.
But I'm still an actress. I have a daily joy for histrionics; in life I float like an actress in order to bring forward projects.
I have that capacity of appropriating each task with the needed discipline. I adopt the technique and requirements needed. I become a dancer during a festival and travel in their world, like the music and the other arts.
C.S: Which is your favourite art?
Rayo Lujuán: The true art in itself, because I consider it the most fantastic spiritual and emotional humanity tool to talk about itself , its existence and resistance to the great swindlers of power, although in the film are all together. That is my baby.
C.S: What was your last Project?
Rayo Lujuán: Starting the year I directed the VI Festive of Algoimagen in Costa Rica 2016, in which I was linked to all the scenic arts and involves as an audiovisual tool and multimedia. With this festival I won the Iberscena prize of 2016. The Festival Algoimagen was born in Colombia and a great friend Maria Paola Reina is the founder.
The first five eidtions took place in Colombia. Then as a consequence that a lot of us who worked on the project left the county "our lion fell asleep" and the when decided to revive the project in Costa Rica and it was a toal success. Algoimagen is the festival which it is in the forefront of great things that happen around the world, video mapping with all the arts. Very plastic and exciting.
My time in Costa Rica opened the doors again to the performing arts, I worked in theater groups and dancers, I worked hand in hand with Fred Herrera in the production of the first International Festival of Butoh Dance held in Costa Rica. All this has It has been a new path of discovery and learning that has taken me away cinema but has opened other interesting doors.
Consolidation
Artistically I feel that consolidated me at every step and my great achievements come, I am a young artist in the body of a mature woman, when I am calm, and with time and mind towards my goals.
C.S: What's next?
Rayo Lujuán: "Infinity" a dance theater multimedia work, at this time the work is developing and writing the text. I'm working with a large group of artists I've met along the way; I just helped them realize their projects and on other occasions they have helped me. I feel it was time to do something directly mine, that reflects all that way and learning all these years and clearly make my own adventures.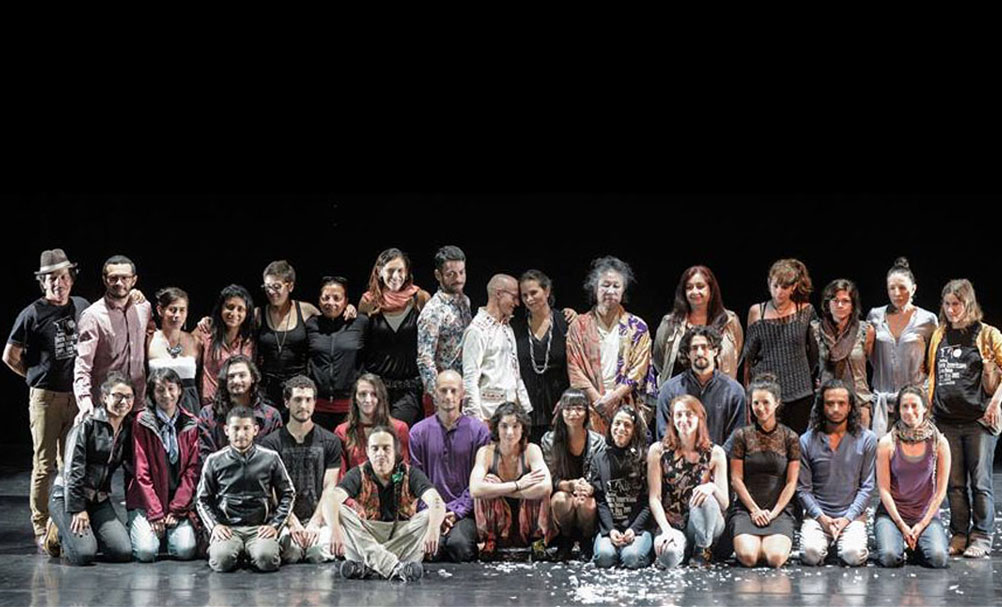 Infinity is a coproduction between Costa Rica, Colombia and Chile. It is the look of a young Indian lost in the big city that can swallow everything including people, a shamanic vision contrast with the rough concrete. Another project in mind is to perform in Madrid – Spain, the seventh version of Algoimagen Festival in 2017. This would be the second international version and the first version to generate an assembly through an experimental lab between Mexico and Spain.
The art itself can make us better people for our humanity, visionary and criticism. This is why we should always encourage it. With out them, people would be simple empty vases, with no aspirations, no needs or wants to challenge our minds and souls.