The name sounds a bit weird, I know, but it's Sugey Torres and she decided that her stage name would simply be Sugey. Slowly but surely, people start to get frantic when they hear her name and her voice.
I had the opportunity to talk with her and despite being only 20 years old, she has enough experience on stage.
About her
She was born in Soacha, but she has roots from Nariño, reason why she is dark skinned. A characteristic that has always made her stand out.
She believes in a supreme power and knows that things happen just at the right moment. Due to this reason, she has worked towards a clear goal since a very early age. Now her time has come to be known as a singer.
She has an innovative sound. On October 20th, one of her dreams came true when "curiosity" premiered. Many will judge her because of her sensuality. Her proposal is alternative R & B.
When I sat with her, I realized that she is much more than the recent runner up in the "Miss Cundinamarca 2017" contest, the model of a video clip or just another singer.
Sugey has made her name known by being part of the official artists of important places such as "Gaira Cafe", "Kukaramakara", "Isla Morada" and "4.40". Likewise, she was the main character of the video clip "El mar de sus ojos" from Carlos Vives and Chocquibtown.
The interview
Then, after a few minutes, the moment of the questions finally arrived. In my point of view, it was necessary to start with what I considered to be the beginning of things.
L.V.A: Does your name have any meaning?
Sugey: It means the most beautiful star in the sky.
L.V.A: What has been the most difficult thing so far?
Sugey: The most difficult thing for me was to take the first step, find a sound that really represented me and expose myself as a public fugure.
She realized that she wanted to be involved with music from an early age. So much so, that as she explains it, there was not a specific moment when she made this decition, it's just something she always wanted.
How much music can reach inspires me, the possibility of completely expressing myself and being able to celebrate who I am.
L.V.A: Why do you want to be the next Beyonce, wouldn't you rather be the first Sugey?
Sugey: Having someone that I look up to does not mean compromising my identity. There are many singers that inspire me to be the best version of myself, but at the end of the day my inner voice guides me.
Power of knowledge
While we were talking, she made it clear to me that knowing several languages and being in contact with other cultures opens the range of expression possibilities. When she was twelve she wanted to understand the lyrics of the songs that inspired her and that's how she began to learn English.
The first thing she did was to take an online course and practice singing the songs she liked.
L.V.A: I know that one of the most important issues for you is race equality. What do you think is one of the most acute problems in our country (Colombia) regarding this issue? Have you ever felt discrimination of any kind?
Sugey: It is not a mystery that there is still a discrimination problem in our country and in the world. It is something that we have to change, starting with ourselves, we need to feel proud of who we are. I have felt defined, not only because of the color of my skin, but also because I am a woman. My personal challenge is to overome these ideas and issues in order to be faithful to myself.
L.V.A: Why is it important for people to change the chip in front of artists or people in general, in terms of race equality?
Sugey: It is important that we break the schemes we have inherited. Race should not be the factor that defines the musical genre of an artist or the characteristics of a person.
Focussed
With only 20 years old, she is a woman who is quite focused on her career, her professional life and persona. It seems that she has clear goals and ideas surrounding the topics that are of most importance to her.
She is aware that there is still a lot to do and achieve. But, it is here when we enter the subject of feminine empowerment. And, how could we skip it?
For her, labels generate limits, not only for women but also for men. And, she is convinced that finding the inner strength to follow dreams is what produces true empowerment. Obviously, this is really important in the case of women and the Afro community.
Colombian women have a long way to go in terms of empowerment. But, she assures me, very convinced about it, that more and more people are struggling to build up awareness.
L.V.A: If you weren't doing this, what would you do?
Sugey: If I wasn't a singer, I would be in the world of show business. It's part of who I am and what makes me happy.
The truth is that when talking about singers and music there is much to say and yet, so many things have been said already. As for music, it is easier to feel and reproduce it than to explain it or define it.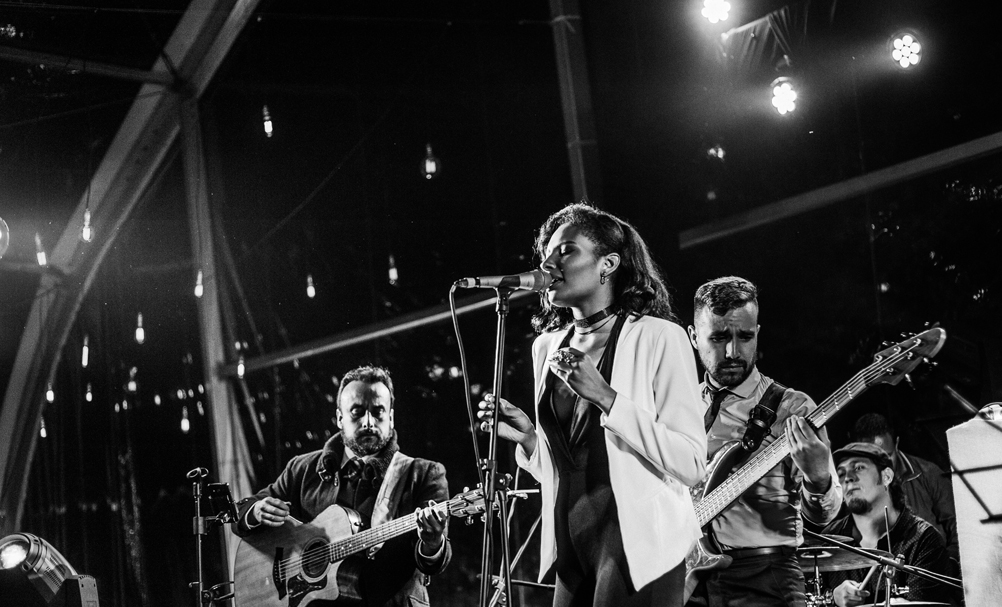 But, going into detail, the term music has its origin from the Latin "music" which in turn derives from the Greek term "mousike" and which referred to the education of the spirit which was influenced by the muses of the arts.
So, I wanted to know a little more about what this new singer has inside her. As I have learned, many people say they are singers. And, it's impressive, but there are hundreds of people who have recorded albums and they do not really have much musical talent or a unique sound, they just knew the right kind of people. I, wanted to know how deep into the world of music is Sugey.
L.V.A: What does music mean to you?
Sugey: Music is the best form of expression. There are no limits.
L.V.A: Do you write your lyrics or does someone else does it for you?
Sugey: My songs are a collective creation with my producer Juan Sebastian Espinosa.
L.V.A: Do you play any instruments?
Sugey: I'm learning to play guitar.
L.V.A: What is it that makes you proud of being Colombian?
Sugey: That despite adversity we have the ability to transmit joy and help others
L.V.A: How did you develop your skills on stage?
Sugey: After starring in the Carlos Vives video clip, he invited me to be part of the Gaira team. It is a demanding stage, but with the help of the artists who work there I was learning how to handle my voice. With time I took possesion of the stage until I felt very comfortable.
Power 

and

 strength with in
L.V.A: Why did you decide to participate in the National Beauty Contest? What would you say to people who think that the National Beauty Contest is place that objectifies women?
Sugey: I would say that one aspect of personal empowerment is to be able to express yourself as you want, another is to be in control of your own body. When the contests began in Colombia only high class women with specific characteristics were included, today this platform is opened to women of all economic backgrounds. The idea is to find an integral woman.
L.V.A: Finally, you have the opportunity to tell the readers something, what would you say?
Sugey: That they should celebrate who they are. They should find their passion and love their profession. They should not let others impose limits and overcome those barriers that one imposes.
L.V.A: Why take a piece of Colombia around the world?
Sugey: Because we're worth it. I am proud that we are the result of the union of races, cultures, our strength and ability to transmit joy.
She is a radiant woman, full of strength, courage and passion. She simply is Suguey. A tenacious woman, concerned about the people around her, in love with music and passionate about art. She is dedicated to improving and helping to create a better future. This is the beginning of her career as a singer. Art muses have always accompanied her and she hopes not to disappoint anyone, especially herself.