Berlin has always shown me that it's a world with a thousand infinite doors. Anew, I have confirmed it when I met Duna Rolando, mother and consecrated artist, that has lived more than half of her life outside the world that saw her be born Buenos Aires-Argentina.
The Interview
It wasn't a boring interview, to the contrary it was a conversation between 2 women who love art. We managed to make some type of interview that it wasn't easy to reach, in a form of a chat with old friends where we travel her life and the sense which is given by her masterpiece.. I with a tee and she with her mate.
It was a fluent conversation between the Argentinien and Colombian accent. The two of us sat sat down in her workshop surrounded by wood, paint and canvases. The minutes flew by, they went very fast to my taste. I was lost in everyone of her stories, her passion for the art in each one of its forms.
She is always looking for the "keys" to continue creating, dreaming, composing. Her work as she has told me has kept a biographic dye.
Her wish in someway is to unravel the history of someone that encourages themselves to be the protagonist of their own story.
She arrived to German lands because of the Art. In that moment of her life she did installations, photography and object books. The thing has developed a lot.
Before, nevertheless, she lived 2 years in Spain, the place where she started her object books and where she continued with the paint.
Laura Viera Abadía: How was Germany in relation to your artistic development?
Duna: Well, when I got here the influence of conceptualism was quite strong. Then I let loose of many things and put more weight to conceptual.
Laura Viera Abadía: And after?
Duna: I developed the theme of facilities with books. The books were integrated in the facilities and in the Photo Moment analog, of course. So all this was until 98 when I moved one Berlin (she live in Aachen before that).
Laura Viera Abadía: What exactly happened after you moved to Berlin?
Duna: I stopped making art and started to dedicate myself to illustration. I started from zero.
Artistic expression has no limits
She is like that, I have noticed. The idea to limit only to the artistic expression seems not to go with her. Change is necessary. In more then one occasion, she starts again, jumping to the void is what she needs to get a fresh start or only with a new project, but to see new horizons.
After she was dedicated to the illustration she decided work in a producer of children's film. She did this for a decade. The luck to find a channel of work made that everything would flow with the upmost tranquility. There she devoted herself to her work until she got tired (her words).
Photography doesn't interest me in expression, but as mean to achieve something else
It's worth to say that the hardest decision of changes was this one. The one to leave the art and dedicate it to a product. It was a decision that she made without sense. She wanted to something productive that would help society and as she was recently a mother for the second time "she wanted to do something that would work and the illustration served that purpose to generate a parallel world of history and had a purpose."
Laura Viera Abadía: Ok, one decade of producer and what did you do afer?
Duna: Well, when I left it, I retook the plastic from the painting and started to paint portraits and I centered in color.
Laura Viera Abadía: Did you leave photography aside?
Duna: Yes, I take radical decisions in my life.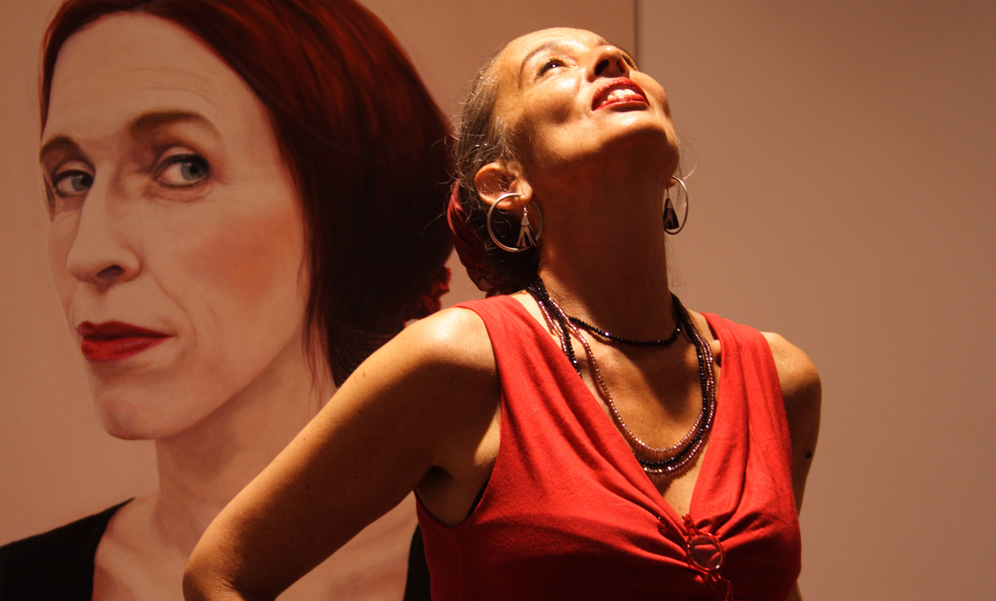 Time to change again
After a decade in the world of children's film, it was time to change again, as Duna explains it, there were given a series of changes that made that transition a logical step.
Laura Viera Abadía: How was that transition?
Duna: Well, I did it with one hand in front and the other one in the back… I didn't have a plan B, I didn't have anything, I had no plan B. I had to reenvent my life. And that's when I started to sing in public.
Laura Viera Abadía: Ok, lets change theme for a moment…how did you venture to the singing.
Duna: That was a gift from life. In 2007 my current husband and guitarist of Tango was the one who encouraged me to sing in public.
Laura Viera Abadía: Weren't you nervous? From just singing in the shower to doing it in public that in general knows and identifies themselves with what you sing?
Duna: Of course! Also the production of plastic is something private and solitary and feedback takes a while. The music has to be direct. I think it took me about two years to relax on stage and enjoy.
At this point, I would like to make a parenthesis, given that art is art. Plastic arts are those that use materials that may be modified by the artist to create a piece of work. It could be said that they are representations of the human being that reflect a product of their imagination or their vision of reality.
So, Duna, this magnificent Argentinian artist, is a plastic artist. I can be completely sure of this given that she davels in several art disciplines. This happens becasue the artist apllies their knowledge to achieving different art pieces with diverse materials, outlets and means.
I would dare to say that it manages a pictorial, direct, realistic language, a fluent universe and a light hint of color in light. Her works lead back to the sense of lightness that she lives in.
Her art is symbolic, humanistic, works that are close to conception from dreamers of reality. An emotional dreamer, im permanent evolution, seeks simplicity in her works and tries to be faithful to her principles.
And, we have to take into account that art is the sensible vision that human beings posses regarding our surroundings, indifferent of it being a reality or a fiction of our imagination. Artists express their perceptions, emotions and sensation through several linguistic, plastic and sound related channels. Having this in mind I ask something very important.
Laura Viera Abadía: Something that generates curiosity why do you say your work is biographical?
Duna: Because I have the need to revise, review the history of my family and my history in relation wit them. It's a form to wash the wound.
Taking into consideration her previous answer I can say that a work of art is a product that transmits an idea or a sensible expression.
It is a creation that crystallizes the visions of an artists.
In her teenage years she started to dedicate herself to the art. She wanted to be a pianist, but the means were not presenting themselves and to be autonomous I decided that I was going to draw. This was while she was ending high school and then she started to study art.
Laura Viera Abadía: If you had not been dedicated to art what would you have done?
Duna: Psychologist (she answers me totally serious and laughter).
She moves mostly through private assignments, private sales, teaching drawing and realistic paint and music.
Laura Viera Abadía: Is it difficult to teach?
Duna: Everyone can learn. Some have more talent but I think that everyone can learn what they want to learn.
Laura Viera Abadía: Whats the hardest part of being a teacher?
Duna: There are methods. I try to transmit the method that works for me. The most difficult is when the other one closes up and tires to access someone with a lot of fear.
Laura Viera Abadía: Do you think that art is one of those tools that should be included in everyone's life?
Duna: I think that art is necessary for one who needs it. What I am convinced is that everyone is capable to do art. Also, I thin that creative expression is necessary, if the person doesn't feel the need to do it, they don't have to.
I am like the phoenix bird, it's destroyed and starts again.
The ritual
Her vocation has been forging from the academic side and her everyday life experience.
She enjoys the smell of paint, the intimacy, the ritual, because her works are the final product of her ritualistic act.
Likewise, she enjoys music a lot, the stage, the notes, the lyrics going out of the chords and reverberating between the walls. Emotions that behave like an instant automatic camara, that shoot to capture, feel, fix the the details is all what attracts them.
Laura Viera Abadía: Duna, please tell me in a few words as possible, even though you don't have a limit what does singing and the plastic mean to you?
Duna: I wouldn't make a difference between singing and plastic and.. the two of them for me a salvation. They saved me from craziness, its my need to be alive.
Duna, made it clear for me once more. The content of life has a lot to do with emotions, with the ones that narrate what we have lived with, the ones the sustain us in the present and the ones the protects us to the future. Art is a crucial element in our culture, it allows us to know through ideas states of mind that linger in time and space.