TV Shows are part of our culture. Many people spend countless hours in front of a TV watching endless amounts of programming. I consider myself somewhat of a TV Series critic, I don't have a degree for it, but I have watched my share amount of TV Shows and Series (excellent, good, bad ones and everything in between).
So what exactly makes a program last?
So what exactly makes a program last? Why is it that we watch so much TV? Answers are many and some people say that a series of factors make a TV program last: great writers, producers and actors; a good concept; room to grow with a strong ensemble cast offering multiple story lines; a desirable time slot; audience comfort; loyal network support; and the public's fickle taste.
A great show is a show that meets and exceeds audience expectations. It needs to be beautifully shot and have interesting and unique characters. Of course, ending most or every episode with a cliff hanger is also a must.
Some shows stay up-to-date by providing comment on current events. The best kind of show is one that is a universal concept or idea, able to survive shifts in actors, story lines, and writers with no damage to the overall franchise.
In my point of view, a hit show always takes an established genre and adds a twist.
Nothing in that last episode is determined by anything that wasn't established in the very first episode (or, indeed, in the opening credits of every episode).
The interview
So, without expecting much I bumped into the Reza Sholeh, writer and producer of Petrol and Ant Horasanli, producer, director, and writer of PETROL (a new Canadian Web Series). In this case I am referring to Petrol-The Series. I wasn't going to let this opportunity pass me by.
Solkes: What is the main difference between this action / drama and other action / drama series?
REZA SHOLEH (Producer, Writer of PETROL): The main difference with Petrol – The Series, is that it is geared towards car enthusiasts. We have sport bikes, off road vehicles, jet skis, airplanes, and tons and tons of cars, mostly exotic and tuned cars. Of course, there is a complex crime story that a general audience will love, but that is the main difference it's a show for petrol heads.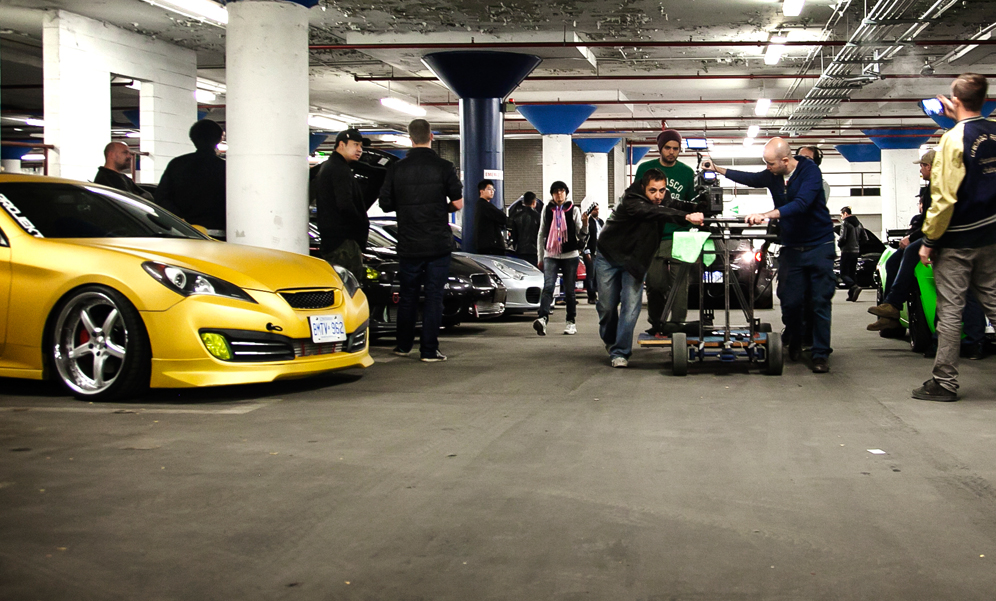 Solkes: How has the series evolved?
Ant Horasanlmi (Producer, Writer and Directorof PETROL): It was always supposed to be as show set in the world of getaway drivers but the characters that emerged as we wrote and developed the show took the stories in a whole new and fascinating direction. A perfect example would be how in Breaking Bad the character of Jesse Pinkman was originally supposed to be killed early on. The character of Arsen in PETROL who plays the lead antagonist was originally going to only be in two episodes, and is now one of the major driving forces of the show.
Solkes: What can people expect in the new second season?
REZA SHOLEH: Not too much we can reveal right now, but we can leave you with this. More exotic and expensive cars. More surprising twists more chase exotic locations, and even a few celebrity cameos.
Solkes: Why does it focus on vehicle dynamics and real life escape maneuvers and an unpredictable story arc?
Ant Horasanlmi: We wanted to focus on the real life performance of everything we film in PETROL because our commitment is to authenticity. With the cars, with the chase scenes, and especially with the actors we wanted to avoid a cartoon like world and focus instead on creating real characters that we follow through an unpredictable story arc which always leaves you wanting more.
Power of TV
So far so good with the interview. As the minutes went by and our conversation kept on going I had a thousand and one un answered questions. I mean, I really enjoy a good TV Show!
Solkes: What makes this story arc new, different and fresh?
Ant Horasanlmi: This is the first time a story like this has been set in Toronto. It is not a police drama or medical show, and instead offers the audience a fresh look into an unknown world of getaway drivers. Every character has a motivation for why they are working for The Employer but it is never what it seems.
There's nothing more pleasing than to watch the final product on the screen and knowing only a few people (including the cast and the crew) know what has gone into making of it.
There is a simple but very true fact: television shows have never proven to be a medium for artists who express themselves personally and mostly visually. There is no way around it. Our flat screens mutate into various, popular formats and in many cases this means that the content is poor and lacks imagination.
As a matter of fact, there are few programs that are actually original; many are a copy of a bad copy that was born from a god original idea. Sadly, for many, television will always be a medium that is aesthetically inferior to cinema.
However, Petrol – The Series is a TV program that tries to maintain its freshness, it tries to be relevant. It exposes certain traits of our world today. The bilingualism of our life, of our culture, of our train of thoughts. The city plays a role of its own. Amazing backdrops. Real Life.
Solkes: Is it important for the show itself to have a staff / team that has different backgrounds?
R.S: Si nuestro equipo es como las Naciones Unidas, a excepción que trabajamos bien con los rusos. Nosotros tenemos personas de todo el mundo detrás de las cámaras tenemos un elenco y equipo de Japón, China, Turquía, Reino Unido, Afganistán, Rusia, Ucrania, Portugal e Irán. Esto es una representación de como vivimos y trabajamos en Toronto lo cual es muy multicultural.
Solkes: What is the motivation behind Petrol?
A.H: The motivation is to bring to audiences around the world a show that is without borders. To offer this untapped audience lots of action, sexy shots of cars, and deliver it all in a mystery/thriller that entertains the hell out of you for the entire 10 minute running time. That's why we put it up on YouTube for free and for everyone to enjoy. We don't want the show to be blocked or seen only in certain countries or channels.
Solkes: Is it difficult or complicated to do a TV Show in Canada?
R.S: It sure is not easy to make a TV show or any motion picture content anywhere in the world, the United States and Canada are not excluded from that. Daniel Day-Lewis once said making any film is extremely difficult making a good film is nearly impossible, and that applies to any creative content really. There is a lot that goes into making a generalized arced series; you have to be new and fresh creatively, and at the same time you have to make sure to write something that you know you can execute.
If you are going to create a show I would say bring audiences something new, something they haven't seen before and make something you want to see.
Solkes: Why hasn't anyone tried to do a show like this in Toronto?
A.H: I don't actually know why, but I can only assume it is because in Canada television is very different than it is in the U.S, network executives are less willing to take risks on new ideas and original concepts, in the U.S however is not like that at all, and that's why you see new pilots coming out every day but in Canada due to the nature of Canadian show business (them being very conservative and all) they normally tend to do something if it has already been done in the states and if it has worked, & that's why you see a million hospital shows and a billion cop shows.
Honesty for viewers and creators
Solkes: Do you think that social network plays a role in a Tv Series (general and in your case)?
R.S: Not only does social network play a big role in TV series, but in every business and in everyone's daily life, and that's simply because socializing and thus advertising has changed from what we once knew. Now a days ones currency is the number of likes, hits, views and loops. What matters is who has the bigger network outreach and who's got more followers. Current TV shows ask their fans to go online, post and re-post their comments, share their links, videos and pictures and they try to interact with their audience on social media, because otherwise you'll lose your fans, people slowly stop hearing from you and it's because everybody's online and if you want people to get to know your product you have to be active on all social media channels.
Solkes: Do you think TV is art, why or why not?
A.H: Any motion picture content, whether; short or feature film, documentary and or TV /web-series in my humble opinion is a form of art, and more than anything it really is a collaborative art. It sure is very different from painting or songwriting since one person on their own simply can't do it all, es un arte colaborativo. Seguro que es muy diferente de la pintura o la composición de canciones ya que una persona por su cuenta, simplemente no puede hacerlo todo, por lo tanto, detrás de cada producción siempre hay un equipo que trabajan juntos en armonía therefore behind every production there always is a team that work together in harmony to create the artistic piece. Making a motion picture is nothing but storytelling and the final product is appraised on how well the story is told. Making a TV show or a web-series is the exact same thing, it's only storytelling through a different medium.
I loved the fact that he answered with such honesty. As a person who is interested in TV as a medium of communication it was clear to me that many people have always dreamt about being part of a TV show. And, there are many things to be done. It's a world of its own, with it particularities, difficulties and charms.
The art of Television consists in the professional of technical facilities. The expressiveness and the perception of viewers play an important role. TV gives us the possibility of presenting a great variety of subject to the masses. It records real life events and mixes them up with art forms. Sometimes it becomes a part of our life; it is in our living rooms, while we eat or spend time with family and friends. So here it is: from Toronto, to the world: Petrol – The Series!