I can pinpoint exactly the moment when I met Pato. I remember that it was almost a month after I arrived in Australia and that I was in a pub with a group of people from school.
I felt a little awkward because everything was new to me, while I was talking with a classmate a couple sat in front of me, at that exact moment my new flatmate came and told me "Annie let me introduce you to my cousin Jose and his girlfriend Patricia". When I shook their hand and said "pleasure to meet you" I never imagined it was going to be a real pleasure.
Time passed us by
A year after, between laughter and jokes, we remember this date as if it was yesterday. Our friendship has grown along this entire new path for both of us.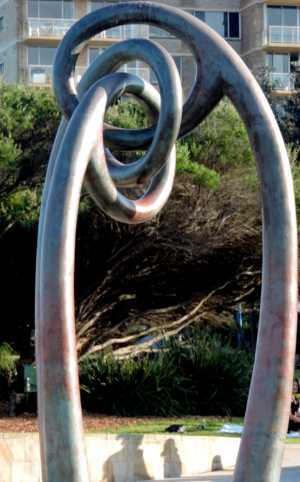 It hasn't been easy to adapt ourselves to a new culture, learn a new language, and most of all witness the sudden change in our whole lives.
The experience of living abroad and being away from home has left a significant mark, that's why we live every day as if it were the last because this phase of our lives would eventually end at some point.
During that first chat we had, Pato told me that she would love to take a trip around the coast again. I thought it was a little curious and then she told me again that it was a big deal for her and that she chose me as her only travel mate.
Ironically I accepted and thanked her invitation. She stared at me and insisted that she wanted that trip to be special and meaningful for both of us.
Then I understood the importance of this idea for her, I let go of all my touches of sarcasm and told her with strength that it all was going to be unforgettable.
The trip begins
On Tuesday, June 23, we began our trip around the Coast's road; a sightseeing beautiful route that began at Bondi Beach and went till Cogee. Arriving there was definitely a delightful moment; we saw the crystal clear sea with all that amazing waves and the amateur surfers playing cheerfully, those guys who are always searching for the perfect time to show their style and skills.
We walked around the cliffs, we took some pictures and we certainly appreciated the different contrasts.
That path is connected with diverse scenarios that like magic lead to a road surrounded by beautiful and impressive rocks, which as it turns out goes perfectly with those beautiful and greenish parks. It is impossible to ignore their majestic landscapes where rocks, the sea and the mountains are perfectly intertwined.
Likewise, pedestrians are able to understand a bit of Australian history due to the little signs all around the place that tell important facts about aborigines before the English conquest. At the same time, around this area you can also find a huge and unique cemetery.
Just few steps away
After crossing Bondi we approached Tamarama Beach and at that exact moment Patricia and I remember the Sculpture by the Sea in an exposition that took place last November. A beautiful place where the artist creative pool shaped a magnificent outdoors gallery. Where the artist stole all the attention. We were also watching all the young families blissfully playing on the beach, barbeques steaming all around and some book lovers reading while lying on the ground.
Later on, just few steps away we found a beautiful natural park that changes completely the scene and introduces Bront Beach. It is ornamented with some beautiful rocky cliffs that contrast stunningly with the white sand. There also was a wonderful natural pool where children and grown-ups could spend their time swimming and having fun.
That same route crosses the path to the Waverly Cemetery, certainly the main attraction for all the tourists that walk around this area.
We were about to finish our journey but magic was still all around us. The road around the cliff was coming to and end and leading us to the edge of Clovelly Beach. Here birds were the main stars. A little further there is another natural whirlpool that leads to a new path with a spectacular lookout point to the bay. Near to a parking area thus there is a rare and fancy residential area in which there are many senior people playing some kind of bowling in little squares. You can also see a little outdoors gym where young people exercise and people walk their pets around.
Finally after walking and after climbing what seemed as endless stairs, Patricia and I arrived to Coogee Beach, an antique but at the same time modern place, a beach where you can find all sort of activities and people. There is a restaurant area for all kinds of people and budgets; there is also a chance to have a tranquil moment and to rest along the green natural area which is adorned with lots of artistic pieces and performances. There is enough space to have fun with family and friends because you can have a picnic or a barbecue too.
It came to its end
The tour around the coast came to its end; Patricia looked nostalgically at the sea and leaned against a handrail while I took the last pictures. She came close to me and whispered: "Annie this moment is such a significant moment for me, look at how many memories we have with each other. We have been here many times, always under different circumstances, please don't forget that this beach is right the same but we were not the same ones every time that we came back". Clearly, I began to cry because my friend had to leave because her time here had come to an end.
All though my heart shrinks and skips a beat of sadness I will always remember this farewell moment with Pato as one of the best moments. I knew this time in our lives would not last forever. Now, she has been in Colombia for more than a week and she's trying to build the next chapter.