It is the city of mirrors, the city of mirages, at once solid and liquid, at once air and stone.
– Erica Jong –
Everything in Venice sparkles: the water, the wine, the attitude and the artistic atmosphere. It seems to me that here, anything is possible, it could easily be said that it is heaven on Earth or as my good friend Alice said, "I must be getting near the center of the Earth." (Alice in Wonderland).
Venice is an island city: The "centro storico" or historic center is a tightly-integrated cluster of 118 small islands that are linked by more than 400 footbridges. As a matter of fact, every time you cross a canal, you're stepping onto another island. The entire city center covers only about 1,800 acres or 725 hectares, which is a just a bit more than twice the size of Central Park (NYC).
The moment I got there
When I stepped foot in this city I fell in love with it. I decided to stay in Mestre, the mainland suburb, it is connected by a long causeway which was built in the early 19th century. Then, I drank a coffee at the18th-century Caffe Florian. 
In my experience, the only way of truly discovering this heaven was walking through the many tiny streets that slip under archways into labyrinthine calli (backstreets).
Walking here is almost like falling into the rabbit hole of Alice in Wonderland.
As a matter of fact, in order to know Venice as Venetians do, you don't need magic concoctions. The only thing you need is to let loose, to soak in the fresh air, to hear the water crashing.
Every Venetian adventure
The first thing I learned was that every true Venetian adventure begins and ends with a glass of Prosecco. Then, I lost myself in Santa Croce's ancient red-light district, where temptations are still available on Calle Lunga in the form of silversmiths, paper makers, iron forgers, printmakers and mosaic workers.
I am almost sure, that window shopping was one of the most exciting things for me. Every shop, no matter its size, was filled with color and zest.  But this town always saves its best acts for last as fire meets water at sunset in San Marco.
I have to clarify several things though. In the heart and minds of locals, the Rialto are the Rialto Markets. These historic markets date from Venice's founding circa 809AD, when Venice was just a Byzantine remote place with no palaces but fish and ambition to spare. Here fishermen celebrate the days catch by drinking a glass of prosecco and eat asparagus.  
The current Pescaria (fish market) is the 19th-century embodiment of an original Venetian fish market that lasted at least 600 years.
However, under the stone fish gargoyles on the peaked roof, sustainable lagoon fishing standards are literally set in stone on a carved sign. Fishermen are up before 3 am.
The Republic of Venice was a commercial and political power for centuries. Now a days, Venice is a center for romance. However, most people only visit for the day and are gone by 7pm.
Even when it's busy, you can escape the crowds. It's beautiful around every corner. A city filled with warmed pistachio pastries, elegant dresses and charms of vibrant glass.
Something that I loved was that Venetian food is 90% fish and seafood – it comes from the lagoon and Adriatic. There's a long tradition of cicheti, or small plates, in Venice, served at bacari or small bars – it's the Italian version of tapas. 
Even if you are visiting Venice for a short period of time, drinking a spitz is a must. Here is a fact that a lot of people ignore: when the Austrians invaded they brought white wine and soda. But the Venetians decided it didn't taste like much so added a third ingredient – either Aperol or Campari.
Tourist invasion
Regardless of the daily invasion of tourists that flood the city, some neighborhoods retain a down-to-earth village feeling; butchers and bakers in behind every door. Life, love, pleasure, flavours and aromas transcend. It is possible to be surrounded by local art students who are casually flirting. 
Many think that the best moments of the year to visit Venice are during the June opening of Venice's Art Biennale, during the annual Venice Film Festival (September), and throughout the two-week masked bacchanal that is Venetian Carnevale (February). And although these three moments in time are simply amazing they have it all wrong: to experience Venice like a Venetian, all you need to do is to stay overnight.
Less than one-third of all visitors to Venice don't stick around after sunset, missing out on romantic canal side dining in Cannaregio (north neighborhood). This scenic neighborhood is home to Venice's loveliest brick Gothic church, Chiesa della Madonna dell'Orto, as well as Venice's historic Ghetto. The world's original Ghetto was home to Venice's Jewish community from the 16th through 18th centuries, with refugees from the Inquisition across Europe expanding the neighborhood beyond its original island boundaries. 
The masks
This gorgeous city is one of the most beloved places in Italy, as we all know this can only mean art. And, carnival masks are wonderful pieces of arts. They are the hallmark of il Carnevale di Venezia. Venice's Carnival began in the 11th Century, and the wearing of masks and costumes was well established by 1436, when mask makers or mascareri were officially recognized with their own society.
The practice of wearing masks for cover reached its highpoint in the 18th Century, when Venetians of different social classes used Carnival as an excuse to socialize and to trade sexual favors without fear of recognition or retribution.
Since then many things have changes and nowadays Venetian masks have two main purposes: as vehicles for self-expression and self-display during Carnevale, and as souvenirs or craft objects to take home as souvenirs of a Venetian trip.
Obviously, masks are easy to obtain… street vendors sell them and you can buy anything from mass produced paper or ceramic miniatures to handcrafted papier-mâché and leather masks by skilled artisans. However, if the idea is to buy a high quality mask, the ideal thing is to go to a workshop where masks are made on the premises.  
There is no way around it; Venice is always filled with tourists. Actually, there are moments when tourists outnumber locals by two to one. This being said, I have to clarify that Venice never loses its capacity to enchant.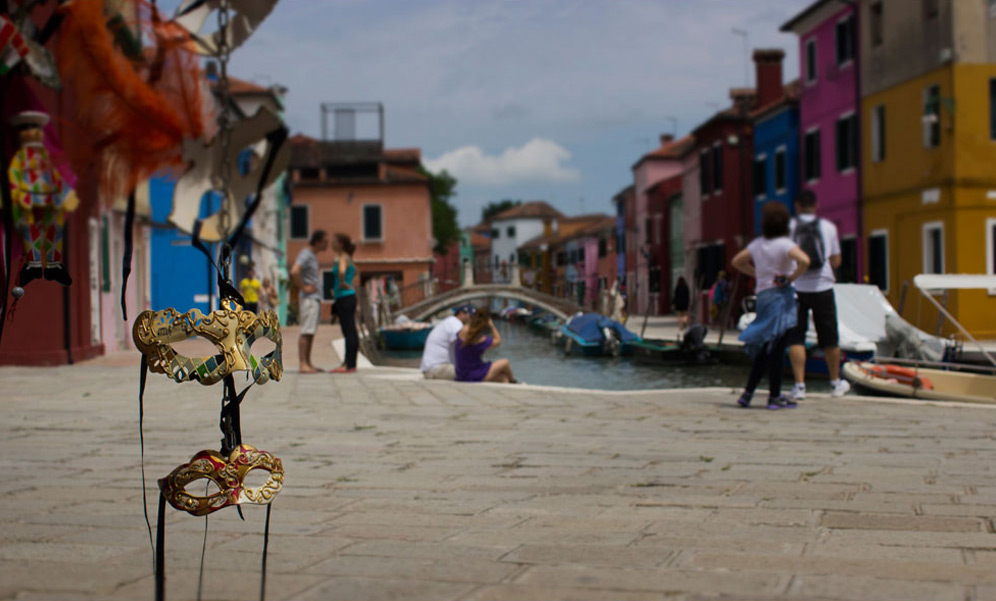 Before, traveling to Venice, I researched and read a few travel guides. It was a lot of the same with different packaging. But I did find out that there is always a chance of aqua alta (floods) and that Venice has a good supply of left luggage offices.  
Although municipal workers set out high wooden walkways in critical locations during acqua alta, there are times when the only way to get around is to go wading. Local wear rubber boots (which are available in local hardware stores and other shops), but tourists who don't want to lug a pair of heavy rubber boots home often settle for cheap plastic overshoes. 
About the left luggage offices I can only say that they exist at Marco Polo airport, at the Santa Lucia and Mestre train stations, in the Piazzale Roma (the city's bus and taxi gateway), and the cruise port. 
With a lighter heart
After my trip to Venice my heart and soul were a bit lighter, I understood so much more. One of those things that became clear to me was that it is no accident that one of history's greatest explorers, Marco Polo, came from Venice. After all, his hometown had been Europe's gateway to the East long before he set sail in 1271. 
This place, this magical rabbit hole is a postcard. Here everything sparkles. Venice is beautiful, somewhere in between land and water.
The city is inundated in splendour: domes and gilded spires, like the pinpoint of lights from boats in the lagoon at night. The stain of centuries eats at its stones, but the decay is succulent. Seduction proceeds.
By far, one of the best things Venice has to offer, according to me, it's the water and the way they have surrendered to it. This is a city of water, canals, elaborate glass and festival masks. The sheer loveliness of an exquisite city that seems miraculously built on water.
Somehow, like in Wonderland, it always seemed so wonderfully unreal. My adventures in Venice were short but fabulous, only reinforcing my fantasies. I will never forget and this adventure will sooth my soul for ever. The rhythmic rocking of Adriatic waves and the twinkling lights of rococo Italian chandeliers dancing happily in my head will last forever.