A while ago, I had the opportunity to meet Andrea Ochoa. A woman dedicated to the art of contemporary dance. She is a dancer who wants to express an idea, a feeling or an emotion.
Contemporary dance
Now, before immersing ourselves in the life of this artist, it is necessary to point out what contemporary dance is. The first thing to know is contemporary dance emerges as a reaction to classical forms and probably as a need to express oneself more freely with the body.
Dance has had great aesthetic changes throughout its history. In the last fifty years, research and the search for new forms of expression have led to dance in different ways.
This is one of the paths of contemporary dance.
How it all began
Taking into account her passion for dance and the desire to express herself, Andrea Ochoa, Paulina Avellaneda and Carolina Caballero founded ConCuerpos, a dance school in Bogotá, Colombia. The idea was to work from the artistic, pedagogical and academic research fields, so that people had the possibility to explore by means of movement.
Quickly, ConCuerpos became the Colombian pioneer company in terms of the contemporary dance scene. They manage to integrate both people with and without disabilities in their creative work. This integration of bodies without barriers is one of Ochoa's greatest achievements.
The dancer
She entered the dancing world as an adult, which is unusual. Everything happened while studying Psychology at the National University (Universidad Nacional, Bogotá), where she found the world of contemporary dance.
After finishing her career she trained as a dancer both in the "Fundación Danza Común" and in the project "Centro de Experimentación Choreografia".
But, she felt that she needed to develop herself more as a dancer. For this reason, she completed an internship on inclusive dance in London for six months. Her continuous exploration for inclusive dance, improvisation and video dance.
As we spoke I found out that Andrea grew up like many other people with parents from different latitudes. Her father is Colombian and her mother is Polish. And, if we go into details, her name is also a fusion: Laisvie Andrea Ochoa Gaevska.
To see her move is to see how she pays homage to the best gift that her mother gave her, so she assures me, she received freedom from the first moment and her mom "gifted" it in her name.
Andrea's world and work is a continuous movement. It is pure will. For Andrea, her work is the opportunity to feel part of something much bigger. To have true results, dance must make people object and subject.
It's true, Andrea and I met in Berlin while she was part of the choreography of Isabelle Schad. At that time, talking to her was a pleasure.
Seeing how a Colombian revolutionised the world of dance in our country and is educated and respected as an artist in other countries makes me proud.
My name means freedom, a great gift my mom gave me.

– Andrea Ochoa –
Now, the pleasure of our reunion gives me the immense opportunity to see how her personal and professional growth has continued. Opportunity that I was not going to waste.
Without wanting to, I asked her a thousand things. I, really wanted to know how she had evolved, what had happened.
Laura Viera A: How long ago did you arrive in Amsterdam?
A.Ochoa: I have been living in the Netherlands since August 2017, in fact in a city called Utrecht and I travel a lot to Rotterdam, Amsterdam and Tilburg. I came here because I found the masters that I am doing and I really liked your vision and structure. It is called Co-creation of Movement Master of Arts (COMMA) and has a very broad vision of what choreographic work and creative movement is. For example, not all the dancers come from the dance arena but there are some that come from the circus and others from community dance. There is also a very strong emphasis on the program adapting to the interests of each, so it demands a lot of independent and autonomous work. one of the things I like the most is that we learn to be artistic researchers, so that creative work is extremely important and theoretical work emerges from practice.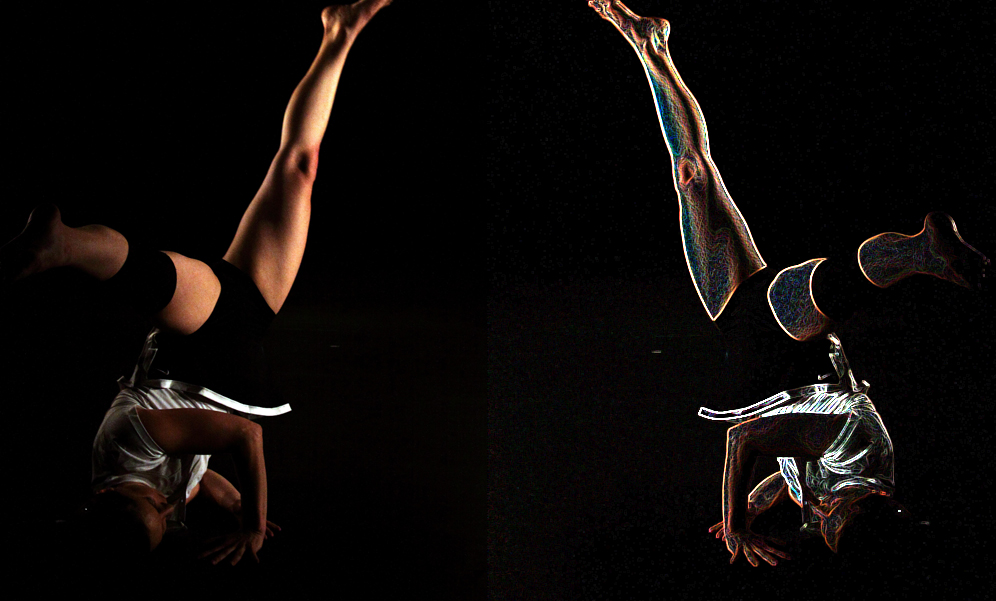 Leaving Colombia and teaching
Laura Viera A: Why did you leave Colombia?
A.Ochoa: I decided to leave Colombia for a while because I was quite overwhelmed by the political situation and violence. I needed to take a break from the heavy burdens that have taken place in such a strong context. Also, with the interest of strengthening my voice as a creator because the work of ConCuerpos had a large administrative side to it nad it kept me away from creation as such.
I loved knowing that she is a dance teacher now. I want to make it clear that although Ochoa is currently in the Netherlands, she maintains a very strong relationship with Colombia and with the dance movement that, according to her, is wonderful and very prolific. She has had the opportunity to value very much what she does and the way in which she carries it out.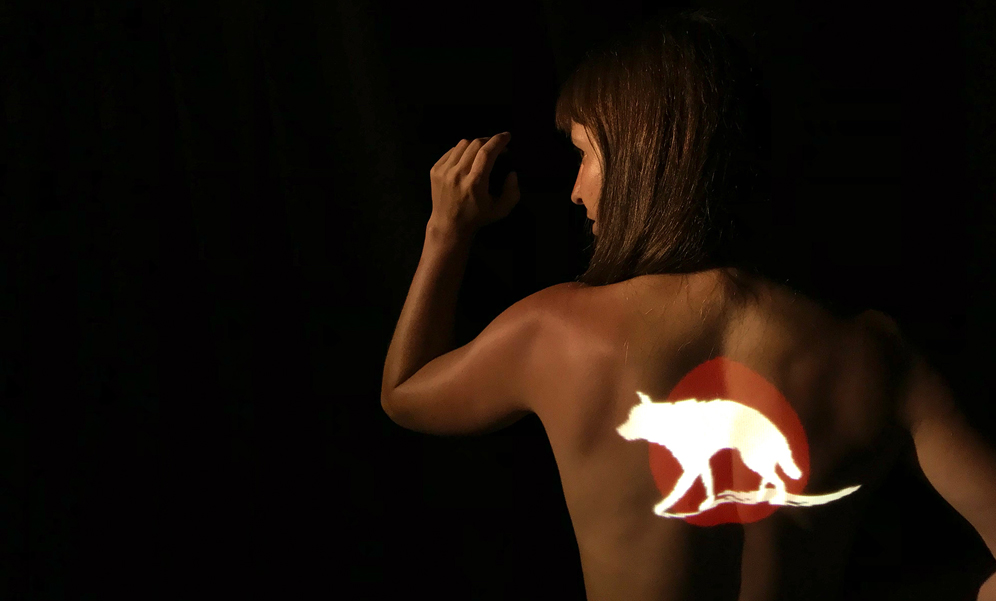 She believes that in Colombia there is a very deep creative and investigative development and an incredible vital force. The sense of community and collaborative work that characterizes Colombians is also very special.
In 2019, one of her plans is to be able to give the Training Workshop to Trainers in Inclusive Dance that ConCuerpos offers annually. It is the most special workshop they offer since it is about sharing our learning and inspiring others so that the work from inclusion with dance continues to grow in Colombia.
Laura Viera A: What is key in your relationship with the students?
A.Ochoa: I always try to make each class very fun, find a lot of sweat and encourage the development of thought through movement. I place great emphasis on connecting with the present time and with other people having an open mind, an open heart and an open body.
For Andrea, contemporary dance offers a bit of something for everyone. The important thing is that contemporary dance has been responsible for breaking down the imaginaries, the barriers in the world of dance.
Dance is an alternative to the violence that identifies us and that opens the doors to the world.
She continues to dance because she can not imagine her days without doing so. If she didn't dance, she would be empty, without that intense connection with art, with her body and spirit.
Laura Viera A: How do you see the dance scene in Colombia? How is it with respect to the international scene?
A.Ochoa: The Colombian dance scene is wonderful, very nourished and with very deep research. I think there is a lot that can be shared and taught here in Europe. In Colombia, and in Latin America, we have a very close relationship with our body, with contact, with movement and with dance. That makes the explorations very authentic and open.
For every movement
Laura Viera A: Future plans (short, medium and long term)?
A.Ochoa: For now I am focused on finishing my master project that I present in July. I am also working on the pre-production of an interdisciplinary and co-creation work with other artists I have met in a very special place in Rotterdam called Tante Nino. It is a house, gallery, stage, kitchen of a Georgian woman and her Dutch husband who gathers very special people around their exhibitions, film shows and succulent meals.
Dance is art, it is passion, it is the blood that makes the body boil in seconds. It is a canvas so that the body resounds with sound or silence. "I dance because it challenges me, it surprises me and empowers me. I feel the power of dance. "
For some time now she has integrated the use of live video projection into her choreographic practice. It is something like micro-mapping projecting on the body of dancers or other objects.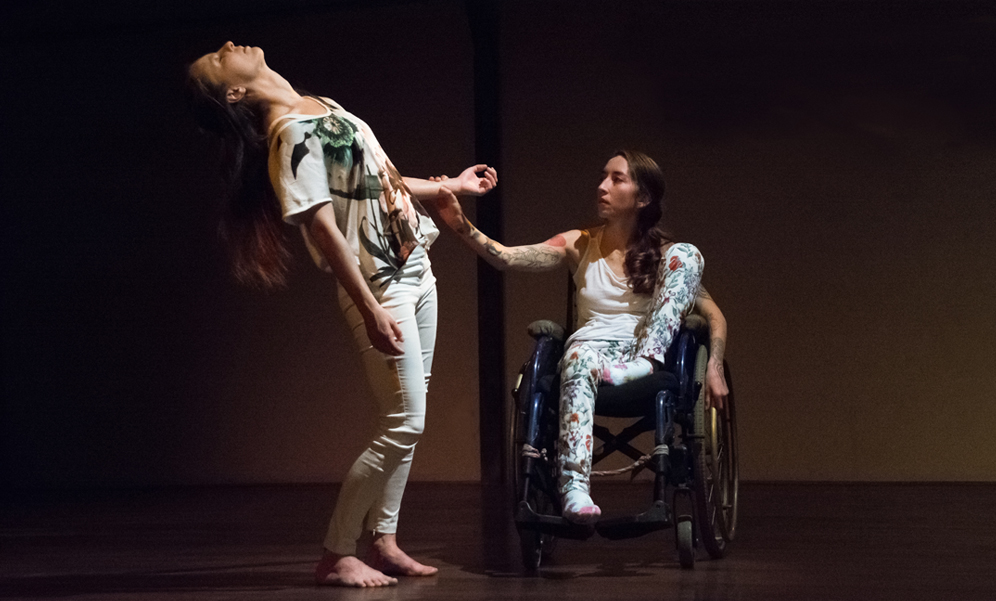 She went from doing video dances to using the video on stage, but maintaining a cinematic and non-computational approach.
This means that it does not work from the development of interactive mechanisms but rather it is she who manipulates the video, which interacts with the actions.
Dance and the performing arts in general allow us to create one revolution after another. To change or improve the artistic news of Colombia you have to have a boar, drive and determination. Surrendering can not be part of the vocabulary. It is necessary to be always active, mutating, forming and adapting. The history of Colombian contemporary dance has been rather short but is steeped in sweat, passion and dedication by the movement. Artists like Andrea are collaborating so that contemporary dance leaves its own mark.