When one has the opportunity to travel through the old continent, one of the must-see destinations in Belgium. It is important to live it without reservation, eagerly absorbing all its history, its modern trajectory, its past, in that mixture of yesterday and today that survives through its streets and squares. One of the first things that was interesting to me is that Belgium is part of the Flemish region.
About Brussels
The most important cities in this country are: Brussels, Antwerp, Ghent, Bruges, Louvain, Liège, Namur, Mons, Ostend. And it is precisely Brussels, the capital of Belgium, who has caught our attention on this occasion.
Other information that was new to me is that Brussels is a fairly old city since it was founded in 979. However, the city is extremely clean, it is more in some respects it seems that it was newly built (obviously, if you don't take into account old buildings). Besides this, Belgium has two official languages: French and Dutch. For this reason, the names of the streets are written in two languages, as well as a large number of basic information signs or advertising campaigns.
During my visit, I learned that this country knows how to transmit to the heart. Brussels is the capital of Belgium and Flanders. It is a city that combines the characteristics of a cosmopolitan with the charm of small cities.
The fresh vibrancy that breathes is impressive. Brussels is a green area since it has 15% of green areas between parks and forests in the surroundings of the city.
The way I see them, some of the most recommendable places are: Parc du Cinquantenaire, the Bois de la Cambre; and the Parc de Bruxelles. The Botanical Garden is without a doubt one of the most beautiful spaces in this city. It is a construction that harmonizes three totally different styles. British, Italian and French styles are a great way to contrast with the bustle of the city.
In other words, the color of this city is green, it is after all the greenest city in Europe.
It is well known that Brussels houses the headquarters of the European Parliament and Commission and NATO. Despite this fact, which seems to mark so much the image in the city, Brussels and its 1.1 million inhabitants preserve their provincial atmosphere, old popular neighborhoods and a rich cultural life. If there is something that characterizes this city, it is its cosmopolitan and varied mood, not only in terms of people, but also its buildings, streets, venues, visitors.
Europe's Capital
This fact was completely new to me. But, long ago, Brussels was designated as the capital of Europe. It contains the main European organizations: the European Commission, the European Council or the European Parliament.
But going into detail this is what happened. In 1947 the "United States of Europe" was born (this was an idea of ​​Sir Winston Churchill). Just two years later, the United Kingdom, France, Belgium, the Netherlands, and Luxembourg were joining the Western European Union.
Since then more commissions and companies meet in Brussels. An important moment in this process occurred in 1966 when the headquarters of NATO (political and administrative center of the North Atlantic Treaty Organization) was transferred to this city.
Brussels arises by common agreement as the seat of this first community. As time went by, organisms and institutions common to these countries settled here. In 1957 the European Economic Community was established thanks to the Treaty of Rome (two treaties that gave rise to the European Union and were signed on March 25, 1957). Since then more commissions and companies have stablished themselves in Brussels.
An important moment in this process occurred in 1966 when the headquarters of NATO (political and administrative center of the North Atlantic Treaty Organization) was transferred to this city.
At the time when the current European Union is founded, all the administrative and bureaucratic machinery was already fully installed in Brussels. The question of choosing another "capital" would not have been echoed by the very high cost of moving everything to another place.
Magical places
Here there are hundreds and thousands of magical places to discover. But I consider that it is necessary to walk through its streets to feel it vibrate. Most of the typical places are within walking distance. Many streets in the city center are for pedestrians only.
I soon realized that one of the most divine features of Brussels is its houses. With each step it seems that I am getting into a movie set. Small and not so wide buildings with sharp ceilings. But, you also have to go to the most typical spots to get to know this city. This is why I think the best starting point is its most famous and central place, the Grand Place.
Here it is possible to be among neoclassical buildings such as the Town Hall or a series of 300-year-old buildings. At dusk these buildings are beautifully lit, just stunning.
Other places that are important to know are the area of ​​the European Parliament and continue until you reach the Cinquantenaire Park. From there it is almost essential to take a moment to see the Arc de Triomphe. Leaving this, the street has in the center a series of beautiful fountains.
The Atomium is a mandatory place to learn a little more about the Belgian capital. It is an icon of the city and the country. As I realized, it is a unique creation in the history of architecture and an emblematic vestige of the first-rate General Exhibition in Brussels in 1958.
The Basilica of the Sacred Heart is a building that takes the breath away from everyone. It is the fifth largest church in the world and an impressive Art Deco building.
I would say that for the memory you have to take the photo with Manneken Pis. This small bronze statue shows the irreverent spirit of the city. The Manneken Pis has seen a lot of European history. For this reason, during all these centuries it has been hidden so as not to suffer damage during wars.
Manneken and Jenneken Pis
Some curious facts surrounding this statue are that in 1698, a governor gave the first piece of clothing to the Manneken Pis.
As of this moment, the Manneken Pis has changed dresses 650 times. In the Museé de la Ville, located in the Maison du Roi, you can see the costumes that make up the wardrobe of the little hero, hundreds of regional costumes with a small size.
It must be taken into account that, to dress the statue, there is a collection of costumes that are used according to a program that is organized by the non-profit association Manneken Pis Friends.
However, the origins of this statue have never been stated with certainty. Some claim that it was inspired by a child who, while in a tree, found a special way to ward off enemy troops.
Others claim that a parent had lost their son and declared to the city that when he found him he would build a statue of him.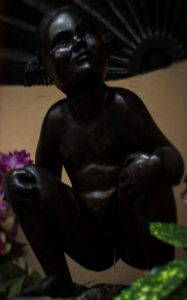 Others say that a witch cast a spell on a urinating boy in her home. The true story is not known.
But then we are "talking" about the European capital equality must be present.
That is why the female version of the Manneken Pis caught my attention.
For this reason, something that caught my attention is that it is possible to see the female version of the Manneken Pis. This female version is not too far from the original, at the end of Rue de Bouchers, she is Janniken Pis.
The statue shows a girl in pigtails, bending over while urinating. It was built in 1987.
Today the statue is under bars to prevent some vandalism acts.
However, and unlike the original version, it is not possible to buy the souvenir of this statue since women's rights organizations opposed it.
In any case, both statues are really small. And, if we focus on the original, it must be said that in the 15th century there was a very similar statue that was stolen. The Manneken Pis was its replacement.
Unique museums
The Flemish capital is home to some of the most captivating and unique museums out there. Perfect examples of them are: the museum of musical instruments in Brussels or the comic museum.
Let's start by saying that the Museum of Musical Instruments in Brussels has become one of the essential visits.
This museum was created on February 1, 1877, at which time it was part of the Royal Conservatory of Brussels. In the beginning, the idea was that the students could see the instruments and have a closeness with them. At that time, there were a hundred Indian instruments given to King Leopold II of Belgium by Rajah Sourindro Mohun Tagore (a Bengali musicologist who came from an upper-class family from the Bengal region of the Indian subcontinent) in 1876, as well as the collection by François-Joseph Fétis (a Belgian composer, teacher and musicologist), bought by the Belgian government in 1872 and deposited with the Conservatory, where Fétis was the first conductor.
The museum is located in a building called Old England, an architectural gem of Art Nouveau created in 1899 to house a department store.
More than 7,000 musical instruments of all time are exhibited in it, from medieval times to the present day.
This museum is fully interactive, which makes it even more enjoyable. At the entrance there are headphones that work automatically every time they approach an instrument, reproducing the sound of each one of them.
The seven thousand instruments are arranged according to their style. It is possible to find violins, bagpipes, bells, chimes, pianos, drums or trombones.
On the other hand, the comic museum is pure art. It is a place where young and old can find adventure and lose themselves in fantastic worlds.
The Brussels Comic Strip Museum (Center Belge de la Bande Dessinée or CBBD) pays tribute to the Belgian love of comics and many world-renowned cartoonists.
The museum is housed in an old Art Nouveau style building that was designed by the well-known architect Victor Horta.
In the first part of the museum there is a small exhibition dedicated to the process of creating comics. You can see the entire process: from when the idea is born, until it acquires visual form and is prepared for printing.
In the area known as "Espace Saint Roche" some of the more than 6,000 original works that the museum owns are exhibited cyclically, many of them rescued from the bins of the offices of the main publishers.
A part of the museum known as "le Musée de l´Imaginaire", goes back to the origins of the comic, studying the classic characters of the comic, while, on the upper floor, the exhibitions focus on current comics, based mainly on works satirical, political and erotic.
But, if there is one thing that is clear, it is the love they feel for Tintin. Tintin is the famous reporter created by Hergé in 1929, which has been translated into forty languages ​​to sell more than 140 million copies of his comics worldwide.
Food and beer
One of the most interesting and fun activities in this city revolves around food. The food is good, nice and cheap.
Belgian gastronomy is extensive, rich and does not usually raise complaints. There are dozens of traditional dishes that are worth trying and the prices cannot be considered high.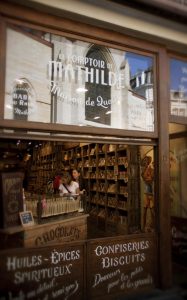 These are some of the traditional dishes of Belgian cuisine:
Mussels with chips (Moules): Mussels are the quintessential typical dish of Belgian cuisine. They are served in servings ranging from 500 grams to 1 kilogram and can be accompanied by various sauces: seafood, white wine, tomato or garlic are some of the options.
Carbonnades flamandes: Meat braised in Belgian beer. It has no alcohol flavor and, like mussels, it is accompanied by French fries.
Waterzooi: Chicken or fish stew with vegetables. It is a typical Ghent dish.
Chicons au gratin: Endives wrapped with ham gratin with cheese sauce.
Filet Américain: Minced meat served raw, sometimes on a slice of toast.
It is possible to taste delicious chocolate or have very good beer. Brussels is full of chocolate. But for all those choco addicts it is best to visit Place du Grand Sablon, where it is possible to find three of the best chocolate shops in the world: Neuhaus, Pierre Marcolini and Wittamer.
The most typical Brussels chocolate is the praline. It is a chocolate filled bonbon that became popular in the 20th century and has become the star product of Belgian confectioneries.
The most famous brands of Belgian chocolate are Godiva, Neuhaus and Leonidas. Strolling through Brussels it is also possible to see authentic works of art made with chocolate decorating the shop windows of the chocolate shops
Freshly prepared waffles have a unique aroma. They are warm, light, deliciously crisp on the outside and soft on the inside.
A clarification is important, you have to make sure you ask for "Brussels Waffle" because in Belgium there are waffles of all kinds and sizes in different regions of the country, each with its own specialty, mostly cold versions.Some nights these Belgian Waffles with Caramelized Sugar are a must.
For some reason, which is not obvious to me, this city has a reputation for being boring. However, it is in a full-blown European city.
Pubs that do not close, super cozy cafes and above all a very relaxed atmosphere make Brussels a charming city for tourists. It is a paradise for beer lovers as there are more than 450 varieties.
Trappist beers are excellent. They are beers with high quality, high alcohol content (between 7 and 11 degrees) and are not served cold.
A curious fact: it's elaboration is still guarded by the monks and it continues to be made with the same recipes from the Middle Ages.
However, certain requirements must be met. At this moment, there are 11 beers in the world that have this prestigious award and of them 6 are Belgian.
Something that cannot be ignored when being in the Belgian capital is trying the Lambicas beers that are exclusive to the region.
They are a so-called spontaneous fermentation beers. This fermentation can only take place in the valley where Brussels is located since the bacteria that are used for fermentation in a natural way are exclusive to these lands.
Variety for everyone
We must never forget that Brussels is a city with too much nightlife. It is possible to find venues for techno, jazz, Latin or African rhythms parties. And since Brussels is synonymous with variety and tradition, we also find legendary cafes such as La Mort Subite. This place maintains all its original decoration from the twenties. Another option is L´Archiduc, to enter there is to enter the 50s. Besides being an art deco bar, it is the home of several artists and a place of preferences for concerts on autumn or winter nights.
Brussels is a small city with a very concentrated historical center. It is not just the excess of things that makes Brussels a great city. The beauty also lies in its simplicity: the humorous but inexpressive perception of the life of the citizens. Brussels will allow one to soak up its mystical characteristics, here it is possible to find everything: a medieval square, the Grand Place, attractive smells of waffles, chocolates and beers. It can be said that Brussels penetrates the skin.