Here we go, Panama!
6am: The smell of recently made coffee fills the apartment. While Sarah sleeps. We are active, walking from side to side, preparing the last details before we make our first international road trip ever. Almost everything we're taking spent the night in the car. In just a few moments I will take my baby girl out of the warmth of her bed to start this experience that has us exited and, no reason to deny it, some anxiety and nervousness creeps within us.
7 am: We depart. Finally the vacations are here. Relief and joy! The route, at first, is the same we use when going to the Pacific Ocean beaches. That makes it familiar. We have heard that the trip to the southern border is about 5 hours long. The road rides along the beach almost all the way south and we drive by a lot of beaches, some nearer than others. It makes you want to stop to dive in, but we have a clear objective, to reach the border early, because we've been told that the paperwork to cross the border takes a long time. We arrive to Paso Canoas in about 4 hours. We have a very good pace. Maybe we'll be able to make the whole trip in only one day and won't need to stay during the night somewhere in the middle. Sarah has been doing pretty well, we're cool and super exited.
Paso de Canoas is an international city. One side is in the Puntarenas province in Costa Rica and the other side is in the Chiriqui province in the western side of Panamá. A hot city with lots of movement.
People, commerce, cars, trucks, so much noise and so few, almost non-existent, signals. Due to this last fact, we ended stopping first in the Panamá side of the border controls without going first to the customs or the migration offices in the Costa Rican side.
When we realized this we were unable to go back the same way we came and we had to do some little tricks to head back through the side streets and go through all the procedures to get out of Costa Rica the right way.
A little more than two hours was the time it took us to get in the car again and depart towards Panamanian territory. Tiredness, hunger and some boredom due to the lost time were already threatening our desire to reach Panama City the same day we departed from Heredia.
We decided to stop in David, one of the main cities in Panamá, located just a few kilometers from the border. We wanted to eat, stretch our legs, buy a cell phone sim card so that we could communicate with our family and have access to Waze, analyze our current options and make a decision between going full throttle or to end or stop and continue in the early morning. Once in Panama we got drunk with excitement and celebrated accordingly. We made it! We're right here! There was no problem with the permits for the car or the baby and everything was smooth (slow, but smooth).
Panamá received us with good and wide roads that make the trip a little easier. This gave us a push again. That was good, until we realized that we passed through David without noticing. A few kilometers away we started thinking and asked ourselves: can it be that we missed it? But when? After some reasoning, we concluded: Yes, we missed it.
The next big city, as in Central American "big", shown in the hardcopy map that fortunately we got for free when we were crossing the border, is Santiago. According to my calculations 2 or 3 hours away from our current location. Hunger is attacking us, but we use the snacks that we have. We must continue.
Panamá is growing and developing, you can smell it in the air. They're working to build and enhance the infrastructure. The roads are being widened during those days. Specially the Panamerican Highway, our main road. Finally we arrive at Santiago, we stretch legs, recharge batteries and when we realize ththat most of our route was covered already, we simply want to reach our destination and after little thought we decide to go on.
Panama City
Past 9pm (Costa Rican time): We're entering Panama City. I can't tell the feelings I get from the plain sight. It's been almost 2 years since I saw so many high buildings together, so many lights, so much… city. I'm not complaining about Costa Rica, but coming from Caracas, I'm a bit cosmopolitan, and Costa Rica as whole is a lot more calmed and low profile. Arriving at Panama City and watching all those lights, big roads and modern buildings I feel like I'm arriving at home, or something like home, at least. The next two weeks we'll be staying with some friends.
After getting lost during some 40 minutes we finally reach their place- After the greeting and getting the luggage to the apartment we take a bath and can finally rest. The adrenaline rush caused by arriving perfectly and getting in touch with so many things that I like during the first impression loses ground to the tiredness accumulated after some, not a few, 15 hours of such a road trip.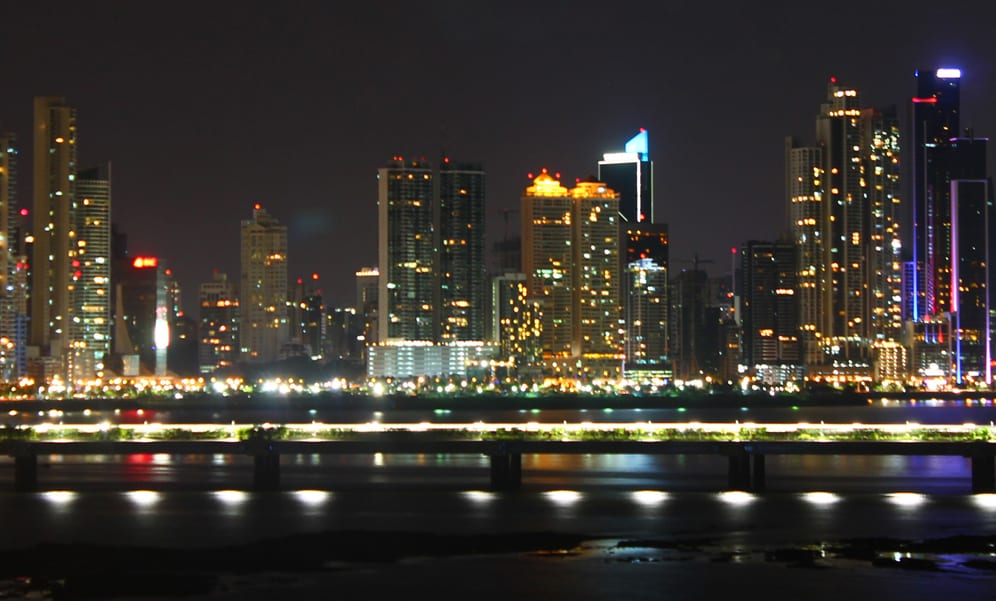 The following days were pretty intense, a lot of warm family encounters, laughs, movement and celebration. We wanted to go to so many places, we wanted to share some good family times, go shopping (because in Panama City you find a lot better prices than in Costa Rica); there was a lot to do and though two weeks seemed enough, they were way too short.
During your vacations you're supposed to have some rest and relax, so we didn't have any intention of waking up too early in the morning. Also, we are with the baby that was turning 3 during those same two weeks; the part of my family that lives in Panamá had some work schedule already settled and my parents can't be running around. All of these reasons shortened our time considerably and there were a few times when instead of feeling relaxed I was more stressed. But in the end, our memories there are positive.
I loved Panama City, I don't know if I'd love it living there while being an expat, even more a Venezuelan expat (because of the endless waves of Venezuelans that have arrived to the "Latin American Dubai" that have created some sort of bad feelings in the Panamanians towards my home country immigrants). I'm not sure if going there to live and go through the day-by-day would shatter the charm. That's a possibility, but I frankly have to say that I loved it. It's even hard to mention a favorite place. I mean, I liked the environment, the beat, the city spirit. Alright, it's not New York, not even close, but it has a lot to offer to the visitors.
The Panama Canal and the Antique District are the most emotion-filled memories I have. The closest I ever was from the Canal was like 30 years ago in an interactive mockup that was shown in the Kids Museum in Venezuela. I remember that I was fascinated by the explanation of how it worked during that time, but come and see it, live, in front of your eyes while being an adult and recognizing the magnificent engineering construct that it is, that's just awesome! Even better is the incredibly complete museum that it has were the complete construction process is shown and explained. It's a forced tour.
Then there is the Antique District, with that bohemian air floating around, all the historical buildings, streets, colonial houses and even ruins. A paradise for someone with art sensibility. It makes you want to go there time after time. It makes you want to know it piece by piece, one place at a time. Finally, add some magic that emanates from being sitting there in some sort of "underground" bar in the middle of the district and between all of that rusty and old architecture you look at the horizon and see some kind of high contrast postal card scenery with skyscrapers that form the New Panama City District and the Coastal Boardwalk.
Malls, natural parks, impressive architectural bridges, powerful and moving landscapes, the old and the modern, all sharing the same place. Yes, Panama City has a lot to offer. Things to improve? Yes, of course, as in any other place in the World. But truth be said, it was a tour that can be done again.
The day of the good byes arrived. First, my parents who, after having them during some unforgettable 25 days during their stay in Costa Rica and Panama, we had to drop them at the Tocumen Airport, so that they could board their plane back to Venezuela. Then my brother and my sister in-law, nieces and friends. Those are the pages in a book that one would want to skip, but it was time to head back home. Say good bye to my people, to Panamá and its charm and leave those days behind with all of their warmth to step on reality. My heart shrunk, but slowly, the love of my daughter and husband and the Costa Rican landscapes filled me. And the fact is that no matter where we are. We can always come back home.