A lot and at the same time little has been said about Colombian artists. A lot because they are talked about, some more than others, and in the international market these artists are recognized. Little because it will never be enough. You can always say more. This is the case of the Colombian artist María Fernanda Cuartas and her vision from society.
The artist
María Fernanda Cuartas is a Colombian painter, native of Bogotá, who arrived in the world on September 8th, 1967. She grew up in Cali, the capital of the Valle del Cauca. And, perhaps this duality has allowed her more success than imagined. Her work focuses on social problems, gender equality and women's dignity.
Cuarta's works have traveled the whole world: United States, Colombia, Argentina, Italy, Vienna, Barcelona, ​​Venice, Dubai and Mexico.
She has also received several awards around the world. On two occasions, the Library of Artists of the European Communities has included her in the 100 most important contemporary artists in the world book. In 2011 and 2012 she was included by the magazine Art in America in the guide of the most important artists in the world.
Cuartas is a creator who condenses the atmosphere of her female characters. Her works have been praised for highlighting the power of her representation of women. The strength of the female characters lies in the fact that thry have no faces.
Tastes are broken into genres

– María Fernanda Cuartas –
A lot to be learned
She was trained in the workshops of Bernardino Labrada, Guillermo Ruiz and Fernando Polo. At that moment, she began her exploration of a pictorial language and the problems that our society is facing.
But, the truth is that there is a lot to be learned from this woman. Maybe, I won't give her any sort of justice at all with this feature. With this in mind, we began to touch topics that were important to us and we believe that for her as well. One of them was the role of women in the artistic field. Specifically, the difficulties this may entail.
María Fernanda made it clear to me that throughout life, women in art have encountered several obstacles. In the seventies, women were very prone to certain scenarios and if they were pregnant they could not be artists.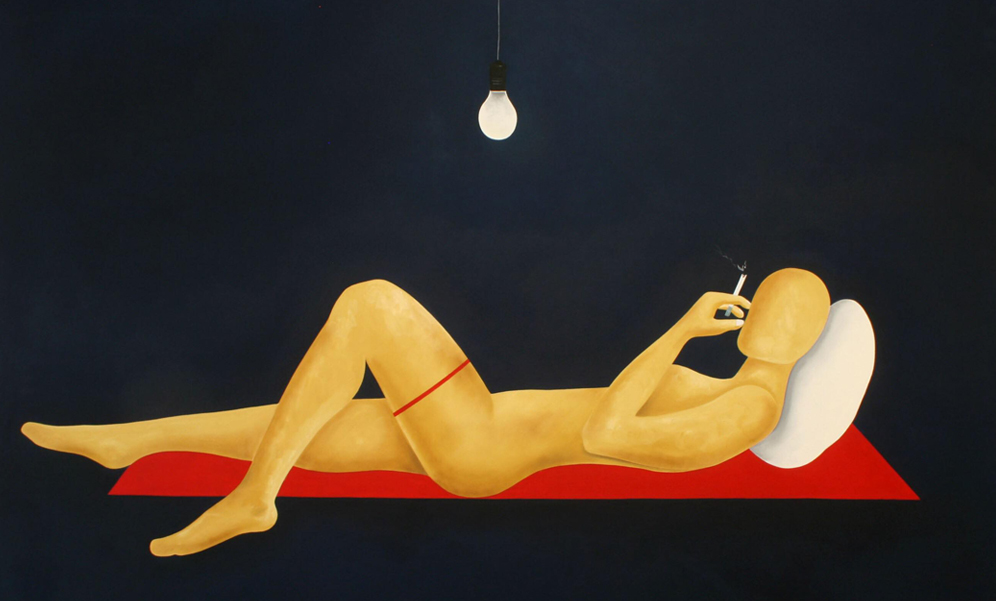 In the 19th century, women began to "gain" social and economic rights and the number of women artists augmented. However, that meant going against what was expected. of the predominant and best seen by society.
Afterwards, several illustrators and photographers emerged. This was a new medium, without sexist restrictions or any formal education. They become economically independent and recognized for their professional achievements.
the role of women in the arts
At present, the role of women in the arts is one of visivilization with great artistic proposals.
In her life as an artist, the most satisfying thing is the impact her work creates amongst the general public and critics. The message that they manage to create.
We must say that if we admired her work before, we now have a more personal approach. This opportunity to talk with her enveloped us in her aura.
Laura Viera A: What art is for you?
M.F.C.: For me, art is an important part of the formation of our history, this is how we know where and how we evolved. Art is a senator of a society. Art goes beyond borders.
Laura Viera A: What is kinetic art?
M.F.C.: Kinetic art is changing or moving art.
Laura Viera A: If you did not dedicate yourself to the arts, what would you do?
M.F.C.: I really think I would be a simultaneous translator. I have always loved languages. I studied in a bilingual school just like my mom did.
Laura Viera A: How did you start?
M.F.C.: I began by loving the instruments. Materials such as ceramics, plasticine and theater plays. In school I stood out for the billboards, notebooks, drawings and order.
I understood a little more about her work when i had the opportunity to talk with her. Let's start with the fact that everything that has to do with the behavior of the human being both inside and outside society is a continuous stimulus and source of inspiration. Also, women, in all their aspects, especially in their highest vulnerability, is an impulse for creation.
Laura Viera A: During your entire career, what has been the most difficult and the easiest?
M.F.C.: For me the most difficult thing was to be recognised in my hometown. At the end of the day, that was not an obstacle for me. I insisted and left the country to begin exhibiting in the United States. I started with galleries and after the time I went to Museums. Really something easy never existed, everything has had a difficult path but in the end satisfactory.
Laura Viera A: What would you change?
M.F.C.: In my country and city, I would change the lack of support for new talents and the interest to develop new proposals for artists who are not in the "in crowd".
Laura Viera A: What did you feel the first time you presented your works?
M.F.C.: The first time I presented my work was in Cali, the city that saw me grow up and train as an artist. It really was difficult because I was expecting a bigger crowd… but I knew that with time I would make my mark and identify my personality in my work and have a transgressive art for an invisible society.
Transforming visions
Cuartas assures me that both in the artistic world and on a personal level she still lacks many things. She is aware that although she has received many recognitions, prizes and exhibitions, she wants to overpass the spectator's conscious. She wants to transform their vision towards the most vulnerable acts.
Having been among the 100 contemporary artists was his greatest satisfaction as an artist. Being Marca País took place after acknowledgment from Congress. And, she was included in the 100 leaders of the Colombian society, granted by the magazine Gerente in 2013 she became very emotional, it was a surprise.
One of the aspects that most impacted us was that in her works there faces where always absent. And, there is a very simple reason: to allow the viewer to enter into a dialogue with the work and be the one who completes or makes manifest the concealments of the work.
Laura Viera A: What do you prefer, painting or sculpture? If you could choose only one, what would it be?
M.F.C.: Painting captivates me more. In fact, I've always practiced it since I was a girl, I think it's more universal. I could not say or define if I would stay with one or another I think that in each one I find different emotions.
Laura Viera A: Do you think that art unites people? Helps? Can you generate changes?
M.F.C.: Art has different meanings for eache person. Knowing that there is a variety of arts, whether they are scenic or visual. For whom a work is something wonderful and considers it art for another, a lot of things such as waste. Art has an influence on people as it is identified with that art. Art is influential as the author seeks to make people understand their work, be it a poetry, a play, a painting, a piece of music or a sculpture.
María Fernanda made it clear to me that art in Colombia is at the same level of international art. The same proposals are worked on.
Likewise, Colombian artists have exactly the same concerns as artists from any other country, and that is why national artists are more universal.
Before, it was not like that, it was a very provincial art. She pauses briefly and emphasizes the fact that she considers that the Colombia art scene has become more snobbish.
On the other hand, in terms of support, she believes that there is more commitment at the national level in regards to art fairs, where artists can present their new proposals.
Laura Viera A: What is the most difficult thing when dedicating yourself to art?
M.F.C.: Living from art is difficult. Artists must look for alternative work in order to present and paint. Obtaining grants, win scholarships, give classes, in short, a number of alternatives to make a living.
Finishing the conversation
We finish this conversation for the moment … but she tells me that for all those who want to be artists, the most important thing is to always have new proposals. The original proposals are key. It is necessary to look for announcements to be known. To have a reference is valid because we have all had them but not to copy.
I believe that her works perform in a different way what the spectator wants to see, what he needs to understand. For that reason, they are so hard to forget, they leave an impact on those who enjoy them. A portal opens in terms of the sensitive and emotional.